Beyond Slavery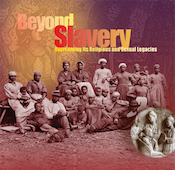 Explore the Conference
Explore the Conference by Subject
Slavery in Christian, Jewish, and Muslim Scripture and Religious Law
Christianity, Religion of the Slaveholders and the Enslaved
Sexual Assault and Exploitation Under U.S. Slavery and Jim Crow
How Slavery Has Shaped Our Understandings of Marriage and Friendship
Slavery, Violence, and the State
A Response By A Formerly Enslaved Woman
Beyond Slavery: 
Overcoming Its Religious
 & Sexual Legacy
Barbara Savage:
The Same-Sex Marriage Debate in the African American Churches: An Historical Perspective

How did African American churches become a battleground for same-sex marriage debates? Not by accident, not entirely by design, but not by choice either.
In African American churches, ideas about homosexuality and same-sex marriage are intertwined with slavery's legacy of worries about masculinity and femininity, child poverty, and the strength of the family.
These concerns have another dimension as well—power relations between Black men and Black women. This is especially the case in Black churches where women dominate membership, fundraising, and organizing, but give men exclusive access to ministerial leadership.
The result is that women in the pews—including lesbians and the mothers and sisters of gay men and lesbians—remain invisible in public discussions of Black religious views.
At the same time, there are deep differences of opinion among Black ministers on same-sex marriage, as well as between them and publicly elected officials and civil rights leaders. These developments undermine the notion that a Black male clerical class can best represent the diverse political views of Black communities. Attempts to change this historical deference to male ministers must start with Black religious women, whose votes and resources constitute the considerable political clout of Black congregations.
---
This video was recorded on October 15-16, 2006 as part of the conference, "Beyond Slavery: Overcoming Its Religious and Sexual Legacy." It was sponsored by the Feminist Sexual Ethics Project in the Near Eastern and Judaic Studies Department at Brandeis University.