Beyond Slavery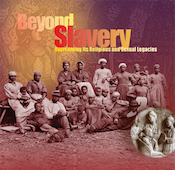 Explore the Conference
Explore the Conference by Subject
Slavery in Christian, Jewish, and Muslim Scripture and Religious Law
Christianity, Religion of the Slaveholders and the Enslaved
Sexual Assault and Exploitation Under U.S. Slavery and Jim Crow
How Slavery Has Shaped Our Understandings of Marriage and Friendship
Slavery, Violence, and the State
A Response By A Formerly Enslaved Woman
Conference Schedule
Beyond Slavery: Overcoming Its
Religious and Sexual Legacy
October 15–16, 2006
Brandeis University
October 15, 2006
7:00–9:00 P.M. Slosberg Recital Hall
Marty Wyngaarden Krauss, Provost and Senior Vice President for Academic Affairs, Brandeis University
Welcome
What Is Slavery's Religious and Sexual Legacy?
Bernadette J. Brooten, Brandeis University
Opening Address: What is Slavery's Religious and Sexual Legacy?
Adrienne Davis, University of North Carolina School of Law
Miscegenation and Morality: The Contemporary Politics and Racial Meanings of Marriage
Nancy Rawles, Award-winning novelist
Prayer for my daughter
Dorothy Roberts, Northwestern University School of Law
The Paradox of Silence and Display: Sexual Violation of Enslaved Women and Contemporary Contradictions in Black Female Sexuality
Performance: Roots Uprising, Dance Troupe
Dancing Beloved
9:00–10:00 P.M. Foyer, Slosberg Music Center
Reception
October 16, 2006
9:00–9:10 a.m. Sherman Function Hall, Hassenfeld Conference Center
Adam Jaffe, Dean of Arts and Sciences, Brandeis University
Welcome
9:10–10:00 a.m. Rooms in Hassenfeld Conference Center
Small-Group Sessions: Choose one for a greater opportunity for in-depth discussion
Sheila Briggs, University of Southern California
Gender, Slavery, and Technology: The Shaping of the Early Christian Moral Imagination
Fay Botham, Le Moyne College
Anti-Miscegenation Statutes: Roman Catholic and Protestant Theologies of Marriage and Race
James J. Callahan, Brandeis University, Heller School
For Social Workers: Using the NASW Code of Ethics to Think about Slavery's Legacy
Linda McClain, Hofstra University Law School
Abstinence-Plus Sex Education: The Best Model for Free Citizens
10:10–11:00 a.m. Sherman Function Hall, Hassenfeld Conference Center
How Has Slavery Shaped Our Understandings of Marriage and Friendship?
Moderator: Susan Lanser, Brandeis University
Gail Labovitz, University of Judaism
The Purchase of His Money: Slavery and the Ethics of Jewish Marriage
Kecia Ali, Boston University
Slavery and Sexual Ethics in Islam
Barbara Savage, University of Pennsylvania
The Same-Sex Marriage Debate in the African American Churches: An Historical Perspective
Frances Smith Foster, Emory Univerisity
Call Me "Mrs.": Motherhood, Marriage, and (Sexual) Morality in Nineteenth-Century African America
11:00–11:10 a.m.
Break
11:10 a.m.–Noon, Sherman Function Hall, Hassenfeld Conference Center
Sexual Assault and Exploitation under Slavery and Jim Crow
Moderator: Jacqueline Jones, Brandeis University
Catherine Clinton, Queen's University, Belfast
Breaking the Silence: Sexual Hypocrisies from Thomas Jefferson to Strom Thurmond
Mia Bay, Rutgers University
In Search of Sally Hemings: Slavery and Sexual Agency in the History of the United States
Wilma King, University of Missouri
"He said he would give us some flowers": Sexual Violations, Girls, and the Law in the Antebellum South
Lisa Cardyn, Yale University
Practices of Sexual Terrorism in the Reconstruction South
Noon–1:00 P.M., Sherman Function Hall, Hassenfeld Conference Center
Lunch
1:00–1:10 P.M., Sherman Function Hall, Hassenfeld Conference Center
Performance: Katani, vocalist and featured soloist, Boston Pops Gospel Choir
Lullabies sung by enslaved girls and women in the United States
1:10–2:00 PM, Rooms in Hassenfeld Conference Center
Small-Group Sessions: Choose one for a greater opportunity for in-depth discussion
David Wright, Brandeis University
"She shall not go free as male slaves do": The Female Debt-Slave in the Hebrew Bible
Debra Blumenthal, University of California, Santa Barbara
"As if she were his wife": Slavery and Sexual Ethics in Late Medieval Spain
Mark Auslander, Jonathan Sarna and Ibrahim Sundiata, Brandeis University
Black-Jewish Relations on the Issue of Slavery
Gloria White-Hammond and Melinda Weekes
My Sister's Keeper: Women-Led Humanitarian Action
2:00–2:10 P.M.
Break
2:10–3:00 P.M. Sherman Function Hall, Hassenfeld Conference Center
Christianity: Religion of the Slaveholders and the Enslaved
Moderator: Deborah L. Johnson, Inner Light Ministries
Jennifer Glancy, Le Moyne College
Habits of Slavery in Early Christianity
Dwight Hopkins, University of Chicago
Slavery, Black Women, and Sexual Justice: A Theological Perspective
Sylvester Johnson, Indiana University
Biblical Debates Over Slavery
3:00–3:10 P.M. Sherman Function Hall, Hassenfeld Conference Center
Florence Ladd, Award-winning novelist and poet
Original poetry
3:10–4:00 P.M. Sherman Function Hall, Hassenfeld Conference Center
A Formerly Enslaved Woman Responds to the History of Slavery and to Religious Teachings on It
Moderator: Florence Ladd, Award-winning novelist and poet
Mende Nazer, Antislavery activist formerly enslaved in the Sudan
4:00–4:30 P.M.
Break
4:30–5:30 PM Sherman Function Hall, Hassenfeld Conference Center
Beyond Slavery: Creating the Conditions for Meaningful Consent to Sexual Intimacy
Moderator: Anita Hill, Brandeis University
Adrienne Davis, University of North Carolina School of Law
Reparations for Slavery
Emilie Townes, Yale Divinity School
From Mammy to Welfare Queen: Images of Black Women in Public Policy Formation
Ellen Barry, Prison rights activist
African American Women in United States Prisons: The Modern State-Sanctioned Slavery System
Bernadette J. Brooten, Brandeis University
Sexual Ethics Untainted by Slaveholding Values