Beyond Slavery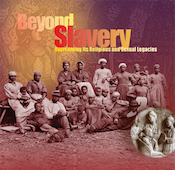 Explore the Conference
Explore the Conference by Subject
Slavery in Christian, Jewish, and Muslim Scripture and Religious Law
Christianity, Religion of the Slaveholders and the Enslaved
Sexual Assault and Exploitation Under U.S. Slavery and Jim Crow
How Slavery Has Shaped Our Understandings of Marriage and Friendship
Slavery, Violence, and the State
A Response By A Formerly Enslaved Woman
Beyond Slavery: 
Overcoming Its Religious
 & Sexual Legacy
Dorothy Roberts:
The Paradox of Silence and Display: Sexual Violation of Enslaved Women and Contemporary Contradictions in Black Female Sexuality

Contemporary American Black women have two choices when it comes to expressing their sexuality: they can accept the dominant values that delight in placing Black female bodies on display, or they can turn in the opposite direction and submit to the requirements of respectability that conceal sexual abuse and silence sexual desire. There is the role model of Jezebel, and that of Mammy. This dual straitjacket dates back to the sexual violation of enslaved women and girls that began early in our history as a nation, and the slaveholding mythology that legitimized such violation. The ideology of slavery painted Black women as licentious in order to excuse white sexual abuse, and as animalistic to explain their enforced subjugation. In response, after Emancipation the Black community developed an ideal of womanhood that depended on asexuality for respectability. These extremes have left a gaping void in the cultural terms needed for Black women to freely and publicly define their own sexual identities today. Filling this void requires overthrowing racist sexual stereotypes and changing the unjust social policies, institutions, and conditions that reinforce them.
---
This video was recorded on October 15-16, 2006 as part of the conference, "Beyond Slavery: Overcoming Its Religious and Sexual Legacy." It was sponsored by the Feminist Sexual Ethics Project in the Near Eastern and Judaic Studies Department at Brandeis University.