Beyond Slavery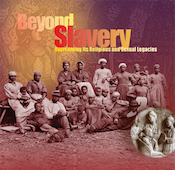 Explore the Conference
Explore the Conference by Subject
Slavery in Christian, Jewish, and Muslim Scripture and Religious Law
Christianity, Religion of the Slaveholders and the Enslaved
Sexual Assault and Exploitation Under U.S. Slavery and Jim Crow
How Slavery Has Shaped Our Understandings of Marriage and Friendship
Slavery, Violence, and the State
A Response By A Formerly Enslaved Woman
Beyond Slavery: 
Overcoming Its Religious
 & Sexual Legacy
Linda McClain:
Abstinence-Plus Sex Education: The Best Model for Free Citizens

How should feminist work on the legacy of slavery inform current debates over the proper form that sex education for young people should take? In recent decades, the federal government has supported governmental funding of "abstinence-only-until-marriage" education as means of fostering personal responsibility and as a tool of welfare policy. The curricula supported by the government embody a conservative sexual economy that perpetuates gender role stereotypes about female and male sexuality, and assigns girls and women the role of gatekeepers. The stark dichotomy between good or "saved" (married) sex and unsafe/dangerous (unmarried) sex and the emphasis on sexual purity resonates with earlier associations, in slaveholding societies, of women and the body as alternately pure and impure. A better way to foster the development of young women and men into free and equal citizens who have the capacity for responsible self-government in areas of sexuality and reproduction is "abstinence-plus" or comprehensive sex education. A feminist sexual ethics would insist both on freedom from coercion, violence, abuse, and domination, as well as freedom to develop a sense of sexual agency, to form a sexual identity, and to affirm sexual pleasure. An approach to public policy mindful of the legacy of slavery would value sexual health and stress the importance of consent and choice in the development of responsible sexuality.
---
This page is part of the webpages dedicated to the conference, "Beyond Slavery: Overcoming Its Religious and Sexual Legacy," held on October 15-16, 2006. It was sponsored by the Feminist Sexual Ethics Project in the Near Eastern and Judaic Studies Department at Brandeis University.