Beyond Slavery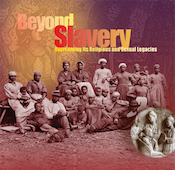 Explore the Conference
Explore the Conference by Subject
Slavery in Christian, Jewish, and Muslim Scripture and Religious Law
Christianity, Religion of the Slaveholders and the Enslaved
Sexual Assault and Exploitation Under U.S. Slavery and Jim Crow
How Slavery Has Shaped Our Understandings of Marriage and Friendship
Slavery, Violence, and the State
A Response By A Formerly Enslaved Woman
Beyond Slavery: 
Overcoming Its Religious
 & Sexual Legacy
Melinda Weekes and Gloria White-Hammond:
My Sister's Keeper: Women-Led Humanitarian Action

My Sister's Keeper is a faith-inspired, multi-racial collective of women who work together to lend sisterly assistance to communities of women in various locations throughout the world. The organization originated out of a 2001 slave redemption mission to the Sudan which led to the liberation of over 6,700 enslaved women and children. At present, we focus on supporting the aspirations of Sudanese women, assisting them in the economic development, healthcare and education projects they have initiated. Our approach is that of listening closely to the concerns and opinions of the women, mobilizing resources in the United States on their behalf, and lifting up their plight to the world. It is our hope that our way of working together will inspire other small groups of women to form sisterhoods that support the hopes of women who dare dream in the face of dire socioeconomic conditions.
---
This page is part of the webpages dedicated to the conference, "Beyond Slavery: Overcoming Its Religious and Sexual Legacy," held on October 15-16, 2006. It was sponsored by the Feminist Sexual Ethics Project in the Near Eastern and Judaic Studies Department at Brandeis University.