Barbara A. Dortch-Okara '71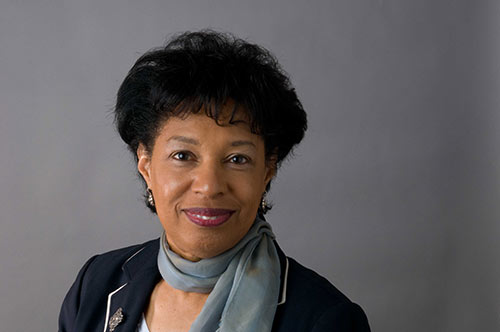 Retired Massachusetts Superior Court Judge
Elected April 2019
Barbara A. Dortch-Okara is a retired Massachusetts Superior Court Judge. She was the first African American and the first woman to become Chief Justice for Administration and Management of the Massachusetts Trial Court. After graduating from Brandeis with a BA in politics, she received her JD from Boston College Law School in 1974. She was first appointed as a judge to the Boston Municipal Court in 1984, to the Massachusetts Superior Court in 1989 and was named to oversee management of the Trial Court in 1998.
Following her retirement from the bench, she became a professor of law at New England Law Boston (NELB) where she taught until July 2018. In 2013, Judge Dortch-Okara was appointed by then Governor Deval Patrick to the position of chair of the State Ethics Commission. The commission and its staff enforce the conflict of interest and financial disclosure laws pertaining to the state, county and municipal government officials. She served in that capacity for a five year term ending in 2018.
She is currently a member of the Committee on Judicial Performance Evaluation, a committee of the Massachusetts Supreme Judicial Court which is tasked with the responsibility of reviewing and revising the performance evaluation process that trial judges are statutorily required to undergo.
Judge Dortch-Okara received the 2011 Trailblazer Award of the Massachusetts Black Lawyers Association and was honored by the Massachusetts Academy of Trial Attorney's with its 2007 Judicial Excellence Award. She is also the recipient of the 2000 Boston Bar Association Citation of Judicial Excellence, and holds Honorary Doctor of Law degrees from New England Law Boston and Southern New England School of Law.