Ron Kaiserman '63, P'07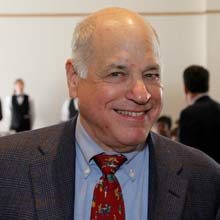 Partner, Kaiserman Co.
Elected 2013
Term Trustee, 2013–2017

Ron Kaiserman is a partner of the Kaiserman Co., the real-estate acquisition, development and management firm his father founded in the 1920s. The company manages more than four million square feet of office, commercial and residential properties in Pennsylvania, New Jersey and Delaware.
Ron founded and serves as president of an affiliated real-estate firm, Shiramax. He supports a number of organizations in his hometown, including the Prince Music Theater, the Academy of Music of Philadelphia, the American Jewish Committee and Jewish Community Centers of Greater Philadelphia.
Along with his late brother Ken '60, Ron established the Kevy and Hortense Kaiserman Chair in the Humanities in honor of his parents, who were among the visionaries who helped found Brandeis. He also created a scholarship fund and served on the board of the Brandeis Alumni Association. His daughter, Shira, is a 2007 Brandeis graduate.