Stephen B. Kay, H'08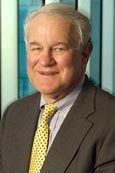 Senior Director, Goldman, Sachs & Company
Elected 1999
Chair, 2001-2007
Stephen B. Kay is a senior director of Goldman Sachs & Co., a leading global investment banking, securities and investment management firm.
Kay is a member of the Board of Directors and past chairman of CareGroup, Beth Israel Hospital, and the New England Regional Anti-Defamation League. Kay is co-chair of the Board of Trustees for the Boston Symphony Orchestra and a founding director of Tenacity, a tennis/academic program for inner city youth.
In addition, he is a former president of Harvard Business School Association of Boston.
Kay is a former trustee, executive committee member, investment committee chairman, and former treasurer for Dana-Farber Cancer Institute. He is a past chairman of the Visiting Committee for Harvard School of Public Health and a member of the Dean's Advisory Council. Kay is a former vice chair of the Board of Overseers at Harvard University and a former director of Harvard Alumni Association and Controlled Risk Insurance Company. He is a former trustee of TH Lee Putnam Investment Trust.
At Brandeis, Kay has been a member of the President's Council since 1977 and was chair of the Board of Trustees investment committee from 1998 to 2001.
Kay received a BA cum laude from Harvard University in 1956 and an MBA from the Harvard Business School in 1958.