2019-2020 M.R. Bauer Foundation Summary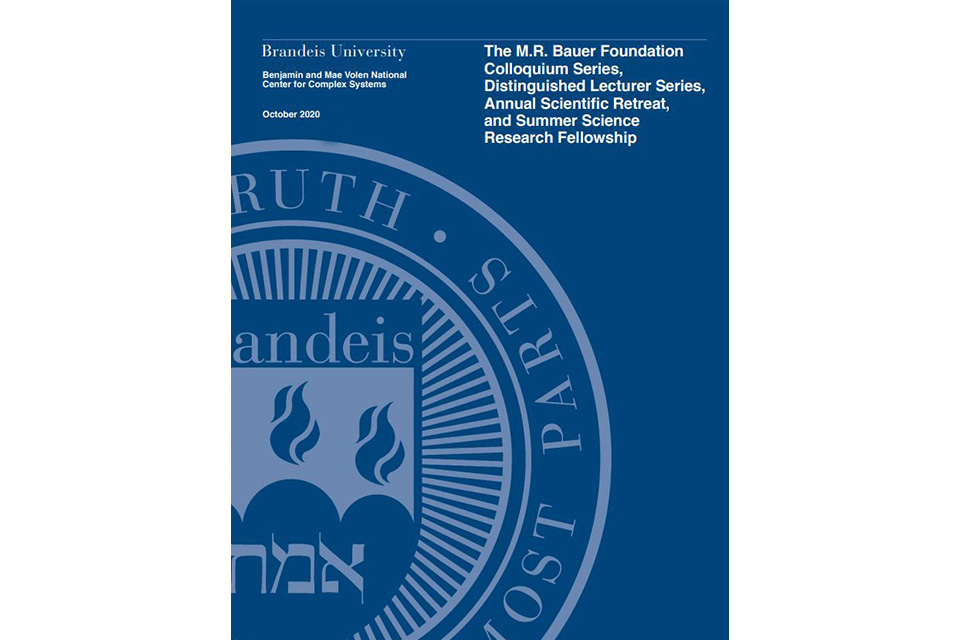 The 2019-2020 M.R. Bauer Foundation Colloquium Series, Distinguished Lecturer Series, Annual Scientific Retreat, and Summer Science Research Fellowship
As I write this, from home, away from campus and my lab, a pandemic is raging. Americans and citizens around the globe are fearful, but they are turning to science for hope. They know, as we do, that solving this unprecedented challenge requires committed, visionary research.
In the oft-stated pre-COVID "normal", science was an essential enterprise. But, now, science has taken on deeper meaning, full of greater purpose for restoring society. Groundbreaking research was never more necessary than it is right now, when the findings and outcomes are not only life-changing but life-saving. My colleagues and I are neuroscientists, and we have unbounded admiration for our peers in immunology, virology, epidemiology, and related fields who are illuminating the issues and probing for answers. We trust they will pull us out of this crisis.
I am lifted by the Brandeis scientists who are hard at work examining how the virus works and mapping its genetic code. They are meeting this test head-on. I am also proud that molecular neuroscience labs here have pivoted and begun the process of developing local virus testing platforms for Brandeis. Their labors are emblematic of the sciences at Brandeis. We are agile, undeterred by difficulties or uncertainties. We are devoted to each other's pursuits and to each other.
Science at Brandeis has always been a community, and throughout this pandemic, we have realized how much we need and depend on each other. Distancing is the very opposite of the nature of the Volen Center, which offers an unparalleled professional setting for affiliated faculty. Our inquiries are shared, cross-disciplinary, and collaborative. We are now challenged with developing ways to express and maintain this ethos in virus-safe ways. I am confident that we will; we are an imaginative crew.
This time is unsettling for our students, upon whom we rely for inspiration, even as they turn to us for the same. They remind me that the investigators who are on the frontlines of COVID-19 research today were once aspiring scientists themselves. Like at the Volen Center, faculty mentorship trained them for just this moment, when skill, tenacity, and creativity will beat back this ruinous virus. We are trying to give them the confidence that they can and will contribute.
In this way, we extend our thanks to the M.R. Bauer Foundation, which has been a devoted partner to and passionate advocate of our faculty and students. The Foundation's directors understand keenly that the torch of knowledge burns brightest when held aloft by many in shared striving. The Foundation makes possible everything that is described in this accounting of the year's activities—a collection of events that nourish the imagination, industry, and inventiveness of our community. We are grateful to the Foundation and to all who are fired by the potential and possibilities of science, now more than ever.
Leslie C. Griffith, MD, PhD
Nancy Lurie Marks Professor of Neuroscience and
Director, Volen National Center for Complex Systems
Acknowledgments

As always, we thank the speakers who came to the Brandeis campus this past year to share their research with us and to engage us in many hours of stimulating discussion and exchanges of ideas with Volen Center faculty, students, and postdoctoral fellows. We are also grateful to our visitors for forwarding to us their lecture summaries that form the basis of this report.

We especially acknowledge Kimberly J. Mackenzie PhD '12, a past neuroscience PhD graduate, for her valuable contributions and editorial assistance in the preparation of this report.