Andrew Albin PhD'11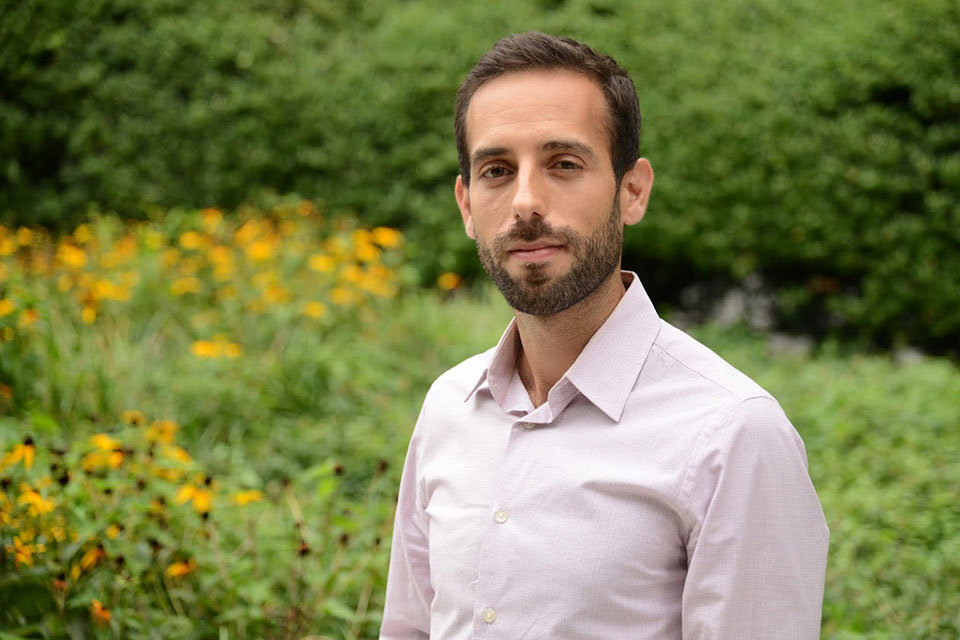 I grew up a latchkey kid in suburban New Jersey amid a family of public school teachers and scientists, with plenty of encouragement to read, play, and explore. I studied piano; I sang and acted; I devoured books and joined Academic Decathlon and finished top of my class. I felt tugged between the arts, humanities, and sciences with no clear direction when I began my undergraduate studies at Johns Hopkins. There, I ricocheted from chemistry to creative writing to music to computer science, before finally settling on English for a major. I wrote one-act operas and song cycles with composers and vocalists at Peabody Conservatory. I became a student activist. I built a close relationship with the late Allen Grossman, who more than anyone opened my eyes to literature's profound ethical life in the occasion of language, and his wife Judith, with whom I discovered Chaucer in Middle English for the first time.
After graduation, I spent two years working in arts administration at Boston's Emmanuel Music before applying to grad school. Allen encouraged me to apply to Brandeis, where he had taught for many years before his move to Hopkins. His recommendation was spot on: upon meeting the faculty and graduate students, I was struck by the ready sense of community and welcome and an enthusiasm for exploring diverse research interests with an open mind. Here, I felt, I would be able to incorporate my ranging interests into a broadly conceived scholarly program with the support of faculty who understood their own work with equal expansiveness.
I was not disappointed in my choice. Brandeis's structured program of study, writing, teaching, and research gave me ample space and time to encounter new fields of scholarship and enter into stimulating dialogue with grad students at all points in their progress towards degree. Advanced students were ready with advice on navigating the university and the graduate lifestyle; classmates consistently proved engaged, engaging interlocutors with a deep commitment to our collective and independent intellectual projects. Where I began thinking I would study nineteenth- and twentieth-century adaptations of literary works for the operatic stage, I soon rediscovered the Middle Ages and began working out how to apply my interest in sonority to a period before sound recordings existed.
Brandeis was an unusual place to be a medievalist: the department's one medievalist, Mary Baine Campbell, went to extraordinary lengths to nurture my burgeoning interest, but graduate coursework in the period was scarce. This proved a blessing in disguise: by taking coursework outside my period, I became able to draw connections and hold conversations on wide range of topics. Graduate study in critical theory and musicology continue to serve my scholarship today. I supplemented my coursework in medieval literature at Boston College through Brandeis's membership in the Boston Area Graduate Consortium and regularly attended the Harvard Medieval Colloquium, both important venues for developing an intellectual and professional network.
Were it not for this unanticipated confluence of invitations, challenges, and opportunities, I would never have written the dissertation I did: a methodologically inventive study of the historical sound cultures and hearing practices of late medieval England. Working on my dissertation at Brandeis allowed me to synthesize the multiple threads of interest in music, text, performance, critical theory, and material culture that had attracted me all along. After observing the pedagogies of seasoned faculty through teaching fellowships, I taught writing seminars and a departmental elective that brought my dissertation to life into the classroom. I was awarded grants to spend a semester in London examining relevant medieval manuscripts that are still central to my scholarly work. Olga Broumas urged me to maintain an active creative life, and at every turn my dissertation director Mary Baine Campbell and second reader Tom King pushed me to produce the best work I was capable of.
If Brandeis was an unlikely place to become a medievalist, it prepared my entry into some of the most reputed centers for scholarship in the period. Following my defense, I received a Mellon Fellowship at the Pontifical Institute for Mediaeval Studies (PIMS) in Toronto, where I began work on the first ever English translation of Richard Rolle's alliterative mystical masterpiece, the Latin Melos amoris. A yearlong fellowship at the Yale Institute of Sacred Music in 2015-2016 will enable me to complete this project, including manuscript transcriptions, music scores, and audio recording of associated fifteenth-century polyphony, to be published by PIMS in 2017. I secured a tenure-track position at Fordham University in 2012, where I continue to explore the intersections between scholarship, pedagogy, and creative practice through courses that invite students to make medieval manuscripts, give tours at the Cloisters Museum, and perform medieval drama in Central Park. Articles/chapters in The Chaucer Review, Early Theatre, and the forthcoming volume Voice and Voicelessness in Medieval Europe continue to explore the sonorous medieval past, and my first monograph on the cultural and literary impact of Richard Rolle's mystical audition of angelic song is currently under development.