Vanita Neelakanta PhD'07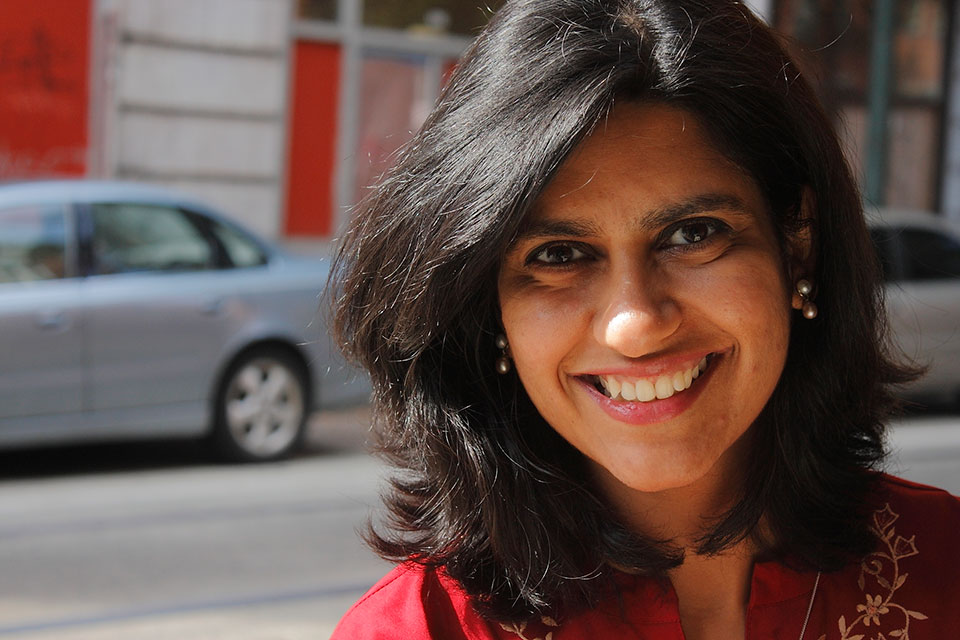 Brandeis heralded the commencement of my American life. I grew up in Calcutta, India, and was educated at both the undergraduate and Masters levels in the old British tradition of lectures, tutorials and long hand-written examinations. My knowledge of the United States was secondhand—gleaned from books, journals, and that most authentic of cultural indices: the sitcom. I did not own a laptop, I had little experience writing papers in either MLA or Chicago formats, and my expertise in "foreign" languages such as Hindi would be of little use to my chosen field of seventeenth-century British literature. To say I had to make a rather substantial adjustment in the American graduate school system is putting it mildly. But I wanted to broaden my intellectual horizons and was attracted to the idea of living and studying in the vibrant scholarly atmosphere of the greater Boston area. Brandeis was particularly appealing because of its distinguished faculty and reputation for excellence in both American and early modern British literatures. I also appreciated the balance struck between teaching and scholarship, and was grateful for the chance to settle into my own coursework before being asked to stand up in front of a classroom. In retrospect, I can affirm that I made the right choice. During my six years at Brandeis I learned from extraordinary professors, was guided and nurtured by the finest mentors, was enriched by a bright and energetic undergraduate student body, and found the best friends of my life in my classmates.
The merits of the English department are legion, but of primary value are the dynamic graduate seminars structured around innovative topics. These seminars attract formidably intelligent and highly articulate students from all fields within the discipline, and form the backbone of the English department at the graduate level. In these seminars, bolstered and challenged by my professors and classmates, I learned to strenuously interrogate texts and intervene in critical discourse with careful rigor (and rigorous care). Because of the small size of the department we were encouraged to take seminars outside our specialization—the benefits of which cannot be praised too highly. The world would never be quite the same after a seminar with Paul Morrison, Mary Baine Campbell or Tom King, and I still rely heavily on material I learned during Ramie Targoff's Religion and Literature and William Flesch's Milton seminars.
We were also encouraged to broaden our horizons as teaching assistants. What I admired most about my Brandeis professors was the breadth and amplitude of their erudition, and the effortless skill with which they moved from Chaucer to Hitchcock. I wished very much to emulate their discursive facility and took full advantage of the myriad opportunities to work as a teaching assistant in courses far removed from my field. My numerous stints as Paul Morrison's TA in courses such as Popular Culture and Sex & Culture remain among my fondest memories. As a professor at Rider University, I have had ample scope to develop that flexibility, and when I find myself rushing from my Milton seminar to teach an American Studies course on the films of Billy Wilder, I remember with fond gratitude the generosity of my polymath professors at Brandeis.
Nor was that graciousness confined to the classroom. My advisor, Ramie Targoff, was so much more than an astute and exacting reader of my dissertation on Milton. She tirelessly worked to prepare me for the job market by observing me teach and providing me with invaluable feedback, writing letters of recommendation and editing countless drafts of my job letter and other application materials. Thanks to her efforts, and with the help of Sue Lanser, Faith Smith, Aliyah Abdur-Rahman and others who meticulously prepared me for the job market, I secured my tenure track position at Rider while still in my final year of graduate school. Today, as I stand poised to become an associate professor with tenure, I acknowledge an enormous debt of gratitude to them and to my fellow students and dearest friends who continue to support my research. My work on Milton, as well as early modern Jerusalem, in venues such as Studies in Philology, Philological Quarterly, Journal for Early Modern Cultural Studies and To Repair the Ruins: Reading Milton (Duquesne 2012) owes much to their intellectual vigor.