Benjamin Schreier PhD'03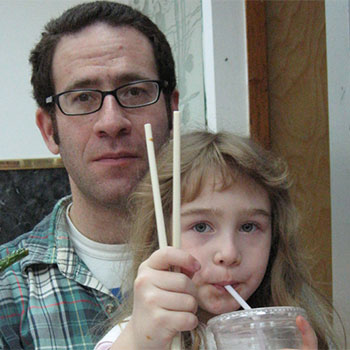 I grew up in the Boston area and I had planned to return ever since my family moved to Baltimore the summer before I entered 6th grade. And so, after spending four years at Swarthmore College and a year of unfunded graduate study in critical theory and cultural studies at the University of Pittsburgh, I moved on to Brandeis, hoping to cash in on its sound reputation and emphasis on harmony between research and teaching.
I came to Brandeis interested in American literature and critical theory, but, besides the names of a few theorists and a small handful of historical problems, I didn't have a really clear idea of what I wanted to concentrate on. In that lack of strongly specified focus, however, I now think I was actually quite a good fit for Brandeis. The department's strength is its relatively small size: graduate students have little option but to work their way through an array of seminars in a variety of areas, productively bumping into fields, periods, and writers no new student could have (nor, let's admit, would have) planned for.
And the faculty responded beautifully to this situation, by routinely offering non-traditional, dynamic courses that brought together subjects, themes, even paths of inquiry that in bigger departments with larger faculties and more course offerings would rarely get to share a stage. It was impossible to come away from seminars or conversations with people like Tom King or Paul Morrison without being pushed to think against—and beyond—narrow disciplinary preconceptions and small-minded expectations. To be honest, I don't think the department is right for everyone: Brandeis offers its best to students who are truly motivated, ambitious, intellectually and emotionally self-sufficient, and not afraid to be creative or original or on their own.
My dissertation examined cynicism in modern American literature, and after four years of fairly substantial revision, it became The Power of Negative Thinking: Cynicism and the History of Modern American Literature (Virginia, 2009), at once an analysis of cynicism and a critique of the dominant historicist approach in academic literary study. I'll always remember what John Burt, who served as my advisor, once told me after I voiced some doubts about a draft of my first chapter on Henry Adams: it's not a bug, it's a feature. This kind of advice—at least mixed, as it was, with careful, responsible attention to the text—was invaluable, pushing me to develop just what made my work distinctive.
And Caren Irr, who came on as my second reader when she arrived at Brandeis, paid such serious attention to my thinking and writing. (And both John and Caren were unsparingly helpful during the years of job-searching that followed my graduation). Interestingly, Caren came to Brandeis from a job at Penn State, where I have ended up (after a few stops). Penn State is in so many ways the opposite of Brandeis—it is an R-1 land grant university, it is intensely focused on athletics, it sponsors a broad scope of academic schools, and at more than 40,000 the student body is immense and diverse—but it's also the ideal kind of job for me, and I love it.
Besides my cynicism book, I've also edited a collection of essays on irreversibility, and I've recently published articles in Prooftexts and Twentieth Century Literature. Since leaving Brandeis I've developed a major research focus in Jewish literature—in fact, my job here at PSU is split between the English Department and the Jewish Studies Program—and I'm currently at work on a book about the identitarian expectations of Jewish American literary history.