Staff Spotlight
SLS Spartan Team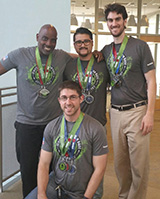 This months spotlight goes out to the SLS Spartan team, comprised of Jamele Adams, Matt Carriker, Robbie Steinberg and Johnny Wilson. 
Jamele, Matt, Robbie & Johnny recently completed the Spartan Beast, and we thought it would be great to share their awesome experiences, and learn a little about why they participate in this grueling, gritty, near-impossible journey. Here's what they had to share:
Jamele  
This is my third Spartan Race.
I do it because of the camaraderie, kinship and love of the human spirit.  There is no comparison to the teamwork and selflessness that takes place during these races.  These other Brandeis Spartans were literally the "wind beneath my wings" on several occasions!
I'm retiring!, But the other Brandeis Spartans tell me it's not possible.  We'll see!  After completing the Spartan Beast, it further cemented that "the impossible is quite possible", particularly with great people. Everyone that has the slightest interest should explore it and then perhaps try out a Spartan Sprint, which is the shortest course.  However, short does not mean easy! AROO!
Matt
This is my 3rd Spartan Race: I've done a Sprint, a Super, and the Beast! (all three we've done as a Brandeis team)
I love many parts of doing Spartan races together- the teamwork and camaraderie are amazing.  Together, we've done and accomplished things I never imagined doing!  It's incredible to push our bodies and minds further than we ever thought.  All our successes have been through the support and encouragement and love we've shared.
We've just recovered from our last Spartan race, but are currently contemplating when our next race will be.  There are other less intense obstacle races too that perhaps a bigger team from Brandeis would like to do.
What an amazing way to foster cooperation, teamwork, and a sense of unity, pushing ourselves to limits we've never dreamt before!
Robbie
This was my 7th Spartan race, and 15th obstacle course race.
I did my first Spartan Race to force myself to get in shape, and now I use races as a way to see how I'm improving.
For next year, I want to get the Double Trifecta (two beasts, two supers, and two sprints in one calendar year), In the next three years, I want to run an Ultra Beast (two laps of a beast course), and then eventually do the Ultra Beast at Killington.
Johnny
This is also my 3rd Spartan Race.
I do the Spartan Races to push my mind and body to the limit. I love the "Rolling Deis" group that we have created. The most recent race in Vermont solidified the family we have created and I had an amazing time struggling with my spartan brothers!
The goal for 2017 is a double Trifecta, 6 races in one seasonal year. #AROO!!!
Next time you see them give them a high-five (now that their arms aren't sore any more)!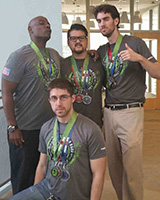 "Students are the Reason"
We are so proud of the hard work shown day in & day out by our Community Service Department & Waltham Group!
---
The Division of Student Life and Success includes various offices that work to enrich the student experience. These offices are overseen by the Dean of Students, Jamele Adams. Student Life serves as an advocate for all Brandeis students, strives to ensure the quality of their overall co-curricular experience at the university, and promotes opportunities for students to engage in leadership activities and to experience personal, social, and emotional growth and development.
The staff maintains a varied program of social, cultural and intellectual events during the academic year. Our staff works to build a community based upon mutual understanding and consideration. The work of student life and success reflects the commitment to our core values: citizenship, integrity, respect, civility, lifelong learning and embracing diversity.