Tauber News
Congratulations to this year's Tauber Institute Graduate Research Award recipients!
Yair Bar Zuri
Christiana Botticello
Kelsey Davis
Golan Moskowitz
Benjamin Steiner
Kendra Yarbor
For more information, visit our Research Grants page.
Jewish Studies Colloquium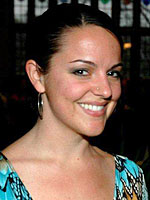 On Tuesday, January 29, 2019, the Tauber Institute will host Sarah Imhoff, Indiana University-Bloomington, to share her paper "A Crip Zionism? Jessie Sampter, Disability, and Gender in the Yishuv" at our monthly Jewish Studies Colloquium. Cosponsored by the Department of Near Eastern and Judaic Studies, the colloquium provides a critical forum for graduate students and faculty to present and discuss works-in-progress. The event will be held in Mandel 303 at 12:20 pm. A link to the paper will appear on this page two weeks in advance. For the complete 2019 lineup, visit the colloquium page.
---
ABOUT THE TAUBER INSTITUTE
The Tauber Institute is devoted to the study of modern European Jewish history, thought, culture and society. It has a special interest in studying the Holocaust and its aftermath within the context of modern European intellectual, political and social history. The institute is organized on a multidisciplinary basis with the participation of scholars in Jewish studies, history, philosophy, political science, sociology, literature and other disciplines. The institute was founded in 1980 as a result of a major benefaction by Dr. Laszlo N. Tauber and is named in honor of his parents.