An Interdisciplinary Mindset Enriches Science Study
Supported by several NIH research-training grants, Division of Science graduate students learn to explore without boundaries.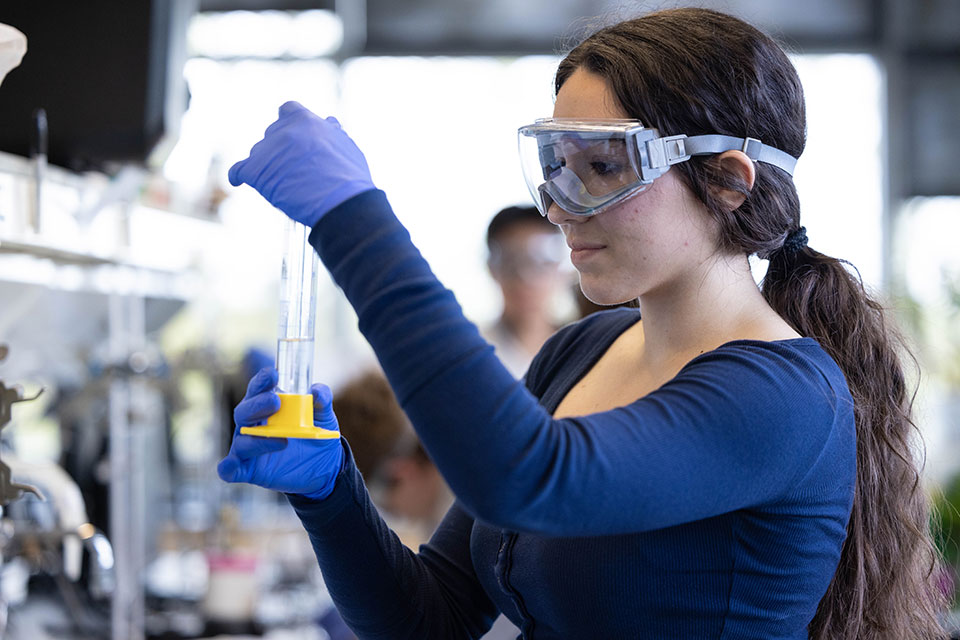 At Brandeis, graduate students in the life sciences, chemistry, physics, mathematics, computer science, and psychology make ground-breaking scientific discoveries, successes that often come from working together — learning from faculty and peers across departments and programs, broadening research horizons, and forging connections that lead to fruitful outcomes.
The four research-training grants the Division of Science currently holds from the National Institutes of Health (a remarkable number considering the university's size) help facilitate this work by giving graduate students the perspective and skills they need to thrive as members of interdisciplinary research teams.
Neuroscience: From Channels to Behavior is the longest-standing of the four grants, funding a training program led by Leslie Griffith, the Nancy Lurie Marks Professor of Neuroscience. In her 2018 grant-renewal proposal, Griffith wrote, "Over the 24-year tenure of this grant, Brandeis has built a multidisciplinary program encompassing faculty in biology, biochemistry, chemistry, mathematics, and psychology. We educate students in the full range of neuroscience topics, from the molecular biology of neuronal noncoding RNAs to the cognitive effects of aging."
Predoctoral Research Training at the Interface of Brain, Body, and Behavior, led by Paul DiZio, associate professor of psychology, supports psychology and neuroscience students working in such research areas as the neurogenetics of behavior and lifespan development. In his proposal, DiZio reported his program seeks "to produce a new generation of scientists equipped to discover the mechanisms of a broad range of healthy and clinically disordered mental and behavioral functions, by applying both the core concepts and methods of psychology, and the interface of these methods with neuroscience and biomedical research."
Macromolecular Structure and Mechanism, led by Daniel Oprian, the Louis and Bessie Rosenfield Professor of Biochemistry, supports students working in biochemistry and biophysics. Research areas covered include macromolecular structure determination by X-ray crystallography and nuclear magnetic resonance, and mechanistic enzymology. In his proposal, Oprian described his program as giving "advanced education in the principles and practice of macromolecular chemistry, mechanism, and structure."
The most recent training grant, Molecular and Cell Biology, supports the largest range of students. In their proposal, biology professors Bruce Goode and Paul Garrity, the co-principal investigators, described their program's goals: "to produce rigorous, quantitative scientists with expertise in multiple disciplines; to provide trainees with the skills needed to succeed in diverse science-related careers; and to help trainees explore and pursue their career interests in an informed manner." To date, the grant has funded students in molecular and cell biology, neuroscience, and biochemistry and biophysics as they explore the fundamental mechanisms of biological systems, using approaches from many disciplines, including cell biology and physics.
According to Goode, interdisciplinary work helps students "learn there are multiple ways to approach a problem. They also become more well-rounded scientists, which broadens their scope and better prepares them for different career options after their PhD. The biggest benefit is hands-on experience with working on a problem in different ways."
Division of Science students also collaborate outside the lab. For instance, PhD students Anne Silveira (molecular and cell biology) and Emma McGuirk (neuroscience) received a University Prize Instructorship to co-teach an undergraduate course during 2023-24 academic year. Students also work together in professional-development and social justice groups, including Career Development for the Sciences, Diverse Brandeis Scholars, and the Women in Science Initiative.
"The eight PhD programs in the Division of Science thrive on a culture deeply rooted in the open exchange of ideas across disciplinary boundaries," says division head Bulbul Chakraborty, the Enid and Nate Ancell Professor of Physics. "Training grants are one of the major components, but the real driver of this integration of knowledge at the PhD level comes from a faculty culture of open dialogue."