Start Me Up
A results-oriented center helps Brandeis researchers turn their discoveries into successful business ventures.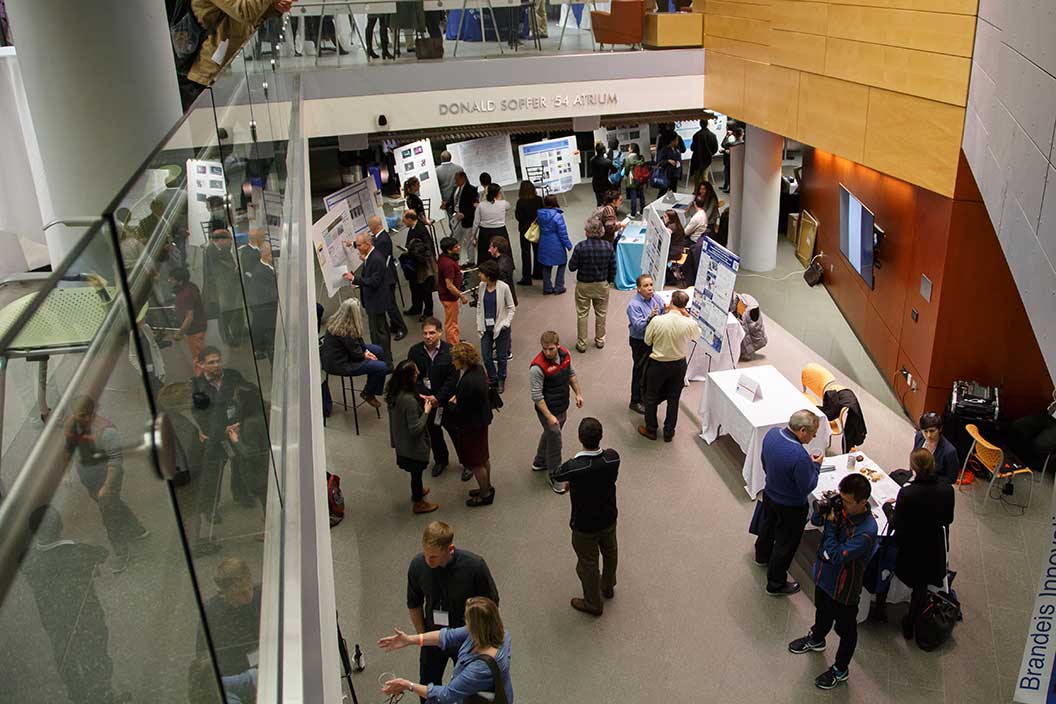 Brandeis Innovation describes itself as a "collision place," where interdisciplinary research encounters entrepreneurial know-how.
The center was established in 1997 to ensure all new technologies developed at Brandeis were analyzed to determine potential licensing opportunities, which could bring funding to the university. Then known as the Office of Technology Licensing (OTL), it also helped the university's investigators with technology and product development, and commercialization.
In 2015, recognizing the value OTL brought to the university, philanthropist Alan Hassenfeld, H'20, granted funds through the Hassenfeld Family Foundation to expand the office and create an innovation center. The new entity, renamed Brandeis Innovation, included OTL, which continues to serve as a development and commercialization resource for researchers, as well as an effort called the Virtual Incubator, which offers entrepreneurial resources and training to Brandeis faculty, staff, students, and alumni.
Early on, OTL enjoyed a high-profile success: the heart-healthy buttery spread Smart Balance. Developed in 1996 by KC Hayes, professor emeritus of biology, and senior research scientist Dan Perlman '68, Smart Balance quickly became a popular butter alternative in U.S. households, bringing royalties to Brandeis through 2021.
A more recent success came when a team of researchers including Neil Simister, associate professor of biology, developed the hemophilia therapeutics Alprolix and Eloctate, which were approved by the U.S. Food and Drug Administration in 2014. These drugs have helped thousands of patients and generated millions of dollars in licensing revenue.
Sprout, a program launched by OTL in 2011, provides funding that helps Brandeis researchers — including alumni and students — explore their ideas' commercial potential. "Without Sprout, we couldn't have done it," says David Waterman, GSAS PhD'18, founder of the waste management startup GreenLabs. "It's like an MBA in real time."
Another resource for innovators was added in 2017, when the National Science Foundation awarded Brandeis Innovation a grant to serve as a site for its I-Corps program, which helps research teams quickly assess their inventions' market potential.
"Without Sprout, we couldn't have done it."
David Waterman, GSAS PhD'18,
A third program, open to the entire campus, is the Spark program, which supports the early-stage development of startup ideas, offering training, mentorship, and funding to innovators, some of whom later take part in a SparkTank competition. Spark has helped startups across a range of industries, including the Farmer Foodie, whose sustainable vegan Everything Cheeze product is now sold nationwide, and GreenChoice, an ethical-shopping app that won a Google innovation award in 2020.
Looking toward the future, Brandeis Innovation hopes to create an Innovation Bridge Fund, an evergreen fund that provides later-stage support to inventors and entrepreneurs who received the first stage of their funding through Sprout, the I-Corps program, or Spark.
And, through its many activities, Brandeis Innovation will continue to provide valuable guidance and support to Brandeis visionaries.
"It's not enough to have a great idea," says Joanne Nicholson, professor of the practice at the Heller School and inventor of WorkingWell, a platform that helps neurodivergent employees succeed on the job. "You also need to have a path to bring it to market, with the right tools to approach your research from the perspective of your customers. Brandeis Innovation gave us that tool set."