Learning from Bernstein the Conductor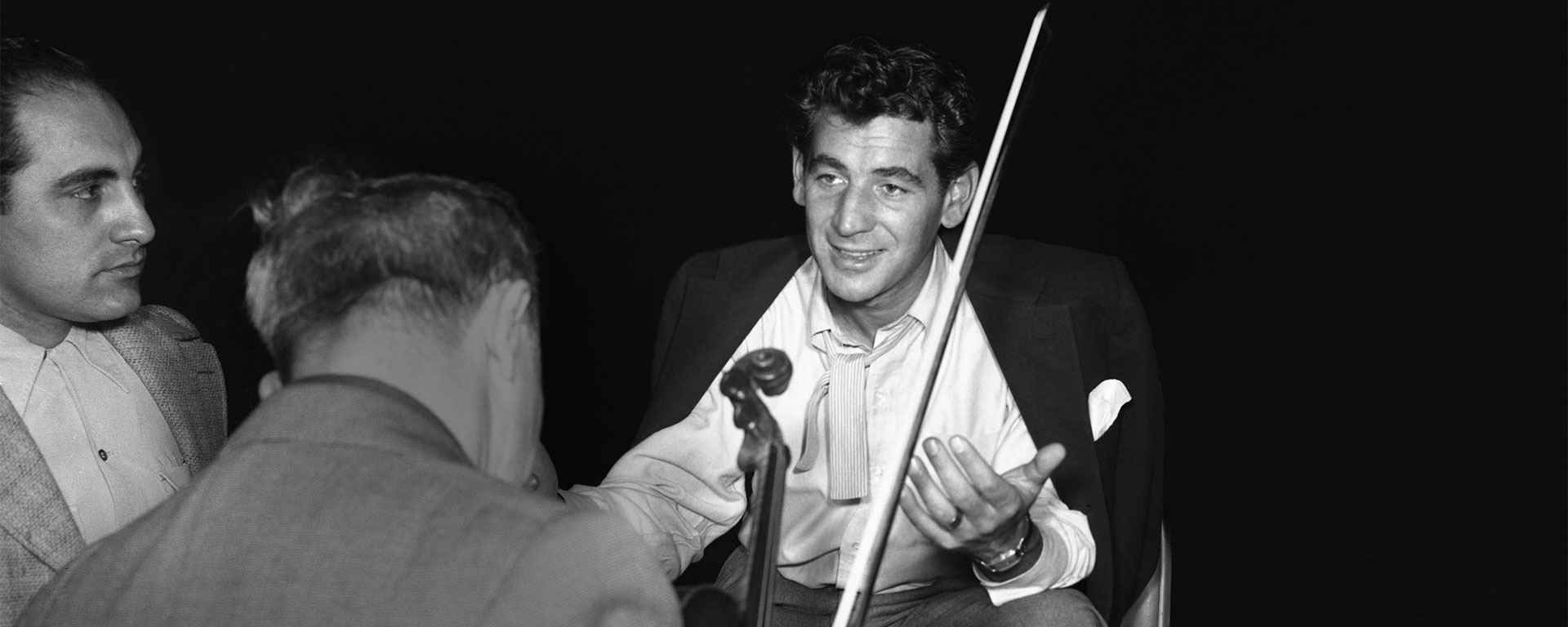 'It goes wherever it's going'
Leonard Bernstein became the most famous conductor in America at the age of 25, on five hours' notice and even less sleep. On Nov. 13, 1943, Bernstein was celebrating the first performance of his song cycle "I Hate Music," partying and playing piano until dawn. At 9 a.m. the next morning he received a call from the New York Philharmonic. Guest conductor Bruno Walter was ill, and Bernstein, an assistant conductor — essentially an understudy, expected to learn scores and not much more — would conduct the 3 p.m. concert.
The concert earned Bernstein a front-page review the next day in The New York Times. He had one year of graduate conducting studies under his belt at the Curtis Institute in Philadelphia, and three summers at Tanglewood under the mentorship of Serge Koussevitzky, the Russian-born conductor of the Boston Symphony, to prepare him for his overnight success.
The New York Philharmonic made him the first American-born director of a major orchestra 15 years later and he served in that capacity from 1958 to 1969. A committed educator and a great communicator, he introduced a generation to classical music with televised lectures with the NBC Symphony and 53 Young People's Concerts broadcast on CBS. He was equally at ease in both classical and popular music, having recently composed the score to "West Side Story." In addition to his extraordinary musical gifts, his youth, good looks and charismatic personality made him a household name, virtually the face of classical music in America.
I first met Leonard Bernstein at the Tanglewood Conducting Seminar in the mid-'80s. Though luminaries would visit to teach the class (Seiji Ozawa and Andre Previn and Gunther Schuller, among others), his arrival at Tanglewood, in his blue Chrysler convertible with the license plate MAESTRO-1 (the only person ever allowed to drive onto the grounds), was the most anticipated event of the summer. He did not disappoint.
Tanglewood, the summer residence in Lenox, Massachusetts, of the Boston Symphony Orchestra, was Bernstein's spiritual home. On Aaron Copland's recommendation, he was selected for its first conducting class in 1940. For the next 50 years, even as his career required him to travel almost constantly around the world, Bernstein returned to Tanglewood almost every summer. Named director of conducting studies after Koussevitzky's death in 1951, he mentored many well-known conductors and musicians over the decades, including Seiji Ozawa, former music director of the Boston Symphony, and Marin Alsop, music director of the Baltimore Symphony.
Our classes were held in the great room at Seranak, Koussevitzky's estate overlooking the Stockbridge Bowl. Two pianists served as the orchestra while Bernstein sat in a chair coaching the conductors, commenting on the musical and extra-musical. He had a flair (and love) for the dramatic: On one occasion, I remember him regaling us with a recitation of the balcony scene from "Romeo and Juliet." On another, while he demonstrated a conducting gesture, lightning struck close by, right on his cue, as if he had brought it intentionally, even though he had begun the gesture long before he could have anticipated it!
Music for him was emotional narrative — a metaphor for living. "It's about breathing, it's about sex, about looking at your children or somebody you love," he said in class about the slow movement of Brahms' Fourth Symphony. "It changes from moment to moment, it is full of ambiguities, of arrivals, of departures. Don't strain so much to find somewhere to go. The music arrives at feeling good for a little while, then it's disturbed, then seeks another answer. It is Hamlet-like in its indecision. It goes wherever it's going — it keeps going."
I watched Bernstein rehearse that same Brahms symphony with the Boston Symphony Orchestra. Though he had performed and recorded it countless times, that day he experimented over and over to find what he thought would be the most effective upbeat to the first movement. He challenged himself in other ways, in his later years conducting from new, unmarked scores to approach the music from a fresh perspective.
He was known (and often criticized) for his extremely personal interpretations, the tempos of which became slower as he aged. It was as if he was trying to wring every drop of expressiveness from the music. But these interpretive choices, though some found them self-indulgent, came from a thorough knowledge of the score. He once said, "Conducting is bloody hard work. What's easy is to be mediocre. To be good is the hardest thing in the world. Believe me, I know. I'm still working on it."
His conducting style was distinctive, to say the least: animated, passionate, and replete with gestures large and small. During climactic moments, he would occasionally jump, leaving the podium entirely. He often eschewed standard conducting beat patterns, filling the time between the main pulses with inner beats — little gestures showing secondary voices or accompaniment. Though I can't say how many orchestra musicians found this helpful, viewing videos of his performances today, I see that his conducting shows a deep knowledge of the score.
As I reflect on my own experience and continue to consider his enormous impact on the world of music, I cherish more and more the brief time I had to see this musical genius at work in person as a teacher and conductor.
— by Neal Hampton, Associate Professor of the Practice of Music and Conductor, Brandeis-Wellesley Orchestra
This excerpt appeared originally in the Winter/Spring 2018 issue of State of the Arts.
"I first met Leonard Bernstein at the Tanglewood Conducting Seminar in the mid-'80s…his arrival at Tanglewood, in his blue Chrysler convertible with the license plate MAESTRO-1...was the most anticipated event of the summer. He did not disappoint."
Neal Hampton
Associate Professor of the Practice of Music and Conductor, Brandeis-Wellesley Orchestra