Three Maestros on a Summer Day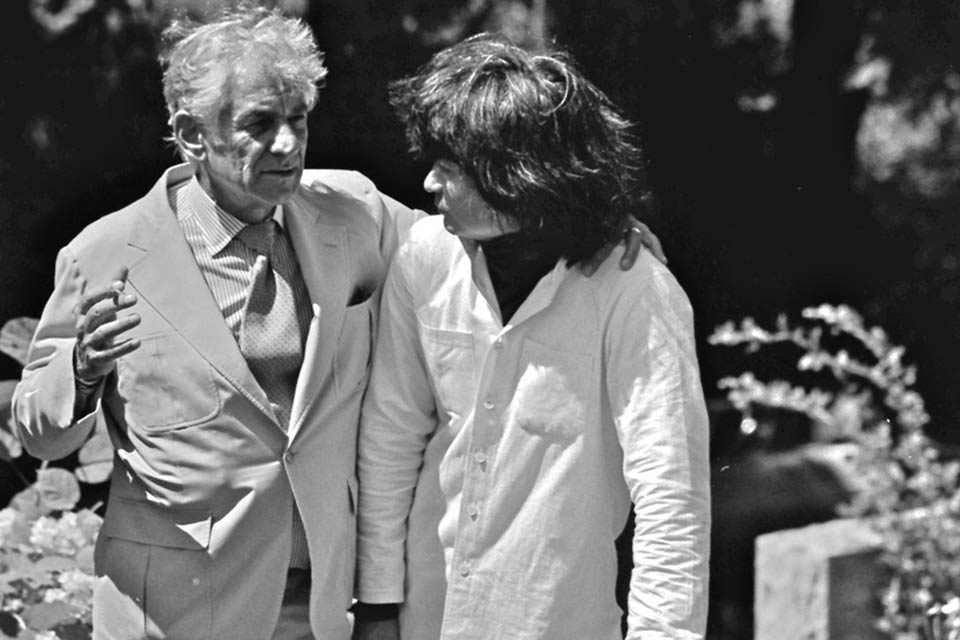 Photo Credit: Wolfgang Rueckner
Wolfgang Rueckner '69, MA '74, PhD '78, is a retired physicist who spent most of his career at Harvard University. During the summer of 1976, he taught photography at Belvoir Terrace, a summer arts camp in Lenox, Mass. Below is his story of encountering Leonard Bernstein and Seiji Ozawa — at the time the former and present music directors of Boston Symphony Orchestra — at the grave of Serge Koussevitzky, Bernstein's beloved mentor and his predecessor at BSO. As well as being in the right place at the right time, Rueckner captures the vitality and affection of the two maestros on a beautiful summer day in the Berkshires.
On July 26, 1976, my young photography students and I learned that the Tanglewood Chorus were to perform that day at the adjacent Church on the Hill, in a celebration of Serge Koussevitzky's 102nd birthday. We decided that this would be a fun photography field trip, not knowing we were in for a wonderful surprise. 
As the chorus assembled, I saw Leonard Bernstein walking toward us to join the gathering, and Seiji Ozawa coming from another direction, clearly in deep thought. Upon meeting, the two men immediately engaged in an animated discussion, and made their way over to Koussevitzky's grave to continue their conversation in private. With my 200 mm lens, I was able to capture them from a discreet distance. 
I thanked them for allowing me to take the pictures. Bernstein replied, "I didn't give you permission." I answered by saying "No, but neither did you shoo me away when you saw me taking pictures." Bernstein agreed. "Fair enough." 
I was thrilled at having captured such a memorable moment. Three maestros: Bernstein, Ozawa, and Koussevitzky, together! More than 40 years later, it is still vivid in my memory, and I am happy to share it on the occasion of Leonard Bernstein's centennial year.
Note: Click on a thumbnail below the see the full photo.