What Bernstein Taught Brandeis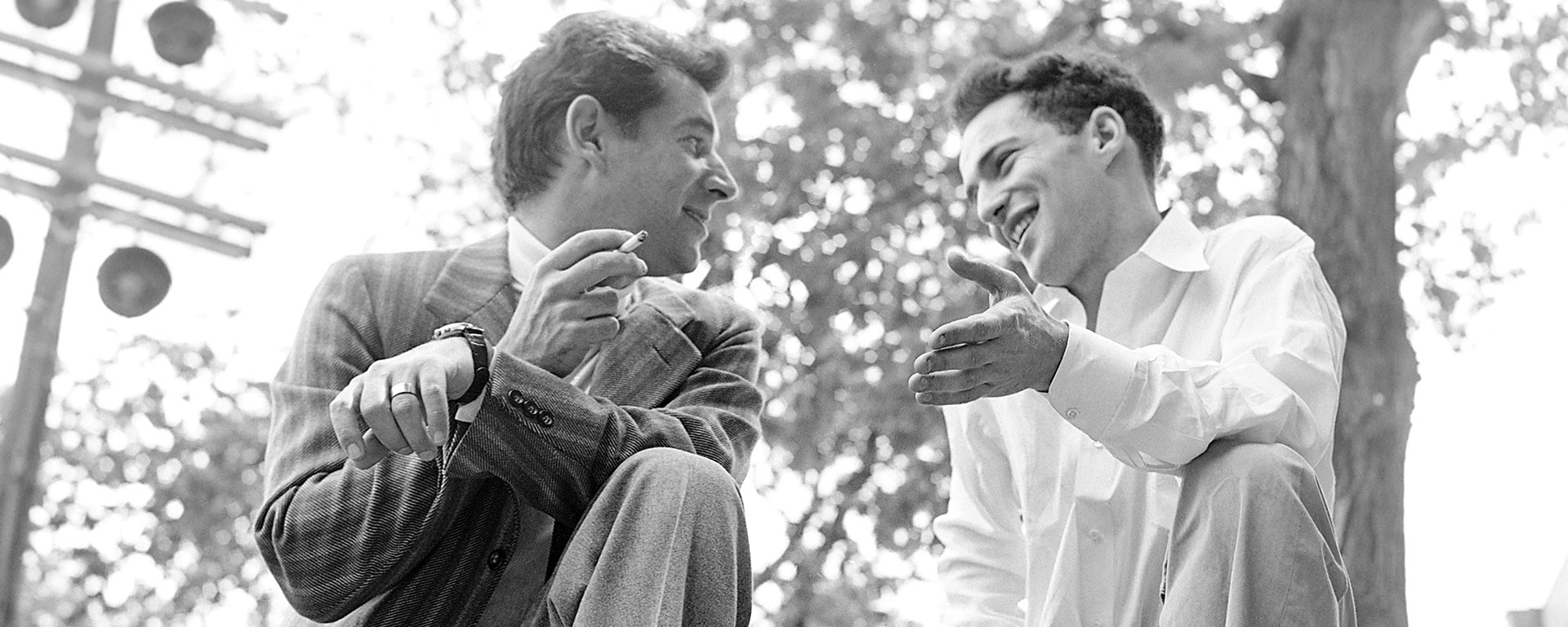 Leonard Bernstein had a presence in 20th-century American culture that equals the resonance of his most famous works: the driving rhythms of "West Side Story"; the bustle of Times Square that he captured in his score for "On the Town"; his exuberant Young People's Concerts, which introduced a generation to symphonic music. A conductor, composer and educator of limitless creativity, Bernstein influenced American artistic and cultural life beyond music. His footprint touches everything from political activism to music education. For Bernstein, every performance was a lesson, and every lesson a performance, and this was certainly the case at Brandeis.
In 1951, the third year of Brandeis' existence, President Abram Sachar and Professor of Music Irving Fine (a successful composer, much admired by Bernstein) invited Bernstein to join the Music Department. This was something of an ambitious proposal! Bernstein was already a fixture of American musical life. He had conducted the New York Philharmonic and the Boston Symphony orchestras, composed the hit musical "On the Town," and was gaining an international reputation, having conducted in Czechoslovakia and Israel. His inventive and iconic symphonies were lauded by critics and fellow composers. In short, the expectation that Bernstein would have the time and the inclination to join the Brandeis faculty was not a modest one. Yet he agreed, and the relationship between Brandeis and Bernstein would last many years.
So began a groundbreaking new chapter for the university. In spring 1951, Bernstein traveled from New York City to Waltham every week to be a guest lecturer in Fine's Modern Music course. In the following two years, he taught courses on the modern symphony and the modern opera. That students would learn about the music of the very recent past and even of their own lifetimes was revolutionary.
Bernstein created syllabuses that extended students' knowledge and exposed them to the music of "the now." In doing so, he also broke down the barriers between the music of the concert hall and the music of the theatrical stage. Alongside (Richard) Strauss, Berg and Hindemith were musical-theater works by Kurt Weill, Rodgers and Hammerstein, and Burton Lane. Bernstein even taught his own work, the opera "Trouble in Tahiti," which would have its premiere at Brandeis on June 12, 1952, in the first Festival of the Creative Arts.
Bernstein's class on the modern symphony was equally varied. The course began with Mahler and went on to include a number of 20th-century American composers, including Roger Sessions and Bernstein's longtime friend and colleague Aaron Copland, as well as Brandeis professor Harold Shapero. Students were also introduced to Berg's serial music, Stravinsky's rich neoclassicism, and Shostakovich's desperate attempts to write music that would not anger the Stalinist apparatchiks. And Bernstein included two of his own symphonies on the syllabuses — "Jeremiah" (1942) and "The Age of Anxiety" (1949).
To study with a teacher who was not only expert in the history and theory of the works but who saw music as a living, breathing entity was a remarkable experience. And it was not only the students registered for the class who were in the room. There are stories of faculty, staff and students from all over campus (and even from other universities) crowding into the lecture hall to hear the great maestro speak and illustrate at the piano.
Bernstein's teachings took place well beyond the college classroom. His conducting classes at Tanglewood were legendary and his Young People's Concerts (broadcast on CBS from 1958 to 1972) are celebrated and still watched today. Bernstein taught by example. Whether it was a concrete aspect of music theory, or taking a stand against social and political injustices, Bernstein educated and led those around him. Governed by an unwavering sense of social justice, Bernstein was a proponent of what he called "Artful Learning" — the idea that all learning could be infused with the arts and vice versa, and that "the best way to know a thing is in the context of another discipline."
The first Festival of the Creative Arts at Brandeis is yet another example of Bernstein's pedagogical gifts. He extended his "classroom" to thousands of festival-goers, offering them ideas and repertoires well beyond that which they usually experienced at their ordinary subscription concerts. For once, there was an equality across the arts, across genres and across time periods. Indeed, Bernstein advocated for jazz and musical theater, the so-called homegrown musical forms, to be placed on the same pedestal as the work of Beethoven and Brahms. Concerts, films and forums; theater, jazz, dance; and the world premieres of Bernstein's "Trouble in Tahiti" and Marc Blitzstein's adaptation of Weill's "Threepenny Opera." What better classroom than an interdisciplinary festival of the highest caliber? Blitzstein, Copland, Cunningham, even Lotte Lenya … and the list goes on.
Bernstein gave Brandeis access to the best of America's artistic landscape. For Bernstein, the festival was one big educational opportunity. For Brandeis, it ushered in a new era of dedication to the creative arts.
—by Georgia Luikens, MA'10
This excerpt appeared originally in the Winter/Spring 2018 issue of State of the Arts.