Program of Study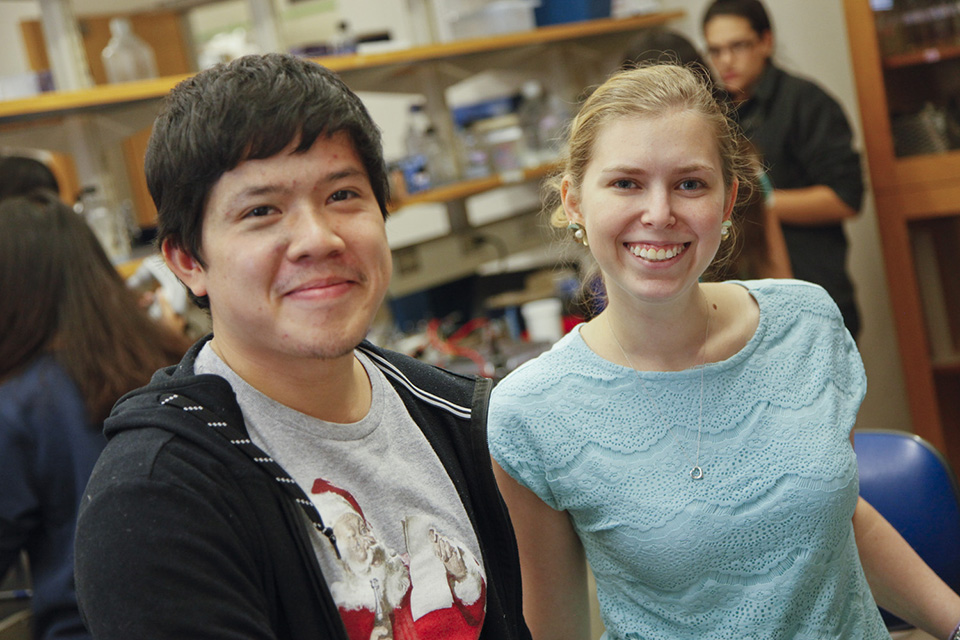 The program provides interdisciplinary, professionally-oriented training in biotechnology, stressing both science and business concepts. Mastery of the field of biotechnology will be taught both in the classroom and through hands-on laboratory work. In addition, students will build professional skills in data analysis, searching and reading the scientific literature, scientific writing, oral presentation and teamwork.
The program includes a summer internship at a biotechnology or pharmaceutical company or non-profit research center or in one of many biological sciences research laboratories on the Brandeis campus. Research areas on campus include genetics, molecular biology, developmental biology, cell biology, chemical biology, biophysics, structural biology, immunology, and neurobiology. Students should enroll in Biot 212 for credit for the internship.
A total of twelve other courses are required for the program.  Five lecture courses are mandatory for all biotechnology students.  These are Biol 101 (Molecular Biotechnology)*, Biol 205 (Masters Proseminar), Biot 201 (Business of Biotechnology), Bus 261 (Managing Technology Innovation), and Biot 203 (Management for Biotechnology).
*Students who previously have taken a course equivalent to Biol 101 Molecular Biotechnology may substitute an elective course with the consent of the program directors.
All biotechnology students are required to take one of the following courses: Bchm 100 (Biochemistry), Biol 100 (Advanced Cell Biology), Biol 102 (Structural Molecular Biology), or Biol 103 (Mechanisms of Cell Function).
Two laboratory courses are mandatory.  These are Biol 256 (Biotechnology Project Laboratory) and Biol 251a 1 (Project Laboratory in Protein Biochemistry).
All students will take two biology, biochemistry, or chemistry electives numbered 100 or higher. The remaining two courses may be additional biology, biochemistry, or chemistry electives (as above), or relevant business‡, computer science, economics, Heller School for Social Policy and Management, or sociology courses at appropriate levels approved by the program directors, or additional laboratory courses.  The laboratory courses may be project laboratories (e.g. Project Laboratory in Cell Biology, Biol 158) or research in laboratories approved by the program directors (students should enroll in Biotechnology Research, Biot 293).
‡Two 2-credit business modules, e.g. Bus 226f (Managing Global Human Capital), Bus 228f (Management Communication), may be taken in place of a 4-credit course.
In addition, all students are required to take CONT 300b (Responsible Conduct of Science) or attend the comparable Division of Science Responsible Conduct of Research workshop.
Students must receive grades of B- or better in all courses and may be terminated if their records are unsatisfactory.
Residence Requirement
The minimum residence requirement is two years.