Jewish Resistance Collection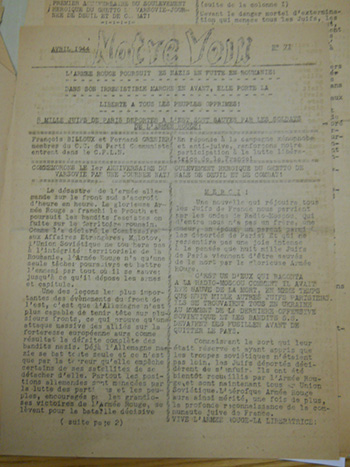 This April 1944 issue of Notre Voix contains an account of a Jewish uprising in Warsaw.
The Jewish Resistance Collection contains a range of materials, including underground publications — both printed and mimeographed — by German Communist and French Jewish resisters to the Nazi regime before and during World War II; international postwar reports (governmental and nongovernmental) documenting the persecution and extermination of Jews; Nazi paraphernalia; and contemporary and postwar magazine and newspaper articles on Jewish resistance during the Holocaust.
Clandestine publications included in the collection deal with a range of issues, from major wartime events to the activities of Jewish resistance organizations. One such publication, a German antifascist pamphlet from 1933, is cleverly disguised as an owner's manual for an Electrolux vacuum cleaner. Materials are in various languages: English, French, German, Hebrew, Russian, Spanish and Yiddish.