Leo Frank Trial Collection
The Leo Frank Trial Collection at Brandeis University documents one of the most notorious capital-punishment cases in early 20th-century America.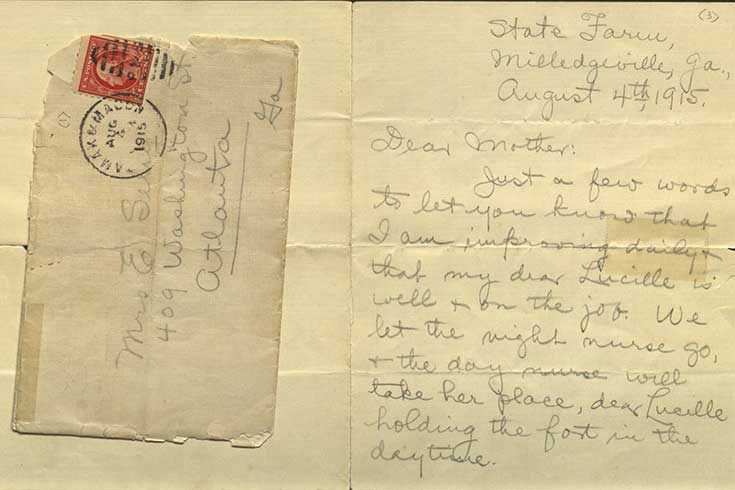 A letter, dated Aug. 4, 1915, from Leo Frank to his mother.
Leo Frank, a pencil-factory superintendent in Atlanta and a northern Jew, was at the center of a murder trial and lynching that continues to reverberate more than a century later.
In 1913, Frank had been accused, indicted and convicted for the murder of Mary Phagan, a 13-year-old girl who was found murdered in the basement of the National Pencil Company factory where Frank worked. The trial created a frenzy fueled by the media and anti-Semitism.
After thoroughly reviewing the case, Georgia Gov. John Slaton commuted the sentence from death by hanging to life in prison. On Aug. 17, 1915, a group of influential citizens in Atlanta, enraged by Slaton's decision, abducted Frank from his jail cell and lynched him in Marietta, close to Mary Phagan's ancestral home. Frank's lynching was covered by newspapers nationwide and had lasting repercussions, such as the growth of the Anti-Defamation League and the reformation of the Ku Klux Klan.
The Leo Frank Trial Collection is widely used by researchers, including theater groups preparing for performances of the musical "Parade," students researching the history of anti-Semitism in America, documentary filmmakers and many others.
The Frank collection was donated to the university in 1961 by Harold E. and Maxine Marcus. The materials were given to them by Lucille Frank, widow of Leo Frank and the aunt of Harold Marcus.
Mrs. Frank was a life member of the Brandeis University National Women's Committee (now the Brandeis National Committee) and died in 1957. The Marcuses were also active donors to the university (starting in the 1950s), and Mrs. Marcus was a founding member of the Atlanta chapter of BUNWC and a permanent member of its national board.