A History of Diversity, Equity and Inclusion at Brandeis
When the American Jewish community established Brandeis University in 1948, Jews, other ethnic and racial groups, and women faced overt discrimination in higher education. Brandeis was founded on the principles of diversity, equity, and inclusion, and has always welcomed talented students, faculty and staff of all backgrounds and beliefs.
Professor Stephen Whitfield, PhD'72, who has researched the political history of Brandeis, notes how the media, including The New York Times and Ebony Magazine, the leading African American publication at the time, praised the founding principle of openness. Ebony reported in 1952 that Brandeis "operates on a set of democratic principles which could easily serve as goals for every other university in the United States. There are no quotas limiting students of any religion and no racial barriers at Brandeis University."
Our commitment to these founding values has never faltered, though it has been tested over the university's history. We hold respectful dissent as a core aspect and an essential component of a free and open society, and Brandeis students have always helped keep the university accountable to its mission and values.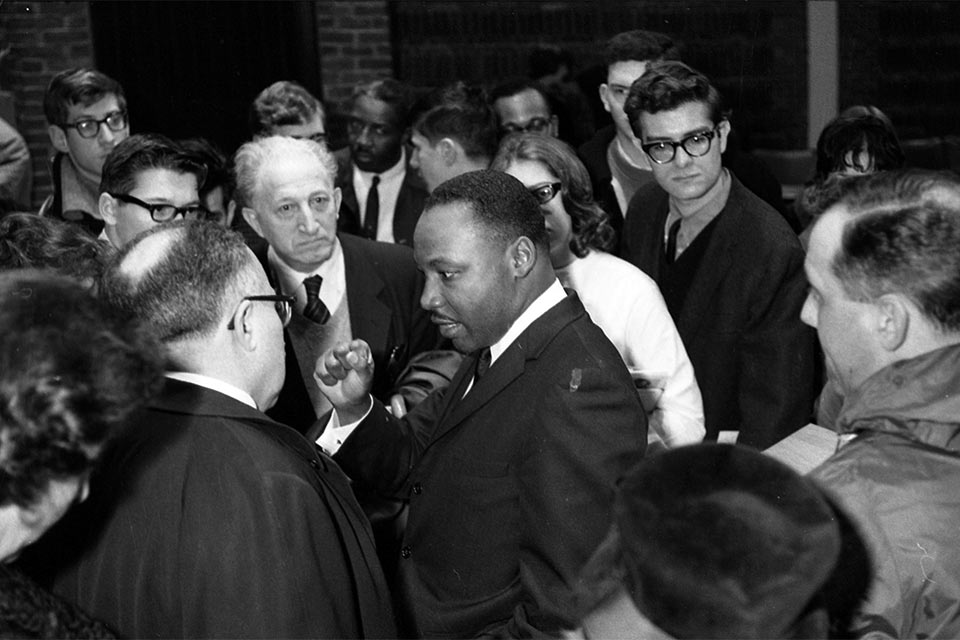 Campus activism has often reflected national or even global movements for social and racial justice. In the wake of the assassination of Martin Luther King, Jr., in 1968, Brandeis' Afro-American Society called for recruiting more African-American professors and students, as well as creating an African and Afro-American studies department.
Within months of the assassination, Brandeis established 10 Dr. Martin Luther King Jr. Scholarships. Now a half-century old, the program was renamed in 2016 as the Dr. Martin Luther King Jr. Fellowship to reflect its breadth, which extends beyond tuition assistance.
In 1968, Brandeis also launched the Transitional Year Program (renamed the Myra Kraft Transitional Year Program in 2013), one of the first of its kind in the country for promising underrepresented students who have faced personal hardship or had limited pre-college academic opportunities.
A pivotal challenge to Brandeis' commitment to diversity and inclusion arose with the 11-day student occupation of Ford Hall in early January 1969 by more than 60 African-American students. They issued a list of 10 nonnegotiable demands, the chief one calling for the creation of an Afro- and African-American studies department.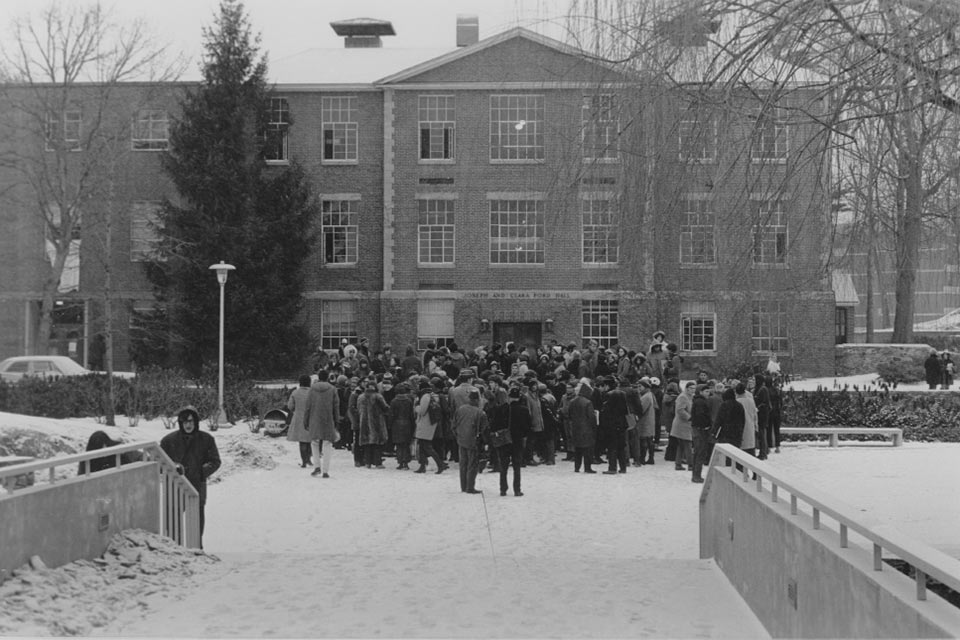 The Ford Hall takeover was a tense time on campus, revealing fractures between the administration, faculty and students about the occupation, as well as broad support among students for it. At the end of the occupation, students had attained their main demand for the establishment an African and Afro-American studies department (AAAS).
Brandeis has continued to spearhead initiatives that reflect our commitment to justice and enrich our community's diversity and inclusiveness. The Brandeis Posse programs, one for liberal-arts students, and one for science scholars (which originated at Brandeis), are prime examples. Both merit-based, the programs bring academically talented, underrepresented students with demonstrated leadership potential to Brandeis on full-tuition scholarships.
Yet it's clear that diversity, equity and inclusiveness cannot be achieved through programmatic improvements alone. When students occupied the Bernstein-Marcus administrative building in November 2015, they cast a light on a nationwide campus movement for more diversity and inclusion — and expressed the university's ethos.
In recognition of the 1969 occupation, the Brandeis protesters — African-American students, in concert with classmates of Latinx, Jewish, Asian, Arab and White backgrounds — called the protest #FordHall2015, and issued a set of 13 demands. Twelve days after the occupation began, Interim President Lisa Lynch and key administrators reached an agreement with student protesters. The university agreed to recruit more underrepresented faculty and students of color, improve mentorship of faculty and hire a chief diversity officer, among other initiatives.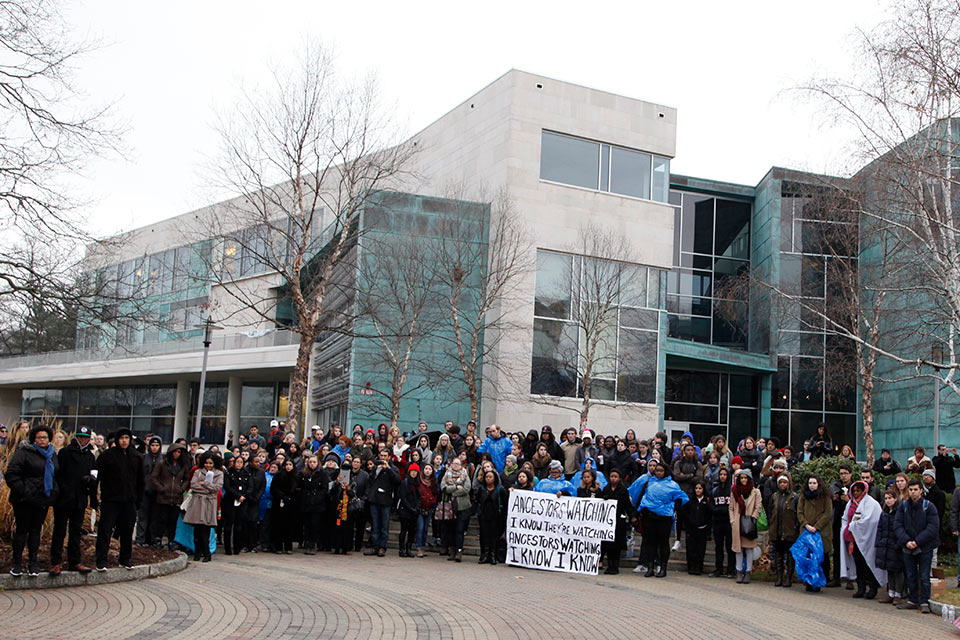 The Ford Hall 2015 student protesters demanded significant change on our campus to make it more diverse, equitable, inclusive and welcoming. We have made measurable strides, though much work remains to be done to make our campus truly inclusive and welcoming — a sobering fact made clear at a March 2018 Town Hall with President Ron Liebowitz, Board of Trustees Chair Meyer Koplow and Provost Lisa Lynch.
The campus-wide meeting was called following the firing of the men's head basketball coach after several student athletes said he made racist comments and harassed them. Some students expressed anguish and feelings of marginalization at the Town Hall, and the university began an independent investigation into how complaints made against the former men's basketball coach were handled internally. The investigation is examining the policies and practices followed in this case; policies and procedures more generally; and the wider climate at the university.
To this point, the university is deeply committed to supporting students, faculty and staff from marginalized populations, as well as to developing the rest of the campus community. Targeted efforts are underway to provide students with direct support, as well as to make sure that all community members have access to affinity and equity support groups.
For more information, refer to our status on commitments to DEI issues.
"America has believed that in differentiation, not in uniformity, lies the path of progress. It acted on this belief; it has advanced human happiness, and it has prospered."
Justice Louis D. Brandeis