Brandeis Novel Symposium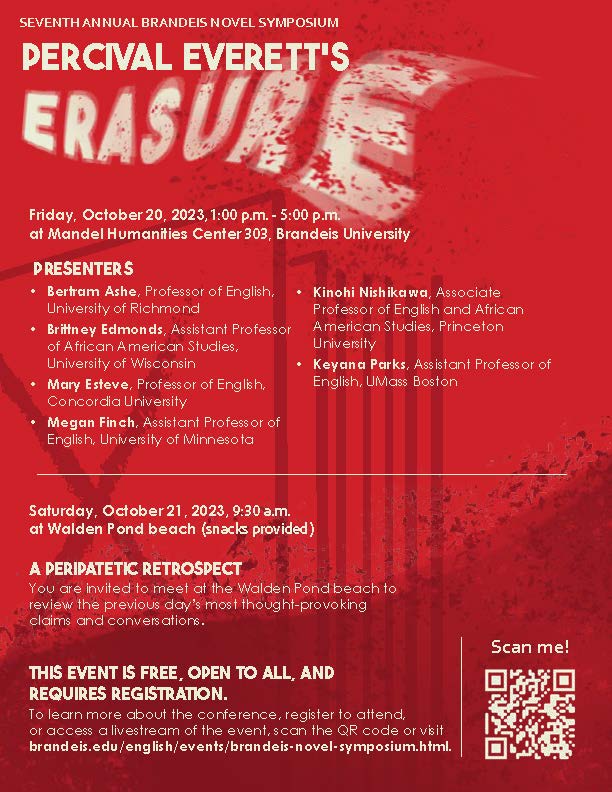 This year's Brandeis Novel Symposium, on Friday October 20, 2023, will feature Percival Everett's Erasure (2001). 
Welcome to the Brandeis Novel Symposium. Each year, this one-day conference has a dual focus: both on a particular novel and on theoretical and scholarly questions raised by the novel more generally. This year's featured text is Percival Everett's Erasure (2001). Percival Everett, Distinguished Professor of English at the University of Southern California, is the author of more than 30 books including most recently the Booker Prize shortlisted The Trees (2021). Erasure is a satire of the American publishing industry and the pressures placed on African-American writers.
As in previous years, our papers and discussions will investigate the central text as well as the broader theoretical, formal, and historical issues it raises, including satire, genre, embedded narratives, comedy, experimental fiction, and metafiction. Presenters may also situate Erasure within the arc of Everett's career and/or discuss the novel's relationship to other works including Richard Wright's Native Son, Sapphire's Push, and Ralph Ellison's Invisible Man.
A little history of the BNS:  Last year's symposium raised theoretical and critical questions about Native American literature and identity through D'Arcy McNickle's The Surrounded (1936); 2021 thought about empire via Graham Greene's The Quiet American; 2020 thought about settler colonialism with Willa Cather's The Professor's House; 2019 was on the graphic novel; the 2018 symposium was about science fiction and centered on Cixin Liu's The Three Body Problem; the inaugural event in 2017 was on Karl Ove Knausgard's My Struggle.
Please feel free to come join us by registering: no prior knowledge is required, and Boston-area participation has always been widespread; Live-stream will also be available for those who cannot make it to campus. Any student, graduate or undergraduate, who registers will receive a free copy of Erasure.
Featured Speakers Include: