Brian Donahue Retirement
Tuesday, March 29, 2022
It is with deep gratitude that the Environmental Studies Program notes the impending retirement of Professor Brian Donahue. Despite his youthful demeanor, Brian likes to report that he first came to Brandeis 49 (forty-nine!) years ago. Over that half century, he earned three degrees at Brandeis (BA, MA, and PhD, all in history) and was a founding member and pillar of the Environmental Studies Program.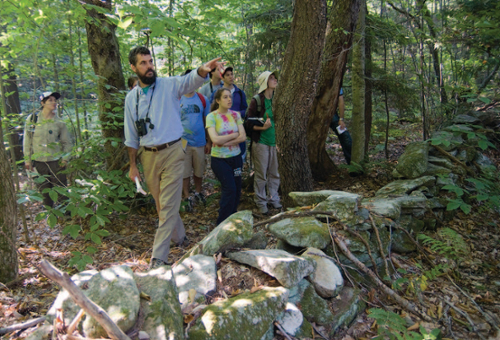 Brian is both outstanding in his field and can often be seen out standing in his field, as when he is surrounded by thousands of pounds of winter squash on his farm in Gill. It is impossible to describe Brian's work succinctly: he is an excellent scholar of American Environmental History, a deeply dedicated and skilled teacher, a farmer, a forest manager, and a visionary proposing a rich future for New England's farms and forests. His web of interests and skills draws students in and changes many of their lives; it is remarkable how many of his former students have spent years farming and working in forests.

He is an excellent scholar who has written award-winning books such as The Great Meadow: Farmers and the Land in Colonial Concord (winner of the American Society for Environmental History George Perkins Marsh Prize among others) and Reclaiming the Commons: Community Farming and Forestry in a New England Town (winner of the SPNEA/Historic New England Book Prize). Beyond that, however, he knows the history of the Western suburbs around Boston in incredible detail. To walk with him in Weston or Concord is to learn about the history of the land going back more than 10,000 years ago when the area was covered by a glacier. From this foundation, he can discuss indigenous uses of the land, followed by patterns of settlement, ownership, and land use by European settlers. He can explain how different types of glacial deposits led to different ecosystems and human land use in the millennia since the land was under a kilometer of ice. And as he guides you across the landscape, he can share the detailed history of many residents from two or three centuries ago.

To walk this landscape with Brian, as his students did so many times, is to feel history come alive. A stone wall running through the forest is much more than just a wall to Brian; instead, it demarcates where Josiah the Elder carved off some of his lands for his son Josiah the Younger, or the dividing line between a pasture and a cultivated field – and where an outwash plain left behind by the glacier allowed certain uses of the land that a moraine could not.

Not only does Brian know these lands as a scholar and long-time resident, but he has worked these lands for decades, helping to found and run Land's Sake Farm of Weston and managing town forests there as well. Students taking his courses Food and Farming in America course or The Eastern Forest: Paleoecology to Policy gained rigorous academic knowledge and skills while learning what it was like to actually work on a farm or split wood in a forest that was being managed for biodiversity and human uses.

However, such courses didn't fully satisfy Brian's desire to help students learn as much as possible in the field. He was the driving force behind the five-course, integrated Environmental Field Semester (EFS), which begat Laura Goldin's Environmental Health & Justice Semester four-course program, and the later flock of Justice Brandeis Semester programs. This lineup of life-changing programs came about when Brian, Laura, and Dan were lamenting the difficulties of getting students into the field within the standard academic weekly schedule. Brian simply said: "Well, why don't we just take over the students' entire schedules? Then we can have as many field trips as we want along with the class sessions we need to help students learn…." The EFS, which Brian led five times, engaged students for 20 or more hours per week in both the field and classroom. Students loved the EFS, whether on extended trips to northern Vermont or western Massachusetts, or on local full- and half-day trips.

Let us give the last word to one of his former students, Hannah Ramer, who took multiple courses with Brian, served as an assistant for the Environmental Field Semester, and researched and co-authored with Brian A New England Food Vision: Healthy Food for All, Sustainable Farming and Fishing, Thriving Communities. Hannah just earned a PhD from the University of Minnesota with a dissertation entitled, (Re)Imagining the city: urban agriculture, policy, and social justice. She writes: Brian made lessons come to life in local forests and farms. Digging carrots, splitting wood, and collecting maple sap – while learning about the ecological, social, and historical forces shaping these places—remain among my most meaningful Brandeis memories. Since graduating, nearly 15 years ago, Brian continued to be a mentor, offering invaluable encouragement and advice as I made my way from farm apprentice to environmental educator to PhD. A brilliant scholar, he has always shared his holistic approach to inquiry with mentees. His commitment to examining the relationships between our past, present, and more just and sustainable futures has been formative to my approach as an emerging scholar.

Brian, we will miss you tremendously. May you be productive, happy, and spry for many years to come.

-From the ENVS Faculty & Staff