Lunch with an Environmental Lobbyist
Event hosted by Environmental Studies
12:30-2 p.m. Jan. 31, 2023
Brandeis Faculty Club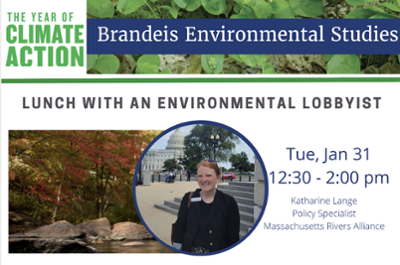 About the Event
Join Prof. Hitchcock for a free lunch at the Faculty Club with Katharine Lange, an environmental lobbyist.
Katharine works as the policy specialist for the Massachusetts Rivers Alliance, a statewide nonprofit organization dedicated to protecting and restoring the rivers and streams of the Commonwealth. She's all in on climate action; she works directly with legislators to craft and advance state legislation to improve the environment and local climate resilience, and to increase funding to the state agencies who steward our lands and waters. Katharine attended the University of Connecticut for her BA and master's in public administration, and worked on land conservation policy in Connecticut for two years. In 2020, she swapped her car for a bike and hasn't looked back.
Learn the current state of play for environmental policy in Massachusetts, how ideas become laws and where you fit in.