Survey of Indoor Air Quality in Black Women's Hair Salons in Boston
Introduction and Background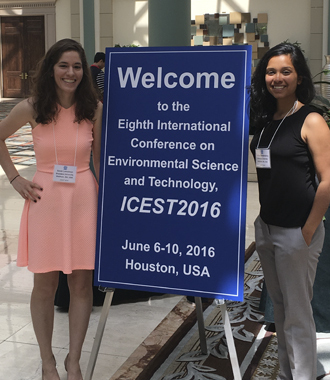 In the last decade, the United States hair salon industry has experienced rapid growth. By 2012, there were about 82,000 total hair salons with more than 600,000 documented salon workers in the country. Yet, there have been very few studies of the products used and environmental effects experienced by workers and customers in these salons, thereby leaving them vulnerable to unnecessary health issues. 
In fall 2015, undergraduate students in the Environmental Health and Justice Community Field Semester program at Brandeis University, under the direction of environmental studies professor Laura Goldin and in collaboration with a number of organizations and governmental agencies (listed below), conducted a study to explore occupational exposures to specific volatile organic compounds and fine particulate matter in black hair salons in Boston. We also surveyed workers to assess symptoms and injuries they experienced at work.
Study Methodology
With the approval of the Institutional Review Board at Brandeis University, we recruited 10 black hair salons in the Mattapan, Hyde Park, Dorchester and Roxbury neighborhoods of Boston. At each location, we conducted personal and area air sampling during salon working hours, using SUMMA canisters, air sampling pumps, Q-TRAK and DUSTTRAK. We collected samples for volatile organic compounds, aldehydes, particulate matter (PM2.5), carbon dioxide, carbon monoxide, temperature and relative humidity. In addition, we collected information on worker tasks, task frequency, environmental factors and products used, via observation log and questionnaires, and interviewed workers about symptoms and injuries they have experienced at work.
Major Findings
CO2 levels exceeded ASHRAE standard of 800 ppm in eight salons; ventilation in the majority of salons is not sufficiently adequate.
VOCs detected in all salons, concentrations in some salons exceeded EPA guidelines.
PM2.5 levels significantly exceeded NAAQS limit in seven salons.
Benzene levels exceeded EPA's carcinogenic target risk level in all salons.
Data inconclusive on association of air quality and detrimental health effects.
Major Recommendations
Expand study to include greater number of salons.
Explore PM2.5 further in salons, including specific particulate characterization.
Perform quantitative assessment of ventilation practices in black hair salons.
Increase the number of health survey participants.