Selma '65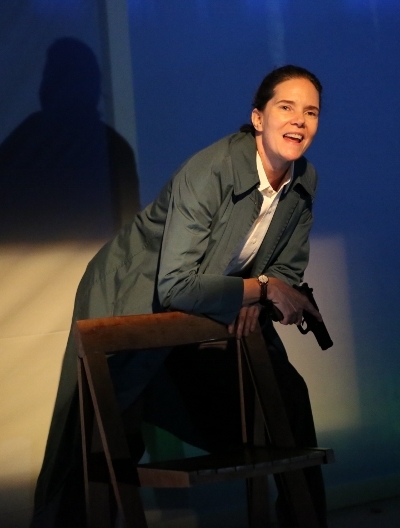 Scene from Selma '65, by Catherine Filloux.
Photo credit: Steven Schreiber
Performance by Marietta Hedges of Catherine Filloux's Selma '65, a one-woman play retelling the complex story of Viola Liuzzo, a white woman who was killed in Selma in 1965, and the FBI informant who was with the Klan the night she was assassinated. Followed by:
Panel of students discussing their responses to the play and the politics of race and gender as they intersect in Viola Liuzzo's story
Small group discussions over light snacks, moderated by Brandeis students
Catherine Filloux's one-woman play Selma '65, in remembrance of the 50th anniversary of the Selma Voting March, brings to life the interconnected stories of Viola Liuzzo, white civil rights activist, and Tommy Rowe, FBI informant, undercover with the Ku Klux Klan. The play received its world premiere in 2014 for a 16-performance run at La MaMa, where Filloux is a resident artist. The artistic team includes director Eleanor Holdridge; actress Marietta Hedges; set designer Kris Stone; and costume designer Suttirat Larlarb, who did the costumes for the film Slumdog Millionaire, and with whom Filloux worked on her award winning play Eyes of the Heart. Read Catherine's blog about Selma '65.
Watch a video of an interview with playwright Catherine Filloux about Selma '65 with Pei-Sze Cheng discussing the real-life events that surrounded the legendary 1965 voting march in Selma, Alabama.
Kidnap Road is the newest play by Catherine Filloux, directed by Stan Cahill and starring Kimber Riddle and Steve Guevara, focuses on Ingrid Betancourt, a presidential candidate in the country of Colombia in 2002, who while conducting her campaign was kidnapped by the terrorist organization the FARC. Details of Ingrid Betancourt's story can be found in the public record. The story is imagined as a two-person play based in part on those events.
Catherine Filloux was recently awarded the Planet Activist Award to honor her long career as an activist artist in the theater community.