My Musician Colleagues in Afghanistan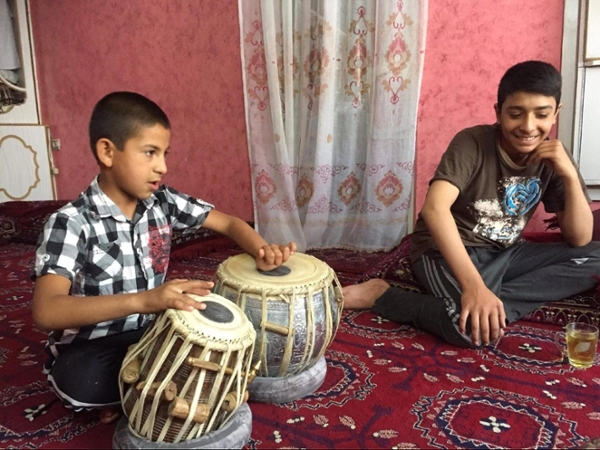 My teacher's nephews practice tabla (drums) at their house in the kharabat (musician's neighborhood). Photo taken by author, Kabul 2018.
In 2018 I spent six months studying music in Kabul, Afghanistan, with a grant from the Asian Cultural Council. The trip was part of my dissertation research, which focused on regional and devotional drumming traditions in South Asia. While in Kabul I engaged directly with the music community, taking private music lessons, interviewing musicians, attending private house concerts, and conducting archival research at Kabul University. Additionally, I volunteered at the Afghanistan National Institute of Music (ANIM) as the percussion instructor. I also had the opportunity to travel to Herat in western Afghanistan with my partner during her visit after the holy month of Ramadan. The hospitality and generosity that was given to me by the Afghan people is something that I will never forget. My time in Afghanistan was one of the most incredible and rewarding experiences I have had, and the recent events leading to the Taliban's return to power have been heart-breaking, to say the least.
Since the country fell to the Taliban in mid-August I have remained in contact with several of my friends, teachers, and colleagues who remain in the country. The story they have conveyed is unanimous: the situation is becoming more dire by the day. The Taliban's return has sparked chaos among the public, and the chaos at the Kabul airport in the wake of their return is just one example of how people are frantically scrambling to flee the country. My contacts in Afghanistan have shared with me several personal accounts and local news reports through social media that have painted a more severe situation than what we are seeing from non-Afghan news outlets. Recent reports say that banks and Western Union are closed indefinitely, and that most ATMs are running out of cash. Food supplies are running low, and prices are becoming increasingly inflated. Things are expected to grow even worse after August 31, the designated deadline for the withdrawal of foreign forces. Estimates suggest that the country could be out of food in less than a few weeks. People are also not able to recharge their phones, making communication exceedingly difficult. As well, the more "inclusive" stance that the Taliban claim to have adopted is turning out to be a PR campaign for the extremist group to garner legitimacy among the international community. All signs point to them being just as cruel and brutal as during their regime in the 1990s. Already the Taliban are searching door to door in Kabul for journalists, college students, scholars, and people who worked with foreign governments. Taliban have already been filmed intimidating and beating people on the streets of many towns and cities. Their stance on women's rights and inclusiveness appear not to have changed either, as women have been refused access to schools and places of work, and reports from rural areas tell of the Taliban forcing women into marriage with their fighters. The group is also explicitly targeting those who do not adhere to their extremist ideologies–musicians, in particular. 
Musicians have long been targets of the Taliban. Previously, the Taliban outlawed music in Afghanistan, and targeted and censored musicians, sometimes through great violence. Stories of the Taliban destroying instruments, imprisoning musicians, and physically assaulting and sometimes executing musicians are well-known throughout the music community. Many of my musician friends with whom I am in contact expressed grave fears that they will be targeted once again, and that it is only a matter of time until the Taliban show up at their door. It has already been an incredibly difficult year for musicians in Kabul. Musicians were hit hard on account of the Coronavirus pandemic. Before the return of the Taliban, much of Kabul was shut down, including the wedding halls. Wedding concerts make up a large portion of musicians' incomes, and not being able to perform for them was a severe financial blow to the musical community. Several of my teachers reached out to me in the beginning of the year, asking for financial assistance because they had been without work for several months. Now, with the Taliban again in power, their situation is even worse. Only one of my teachers has been able to leave, and has been in touch as he drives himself and his entire family to Peshawar, Pakistan. The rest are not so fortunate, and are stuck in Kabul without the means to evacuate themselves or their families.
Students from Afghanistan's National Institute of Music (ANIM) are being targeted as well. Most of ANIM's students are from minority communities that are regularly targeted by extremist groups such as the Taliban and Islamic State (ISIS/ISIL). The institute, itself, has been a target in previous attacks by the Taliban, one in which the school's director, Ahmad Sarmast, was severely injured. It has been closed over a year now on account of the pandemic, and many students remain in Kabul with nowhere to go. The school has a link on its website (shared below) for donations that will be used to help the school and students during this time.
Below are some links to help scholars, musicians, and artists in Afghanistan, as well as fundraisers to help newly arrived refugees in California. While monetary donations are helpful, coordinated efforts are also being made to lobby the United States government to expand the visa program to help Afghans who don't qualify for the Special Immigration Visas. Please write to your local congressperson to tell them you support expanded visa programs for Afghans. I have found that Stanford University has a webpage with useful resources and templates for these.
ANIM's home website: The institute has set up a secure method that you can donate to them directly.
Scholars at Risk: Scholars at Risk is currently trying to help connect scholars and students in Afghanistan connect with institutions that can support and host them.
PARSA: A small NGO working to support children in Afghanistan. 
Launchgood: A fundraiser set up by Afghan-Americans in the Sacramento area to help provide necessities for recently arrived refugees.