Culture of Sustainability Walking Tour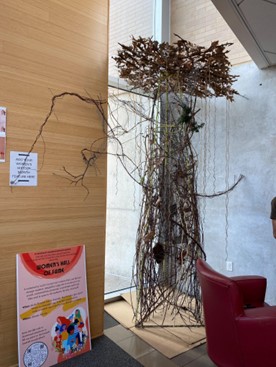 By Gabriella Lanzi and Naomi Oyler, in collaboration with Harsha Bhamidipati, Anna Kelma, and Kobi Russell
What started it all…
During the first four or five months of this year, a group of five students from Brandeis University created a walking tour designed to inspire participants to discover, imagine, and create cultures of sustainability. The idea for this project emerged from a course taught in the fall of 2021 by Professor Cynthia Cohen, co-director of the Brandeis Program in Peacebuilding and the Arts, with guest instruction from Professor Polly Walker, former Director of the Baker Institute for Peace and Conflict Studies at Juniata College.  The course was based on a report prepared by the IMPACT initiative that investigated the contributions of ethical arts and cultural practices in meeting and transforming some of the biggest challenges in the 21st Century. As part of the final project for the course we were asked to collaboratively prepare a hypothetical creative arts action based on some of the theoretical frameworks presented in the report, namely: cultures of sustainability, the value of systemic wisdom, and the power of arts and culture to invite participation, affirm dignity and interdependence, evoke curiosity, and to unleash creativity and agency.
In the following article, we, the creators of the project, reflect on our experience with the hope of lighting a spark of interest for others who might want to create something similar. We don't think any of us imagined, when we first set about working on our final project, that it would actually be realized less than six months later! We hope you'll enjoy this literary introduction to the process, successes, and lessons learned from our audio walking tour. And if you're so inspired, please feel free to reach out to us at coexistence@brandeis.edu to share your own experiences, to reflect on what we share, or to inquire more about our work.  
The space in which our project came to be was the Brandeis University campus in Waltham, Massachusetts. In order to embed our work within the university's artistic community and calendar of events, we set a goal of participating in the 2022 Leonard Bernstein Festival of the Creative Arts. This would help to support our project through shared marketing and visibility and offered an additional guiding framework through the festival theme of buoyancy. Thus our project came to be called the Culture of Sustainability Walking Tour with the concept of buoyancy tied into themes of resilience gained through systemic wisdom (explained further in the IMPACT report mentioned above). Any future projects that might be inspired by ours might build on these same theoretical frameworks, and, we hope, be augmented by theoretical frameworks suited for the environments and priorities of the artists and communities who create them. 
The purpose of our Culture of Sustainability Walking Tour project was to invite communities in and around Brandeis into an aesthetic experience designed to introduce greater nuance into our conception of sustainability as a culture. Our hope was that by adding nuance to the mainstream conversation regarding sustainability and climate change, we could increase awareness of the need for a shift in our culture and vision for, and practice of, sustainability, as well as introduce new methodologies which lean towards coexistence and interdependency with the natural world. We anticipated that paradigm shifts in sustainable practices could be possible if attendees were inspired to unleash their own creative solutions for climate justice. Additionally, we designed our project as an invitation to slow down, knowing that we often move through spaces quickly, which does not leave the proper time or space to be mindful of our surroundings and to reflect on our connection to the environment. 
We envisioned the primary responsibility of our project as the creation of a beautiful aesthetic experience (in the form of an audio walking tour and student-led installations) which would evolve into a collaborative artistic experience to debut during the Spring 2022 Brandeis Festival of the Arts. Through various modes of artistic expression that affirmed and incorporated Indigenous and other cosmologies, cultures and practices, we hoped that those who engaged with the experience would be introduced to new ways of thinking regarding our relationship to land, our environments, history, art, and knowledge. For the most part, our experience, levels of engagement, and feedback from participants, suggest that many of these goals were met. 
The nuts and bolts of an aesthetic experience: 
We were initially drawn to the idea of a walking tour as a means of encouraging people at Brandeis University to slow down and observe the natural space around them. A walking tour is simple. It only requires a designated path and a theme or prompt to guide participants. For our walking tour, we used both the physical space of campus at Brandeis University and a virtual audio recording. The path was designed to bring participants to both the quieter corners and busiest sections of campus to draw contrast (view the map). To accompany this path, we created an audio program which guided participants to each spot along the tour.  The audio track included instructions, stories, poetry, music, guided imagery, and suggestions regarding how to engage with the art installations. 
Participants began their tour at the Tree of Hope installation, a space of creativity in which the audience was invited to add their hopes for the future (in the face of climate change) as "leaves" on a sculptural tree. From here participants were guided along a pathway to various arts installations and key points of interest, including a series of colorful banners, where instructions for movement activities celebrating connections to the earth, trees, and sky could be heard on the audio track. 
The process of creating the walking tour required a balance between creative thinking and logistical arrangements. While a university campus is an open community space, it can take time to access all of the resources and information needed to properly host an event. As with many projects, the process of community-building is best facilitated by beginning early. It takes time to build the trust and understanding necessary to access support. It's a process that can have many steps forward and backward as various partners seek to understand the needs of the project as well as the needs of the space to be utilized. Ultimately, we found support from the University library, sculpture studio, and several different academic programs and offices. 
One of the strongest pillars we had as a part of this process was the team. When reflecting on this experience we discovered that some of our greatest assets were our empathy and our ability to accommodate each other. We discussed setbacks, victories, solutions, and next steps. Our team was a mixture of graduate and undergraduate students which offered us the opportunity to mentor and learn from one another. In order to facilitate our process we met weekly among our team, and regularly with two faculty advisors. This consistency allowed us to build momentum and to exchange vital information to keep the creative and logistical processes moving forward. When difficulties or complications arose, we worked to communicate from a place of empathy, compassion, humility, and understanding. We also found it helpful to designate certain portions of each meeting (or sometimes entire meetings) as either logistical or creative. For our team, it helped to separate these two spheres. 
Where will you walk? 
A walking tour is quite malleable and can act as an invitation to an aesthetic experience and offer participants new wisdom and inspiration. It is useful to give yourself both the time and the space to walk the path frequently. You may be surprised by how much the environment surrounding the path will change. This practice can also inspire new content for however you choose to guide participants through the tour. We ultimately included excerpts from authors such as adrienne maree brown, Robin Kimmerer, Joy Harjo, and N. Scott Momaday whose work was connected to our themes or to physical destinations along the path. 
We also discovered that sharing our project with others – regardless of how "finished" it felt – helped us generate so many more new ideas. We held a workshop about midway through the planning process where we presented the Tree of Hope and invited participants to reflect on the prompt: how do we maintain hope in the face of climate change? A couple of our team members also hosted a dance and movement workshop at an installation along the path of the final walking tour. Both of these workshops provided us with additional opportunities to share our work with the Brandeis community. This kind of engagement further informed our efforts. 
We hope that you have enjoyed this glimpse into our creative process and hope that we may have inspired you to consider creating your own audio walking tour!