2023 Rabb School of Continuing Studies Award for Outstanding Teaching presented to Meredith Fortney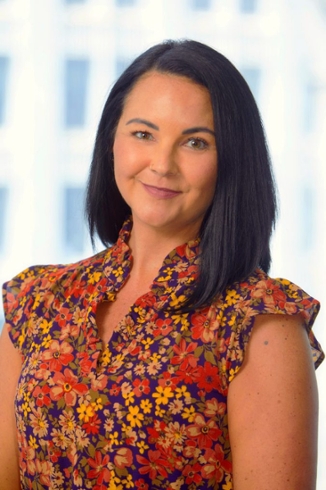 Meredith Fortney, Digital Marketing and Design Faculty at GPS, was the recipient of the 2023 Rabb School of Continuing Studies Award for Outstanding Teaching. Read about her teaching journey in the article below.
I owe my love of learning and teaching to my mother; she was an educator her whole career and taught me that teaching is one way to have a positive and lasting impact on others. I have carried this philosophy with me throughout my life and career, hoping to help others both personally and professionally. Marketing was my minor in college (I thought I wanted to be a TV news reporter, but things changed), and it made an impression on me as a space where anything could happen. Once I graduated from Auburn University, I joined a small, boutique marketing agency in Atlanta, GA where I dove headfirst into campaigns, reporting, optimization, and learning all I could about my clients.
I believe that my hunger for learning has been the single most active driving force in my career. I seek challenges when I am no longer learning or able to grow at a company or within a role. I challenged myself and successfully earned my MBA while working full-time. I have always loved school, but also knew having advanced business knowledge would help me progress in my career, and allow me the opportunity to mentor others who were looking to grow in their professions. While in my online MBA program, I had the opportunity to attend a few in-person speaking engagements, where I learned there was a path to online teaching for me once I had graduated. I knew this was the opportunity I was looking for to continue my quest for learning and sharing, so I began applying to different adjunct positions immediately upon earning my degree. I was lucky to land at Brandeis over seven years ago, and being an instructor here has provided me the opportunity to pass on the wisdom, experience, and perspectives of my nearly 20-year career with others who are interested in the world of marketing.
I believe teaching also makes me a better people leader at work, and I use the skills I have learned in the academic space to aid my teams' career development and progress. Nothing makes me happier or more fulfilled than seeing others reach their potential or achieve their goals through learning and development, from my students to my team members. I hope my passion for learning and knowledge sharing has inspired others to go out and do the same for their communities because the more we learn and share, the bigger impact we will have overall. The Graduate Professionals Studies program is a wonderful place for senior career experts to have a tangible impact on students, and hopefully, some of my students will be here teaching in my place in the future.
---
Meredith Fortney is the Director of Talent Acquisition Programs at FanDuel where she leads the Talent Marketing, Employer Branding, and Early Careers teams. Throughout her tenure as a marketing and branding expert, she's led teams at Kirkland's, Cummins, Asurion, and most recently HelloFresh. Meredith has been teaching for The Rabb School for seven years and was recently appointed to the Advisory Board representing the Digital Marketing and Design program.

Meredith lives in New York City with her wife Alex, and three dogs Cooper, Huck, & Eros. When she's not working and/or teaching, she loves to read, learn about wine, watch documentaries, and she never misses a day of Wordle.