Understanding User-Centered Design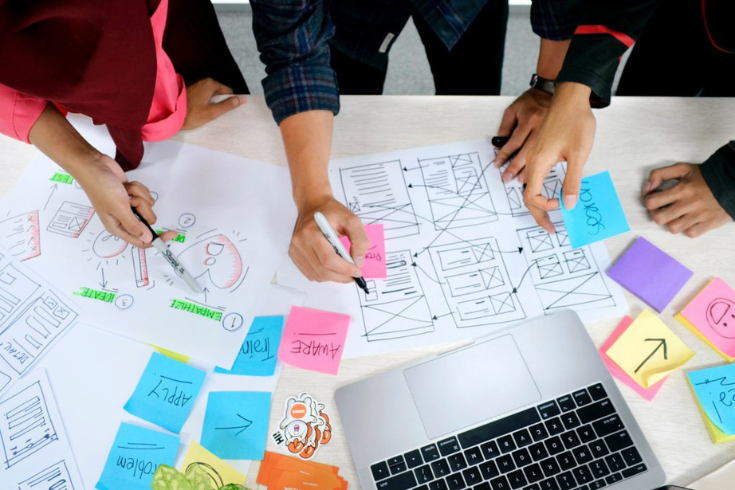 User-Centered Design — or, as it is more commonly known, User Experience Design (UX) — has risen into prominence within the past decade, becoming one of Brandeis GPS's most popular graduate degrees.
While one can intuit the focus of user-centered design or UX design from its name, few people know what actually goes into UX design, what educational or professional background is needed to succeed in the field, or what career opportunities are available. This article will unveil these details and more, delving into the ins-and-outs of User-Centered Design.
What is User-Centered Design?
In simple terms, User-Centered Design is the process of creating products that are easy, engaging, and enjoyable to use. Whether the product is an app, website, or physical device, design is crucial to the user's experience. A product's concept may be revolutionary, but all potential benefit is lost if the audience cannot easily navigate, interact with, or understand it.
While aesthetics certainly play a role, the real focus of User-Centered Design is the user experience, which is impacted by the product's function, usability, and value to the user. UX practitioners combine insights from psychology and UX research with creativity and technical skills to improve the efficiency, accessibility, and appeal of products so that they can be fully utilized and enjoyed by the audience.
What kind of background is needed to study User-Centered Design?
There are no specific background requirements for individuals who wish to study User-Centered Design. Although previous knowledge of psychology, design, coding, and programming may be useful, most User-Centered Design programs do not have prerequisites. This, along with the high demand for UX experts, makes User-Centered Design one of the most appealing fields for individuals who are looking to make a career change.
What skills are needed to succeed in User-Centered Design?
In addition to perfecting their knowledge of basic UX design principles, UX practitioners must master a variety of hard skills in order to succeed in the field. These skills include UX research, prototyping, design thinking, information architecture, visual design, and more. Experience with coding can also be useful — both for designing and for collaborating with the software developers on your team. However, new tools have made it possible for UX practitioners to succeed without knowing how to code.
Soft skills are also crucial for success in the UX field. UX design requires a deep understanding of others' needs, individuals pursuing a career in the field must be empathetic. They must also be highly inquisitive, as UX design requires a constant search for new and better solutions. Lastly, organizational skills are crucial — UX practitioners must compile large amounts of research, feedback, and ideas into one design, and close attention to detail is needed to ensure that all elements are properly incorporated.
What career opportunities are available in User-Centered Design?
As competition in the markets for apps, websites, and devices intensifies, companies in all industries are looking for specialists who can help to differentiate and improve the usability of their products. According to a study on LinkedIn, UX design was the fifth most-needed skill in 2020. According to the US Bureau of Labor Statistics, employment for Web Developers and Digital Designers — a field that may include UX designers — is expected to increase by 23 percent from 2021 to 2031. With our increased use of technology following the height of the COVID-19 pandemic, accessibility and usability are becoming priorities of society — and UX experts are the ones with the skills and tools to meet these needs.
In addition to conducting research and designing products within teams of software engineers and other designers, UX specialists often work on projects related to obtaining and retaining customers, and may even provide insight on how to improve employee satisfaction within their own company. This versatility means that a degree in User-Centered design can open the door to a wide variety of job titles and career opportunities.
Why should I study User-Centered Design at Brandeis GPS?
With both part-time and full-time online options, the MS in User-Centered Design at Brandeis GPS offers you the flexibility to learn at your own pace from UX professionals at the top of their field. Rather than focusing solely on design aesthetics, our User-Centered Design program explores the science of human behavior to gain a deeper understanding of user experience (UX) and engagement principles. With areas of focus such as Design, Strategy, or Research and Analytics, you can select an elective path based on your personal interests and career goals. Not only this, but our capstone course and internship options will provide you with the opportunity to put your new knowledge and skills into practice, thus providing you with real experience to support your transition into a UX career. You'll graduate with a portfolio showcasing your skills, empowering you to advance in your organization or launch a new career improving digital products, websites, and software applications.
---
For more information about the Brandeis GPS master's in User-Centered Design, visit the program webpage.