Fall Course Highlights
Chinese Language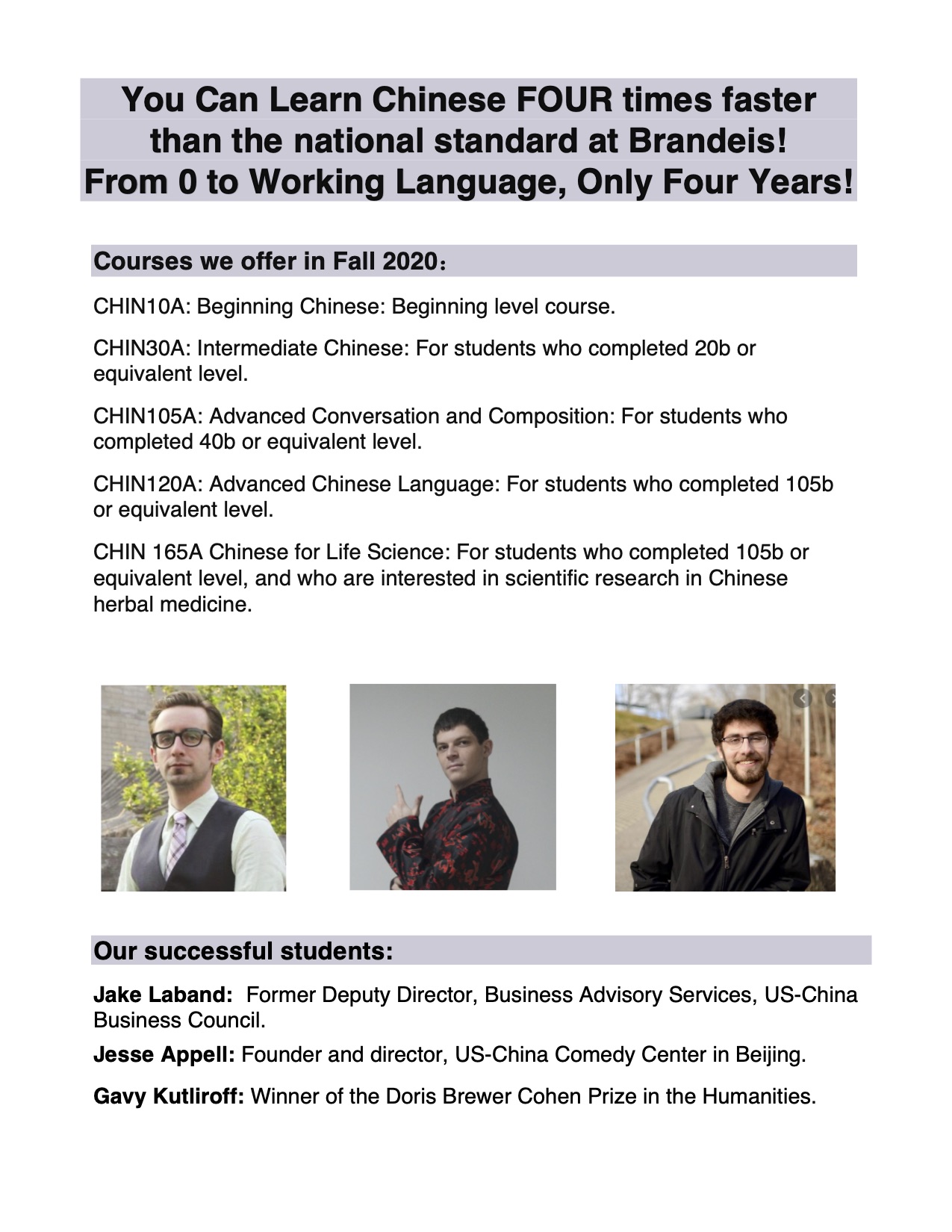 You can learn Chinese FOUR times faster than the national standard at Brandeis! From 0 to Working Language, only 4 years! Click the flyer for course details.
Courses in English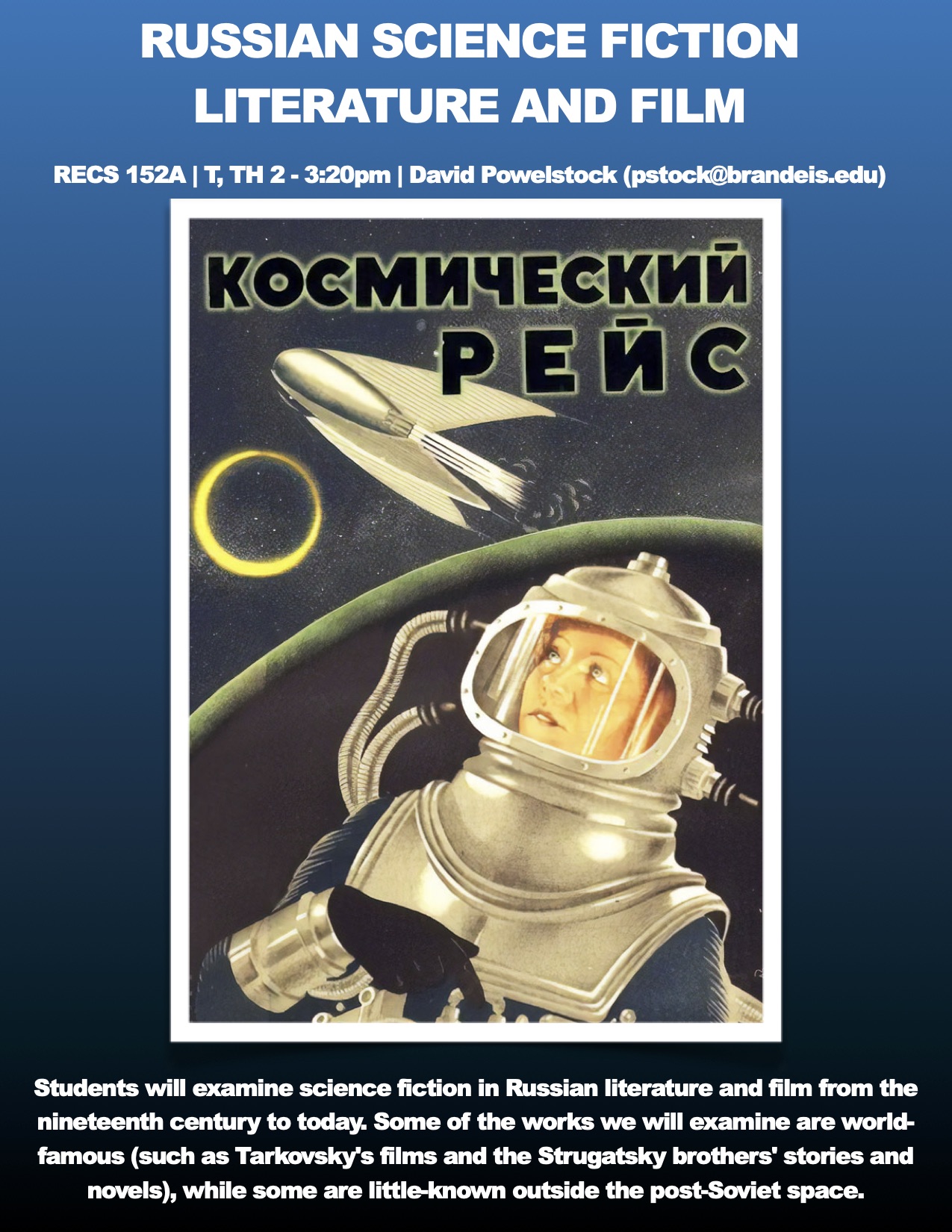 RECS 152A ​- ​Russian Science Fiction Literature and Film (NEW)
Examines the Russian science fiction tradition in the context of philosophical, historical, and political developments, with attention to topics such as futurism, science and technology, the perfectibility of humanity, the nature of time, the proximity of the unknown, and otherness.
-Professor David Powelstock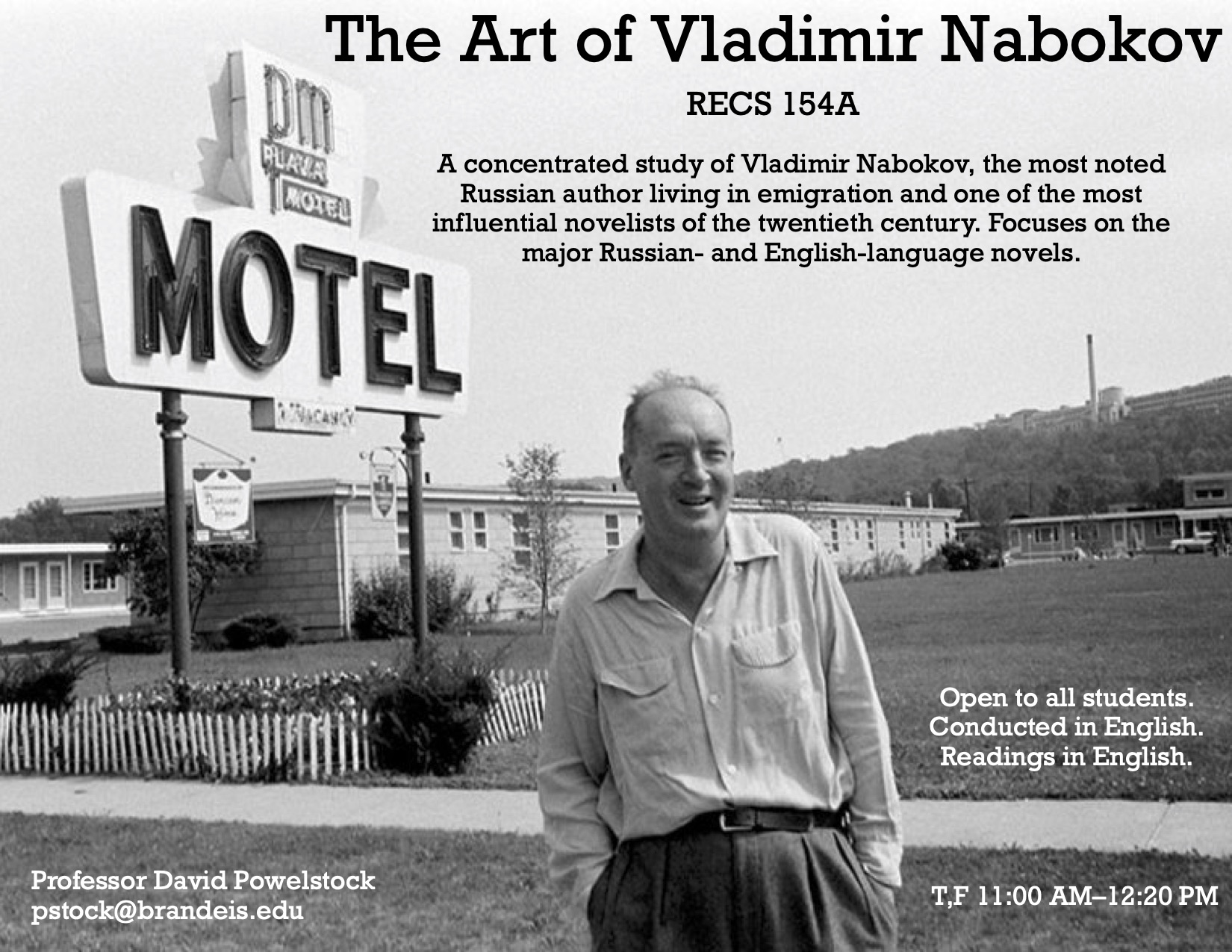 RECS 154A

​- ​

The Art of Vladimir Nabokov 
A concentrated study of Vladimir Nabokov, the most noted Russian author living in emigration and one of the most influential novelists of the twentieth century. Focuses on the major Russian- and English-language novels. Open to all students. Conducted in English. Readings in English.
-David Powelstock
Explores the ways in which modern Japanese writers and filmmakers have represented childhood, youth, and coming of age. A variety of short stories, novels, and memoirs from the 1890s to the present day are read, and several recent films are also screened.
JAPN 145A

​- ​

The World of Classical Japanese Literature
A survey of some of the most important works of Japanese literature from its origins to the late sixteenth century, including a wide range of genres: fiction, essays, travelogues, poetry, and drama. All readings are in English.
-Matthew Fraleigh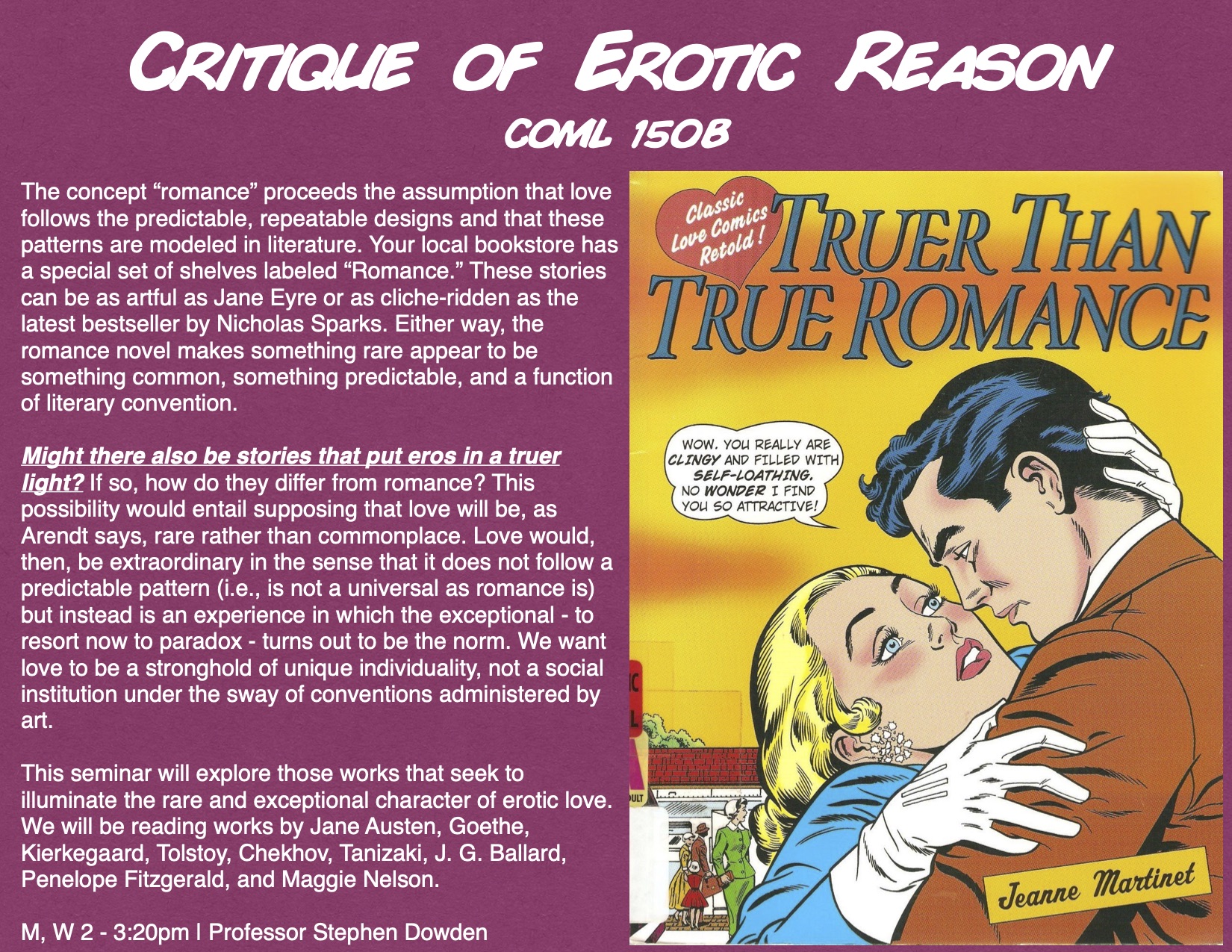 COML 150B

​- ​

Critique of Erotic Reason 
Explores transformations in erotic sensibilities in the novel from the early nineteenth century to the present. Works by Goethe, Austen, Kierkegaard, Tolstoy, Schopenhauer, Bronte, Chekhov, Garcia-Marquez, Kundera, and Cormac McCarthy.
-Professor Stephen Dowden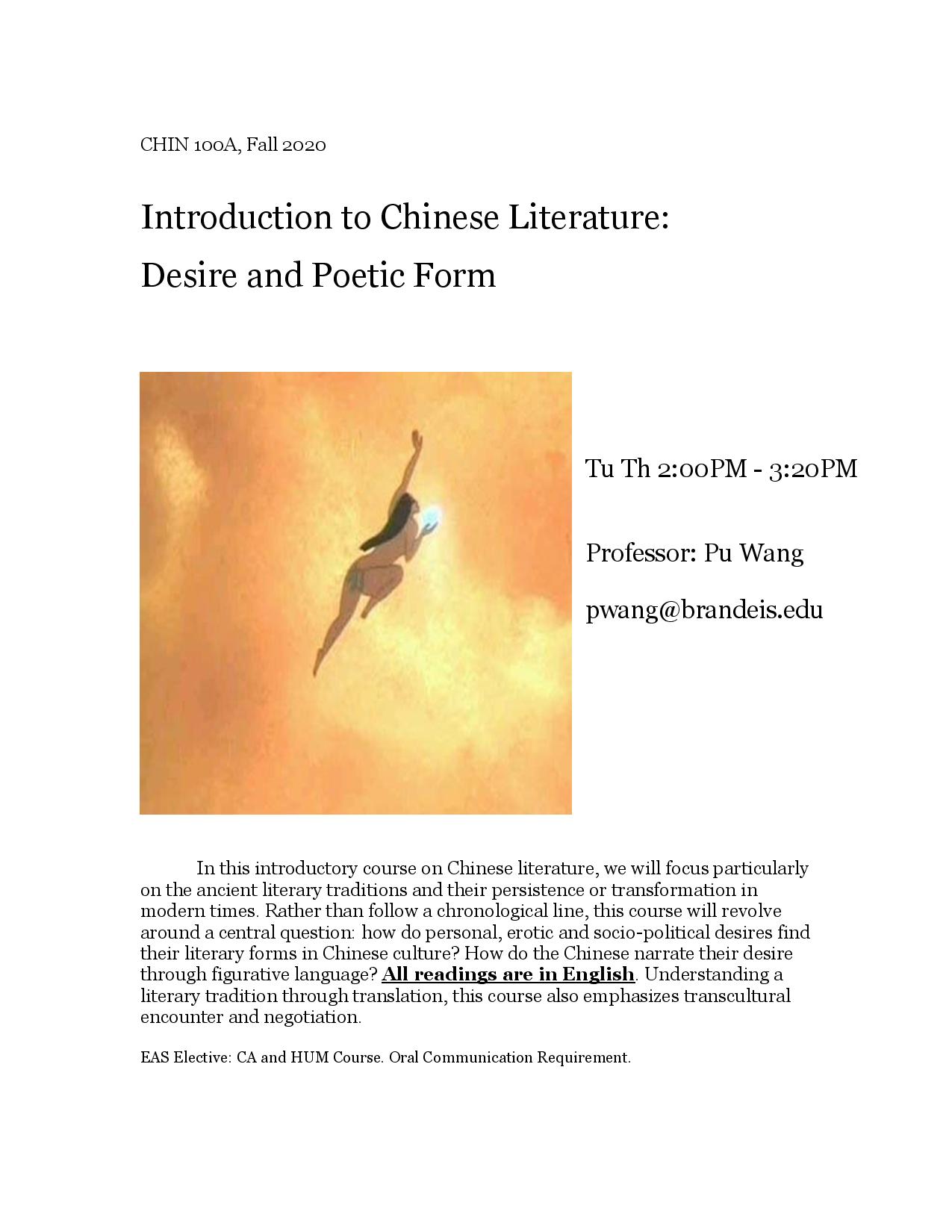 CHIN 100A ​- ​Introduction to Chinese Literature: Desire and Form

Introduces Chinese literature, focusing primarily on Chinese "classical" literary traditions and their metamorphosis in modern times. Taught in English. No Chinese language capabilities required.
-Professor Pu Wang
Foreign Language
 RUS 10A - Beginning Russian I
For students who have had no previous study of Russian. The four-skills (listening, speaking, reading and writing) introduction to the Russian language with the focus on developing oral proficiency early on. A systematic presentation of the basic grammar and vocabulary of the language within the context of Russian culture.
-Professor Irina Dubinina
GER106B - Migration, Kultur, Synergie
Prerequisite GER 30B.
Investigates the experience of refugees and immigrants in present-day Germany and discusses processes of social transformation. Through fictional and non-fictional texts and film, we gain an understanding of their cultural, economic, political and artistic contributions and of cross-cultural collaborations.
-Professor Sabine von Mering
All Department Events
The GRALL department calendar includes department-wide events, as well as program-specific events for the each program. Add us to your Google calendar.
Past Department Events