Department News
ABC News' Start Here Podcast - "Mother Tongue/ родной язык"
May 27, 2022
"Since the war broke out in Ukraine, Americans across the country are joining together to rally around Ukrainian nationalism and identity. At the same time, many Russian Americans – horrified by what they see their home country doing to its neighboring Ukraine – are having to confront questions of their own identity. Do I keep speaking my native language or do I give it up as a form of protest? In this special episode of Start Here, producer Vika Aronson guides us through the contradictions and dilemmas Russian Americans face right now."

Our Russian Language Director, Professor Irina Dubinina, was a guest on the show. Special shoutout to students, Aeryn Rowe '25 and Alyssa Rider '22, for their contributions.
Zhongzhi Chen's Graduation Address
May 22, 2022
Zhongzhi Chen '22 is a double major in English and European Cultural Studies. Here is his graduation address from this year's ceremony:
Dear fellow students, families, friends, and faculty, hello, good morning, and congratulations. In lieu of a conventional speech, I offer a short narrative, and invite you to indulge me:
He was surprised when they asked him to give a speech at the graduation, for he was never the speech-giving kind of student, whether in his own country or abroad elsewhere. Speeches were supposed to be given by other people – by the better, more perfect specimens of scholarship and society: people who can stand on podiums with big confident smiles and talk about the democratic values of a humanistic education. He was not one of those people; he felt satisfied to sit in the audience.
"So, what're you gonna say?" she asked. It is midnight. He sits on a sofa outside his room. She is somewhere in Liaoning. They met on WeChat. They have never met in person. There is no one else to talk to at this hour.
"I've no idea," he texted. "I'm reading speeches from last year. One of them quotes Shakespeare, another Shelley. I feel like I should do something different, maybe quote Confucius? I'm flipping through a translation of the Analects right now, but I can't find a good passage."
"What do you want to say?" she asked. "What is your message?"
He stops. Is it so simple? To say something, to have a message. Outside, a car arrived in the lot, a shadow with a suitcase approached the vehicle – someone is heading home for summer.
"Some speeches from the past touch on politics," he texted. "North American politics, of course. Nothing unusual. Do you think I should go in that direction?"
"Do you have something to say in that direction?" she replied. 
"Well, I can say something like: 'Today, we live in an age of global nationalism and international mistrust, in which it is all too easy for people to perceive and prejudge each other, perhaps unconsciously, according to the country they come from, or some other group identity, thus enacting a totalizing discourse of group impressions. These are times when the value of the humanities become especially pertinent, because the humanities teach us to behold one another's differences intimately, to confront each other, to engage the Other, in the words of French philosopher Emmanuel Levinas, "face-to-face", on an individual basis. The kind of knowledge that the humanities impart us consists in precisely this ability to open up to the Other, and by doing so, ultimately, know ourselves.'"
He sends the text and waits. She does not reply. He feels hypocritical. In his three years at Brandeis, he did not do what he had just preached in that very text he had just produced, neither did he feel like it was possible. In his actual experience, people always hanged out with their own, no matter what they think they believe in, almost as if they could not help it. When he attempts to break into a different territory, its local inhabitants quickly remind him, by confused looks and bored expressions, that he is an outsider who does not really speak their language or share their jokes. It matters little if these people have read Shelley or Shakespeare.
Perhaps, he thinks, true learning is not about believing that you have become a better person, that you are that better person, but in knowing that you are not, and that there is much, still, to be known.
She does not reply. He waits. In the silence of the night, he detects a strange humming sound, as if there is a machine hidden in the darkness. He flips through the Analects. A message appears on his phone. It is from her – it is a quote:
"子曰:不患人之不己知,患不知人也。"
"'The Master said: Do not worry that other people do not know you. But be concerned that you do not know them.'"
The Brandeis Hoot's Interview with Professor Robin Feuer Miller
May 6, 2022
Professor Robin Feuer Miller, Chair of GRALL, sat down with Cooper Gottfried from The Brandeis Hoot to "shed a little light on the GRALL department, its future and herself." 
Click here to read the full interview!
Co-edited by Brandeis 
Professor Matthew Fraleigh
 and York University Professor Joshua Fogel
Sino-Japanese Reflections
 offers ten richly detailed case studies that examine various forms of cultural and literary interaction between Japanese and Chinese intellectuals from the late Ming to the early twentieth century. The authors consider efforts by early modern scholars on each side of the Yellow Sea to understand the language and culture of the other, to draw upon received texts and forms, and to contribute to shared literary practices. Whereas literary and cultural flow within the Sinosphere is sometimes imagined to be an entirely unidirectional process of textual dissemination from China to the periphery, the contributions to this volume reveal a more complex picture: highlighting how literary and cultural engagement was always an opportunity for creative adaptation and negotiation.
Antisemitism on Social Media
April 11, 2022
Edited by Monika Hübscher, University of Duisburg-Essen, Germany and 
Sabine von Mering
, Brandeis University, USA
Antisemitism on Social Media is a book for all who want to understand this phenomenon. It addresses how social media with its technology and business model has revolutionized the dissemination of antisemitism, and how this impacts not only victims of antisemitic hate speech but also society at large. People working for social media companies, policy makers, practitioners, and journalists will benefit from the questions raised, the findings, and the recommendations. Educators who teach courses on antisemitism, hate speech, extremism, conspiracies, Holocaust denial, but also those who teach future leaders in computer technology will find this volume an important resource.
Click here for a recording of the April 11th book launch.
Click here for more information and for a 25% discount code!
Congratulations to Professor Irina Dubinina!
Her textbook, co-authored with Olesya Kisselev, Rodnaya Rech': An Introductory Course for Heritage Learners of Russian, has been awarded the prize for Best Contribution to Language Pedagogy by the American Association of Teachers of Slavic and East European Languages (AATSEEL).
Congratulations to Professor Steve Dowden for publishing two new books!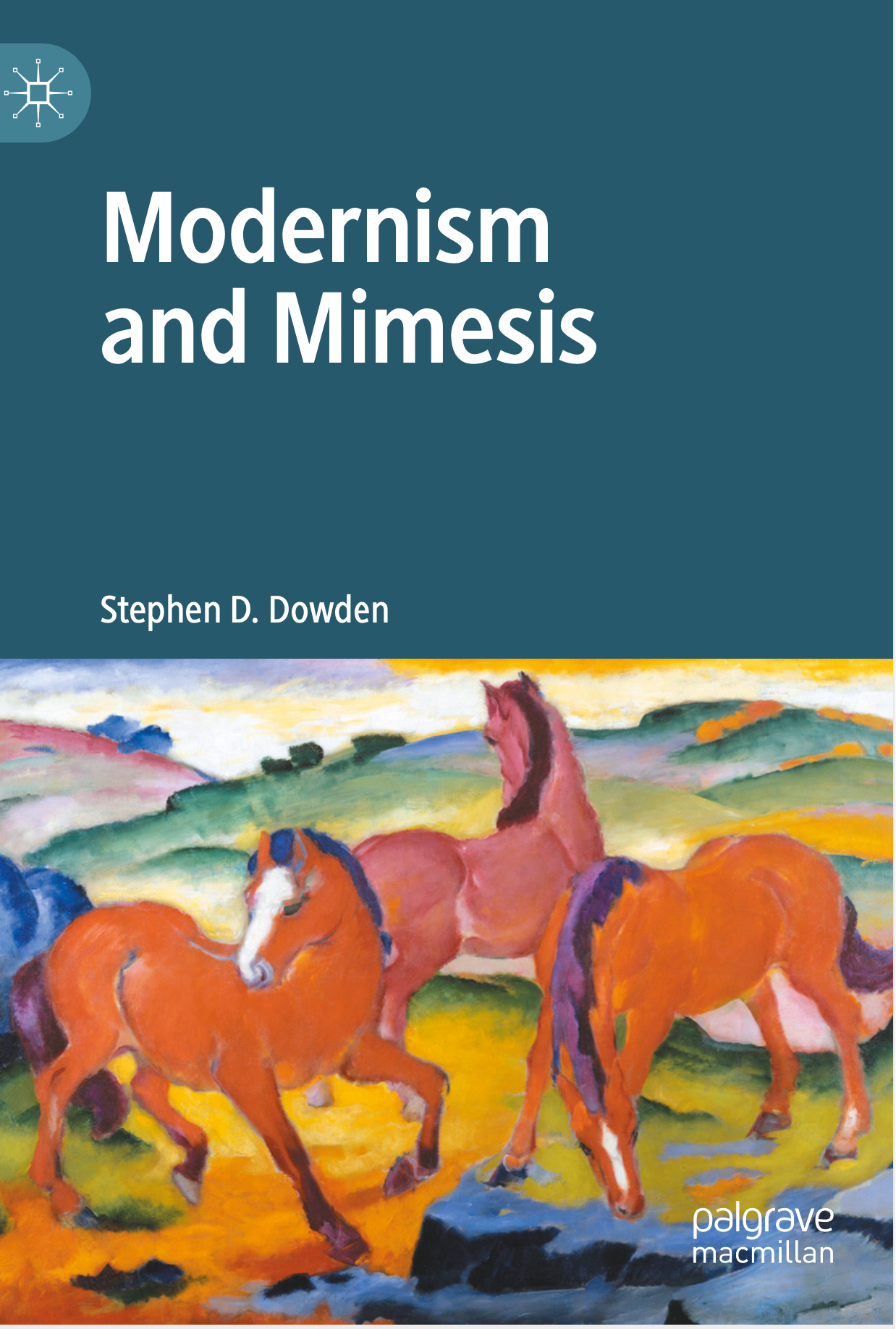 Modernism and Mimesis offers a new way of thinking about how modernist fiction, painting, music, and poetry are interlinked. Among other things, it shows that modernism, contrary to a longstanding view, did not turn away from mimesis. Rather, modernism operates according to a deepened understanding of what mimesis is and how it works, which in turn occasions a fresh look at other related dimensions of the modernist achievement. Modernism is neither "difficult" nor elitist. Instead, it trends toward simplicity, directness, and common culture. Naïveté rather than highbrow sophistication was for the modernists a key artistic principle. Modernism, far from glorifying subjective creativity, directs itself toward healing the split between subject and object. Mimesis closes this gap by resolving representation into play and festivity.
Thomas Bernhard's Afterlives examines the international mobilization of Bernhard's style. Writers in Italian, German, Spanish, Hungarian, English, and French have succeeded in making Bernhard's Austrian vision an international vision.

To view a full list of Professor Dowden's publications, you can visit his GRALL faculty feature webpage. 
Innovations in Teaching and Research Grants 2017–18
Congratulations to GRALL/German Studies faculty members Kathrin Seidl and Sabine von Mering, who were recently awarded grants for Innovations in Teaching and Research.
Professor Seidl is a recipient of a Teaching Innovation Grant for the group project Enhancing Student Engagement and Achievement Through Voice and Visual Interaction Using VoiceThread™ (with Kim Round, PI, and co-investigators Carol Damm and Carrie Miller).
Professor von Mering is a recipient of a Research Innovation Award for her project An Examination of the German Climate Movement and Germany's Path to a Socio-Ecological Transformation.
Brandeis BiRCh Project Receives Grant from National Science Foundation
The Department of German, Russian and Asian Languages and Literature is excited to announce that the National Science Foundation has awarded a grant to Brandeis University in support of the project Parsed and Audio-Aligned Corpus of Bilingual Russian Child Speech (BiRCh). The project is under the direction of faculty members Sophia Malamud (Linguistics/Computer Science), Irina Dubinina (Russian/GRALL), and Nianwen Xue (Linguistics/Computer Science). You can learn more about the project on the BiRCh website.
Congratulations to the BiRCh team!