Legal Studies Events
Upcoming Events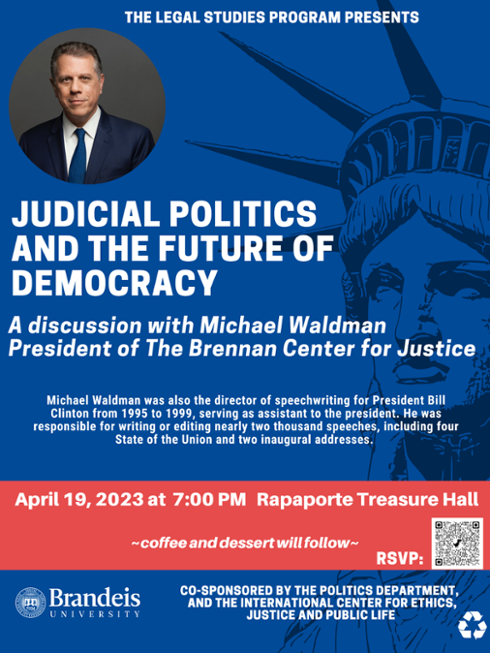 Judicial Politics and the Future of Democracy: A Conversation with Michael Waldman
April 19, 2023
The Legal Studies Program at Brandeis University Presents:  "Judicial Politics and the Future of Democracy: A Conversation with Michael Waldman"
Michael Waldman, author and President of the Brennan Center for Justice, joins us for a discussion moderated by faculty from the Legal Studies Program and the Politics Department. Waldman served as the director of speechwriting for President Bill Clinton from 1995-99, and was an assistant to the president. He was responsible for writing or editing nearly two thousand speeches, including four State of the Union and two inaugural addresses. Most recently, he served as a member of the Presidential Commission on the Supreme Court of the United States in 2021 and his next book is forthcoming, "The Supermajority: The Year the Supreme Court Divided America" (Simon & Schuster, June 6, 2023) .
Refreshments will follow the discussion. Please RSVP. 
LGLS 89a 1 Law and Society Internship and Seminar - Fall 2023 Mandatory Information Sessions
April 20, 2023
LGLS 89a 1 Law & Society Internship & Seminar - Pre-Registration Mandatory Info Sessions April 20 & 21 
 Learn more about the internship placement process and course requirements - Sign up for a mandatory information session here.  Course pre-requisites and course permission required for registration.  All students will register directly to the waitlist pending completion of placement requirments and instructor approval.  Prepare your CV and cover letters now!
Past Events
The Larger Conversation: Mass Incarceration, Creativity, and Healing
November 17, 2022
Professor Rosalind Kabrhel, accompanied by a group of Legal Studies and Brandeis Educational Justice Initiative students and facilitators attended The Larger Conversation: Mass Incarceration, Creativity, and Healing on Nov. 17 at The Isabella Stewart Gardner Museum, Calderwood Hall The group heard award-winning poet, lawyer, and author Reginald Dwayne Betts, Stacey Borden of New Beginnings Reentry Services, Erika Rumbley of the New Garden Society, and André de Quadros of the Prison Arts Project at Boston University, as they discussed their work at the intersection of the arts and social justice in Boston and beyond. The presentation examined the effects of mass incarceration on individuals and communities, and discussed how the arts can support our imagining of more just futures and seed change on both personal and systemic levels.
As part of this program, the Museum hosted a book drive in partnership with the Prison Book Program, a local non-profit supporting the growth and development of people in prisons and jails.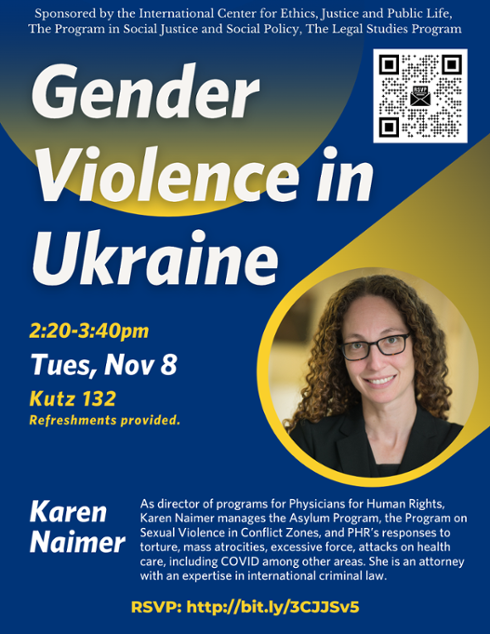 Gender Violence in Ukraine, with Karen Naimer, Esq.
November 8, 2022
A discussion of Gender Violence in Ukraine, with Karen Naimer, sponsored by the International Center for Ethics, Justice and Public life, The Program in Social Justice and Social Policy, and the Legal Studies Program.  As director of programs for Physicians for Human Rights, Karen Naimer manages the Asylum Program, the Program on Sexual Violence in Conflict Zones, and PHR's responses to torture, mass atrocities, excessive force, attacks on health care, including COVID among other areas. She is an attorney with an expertise in international criminal law.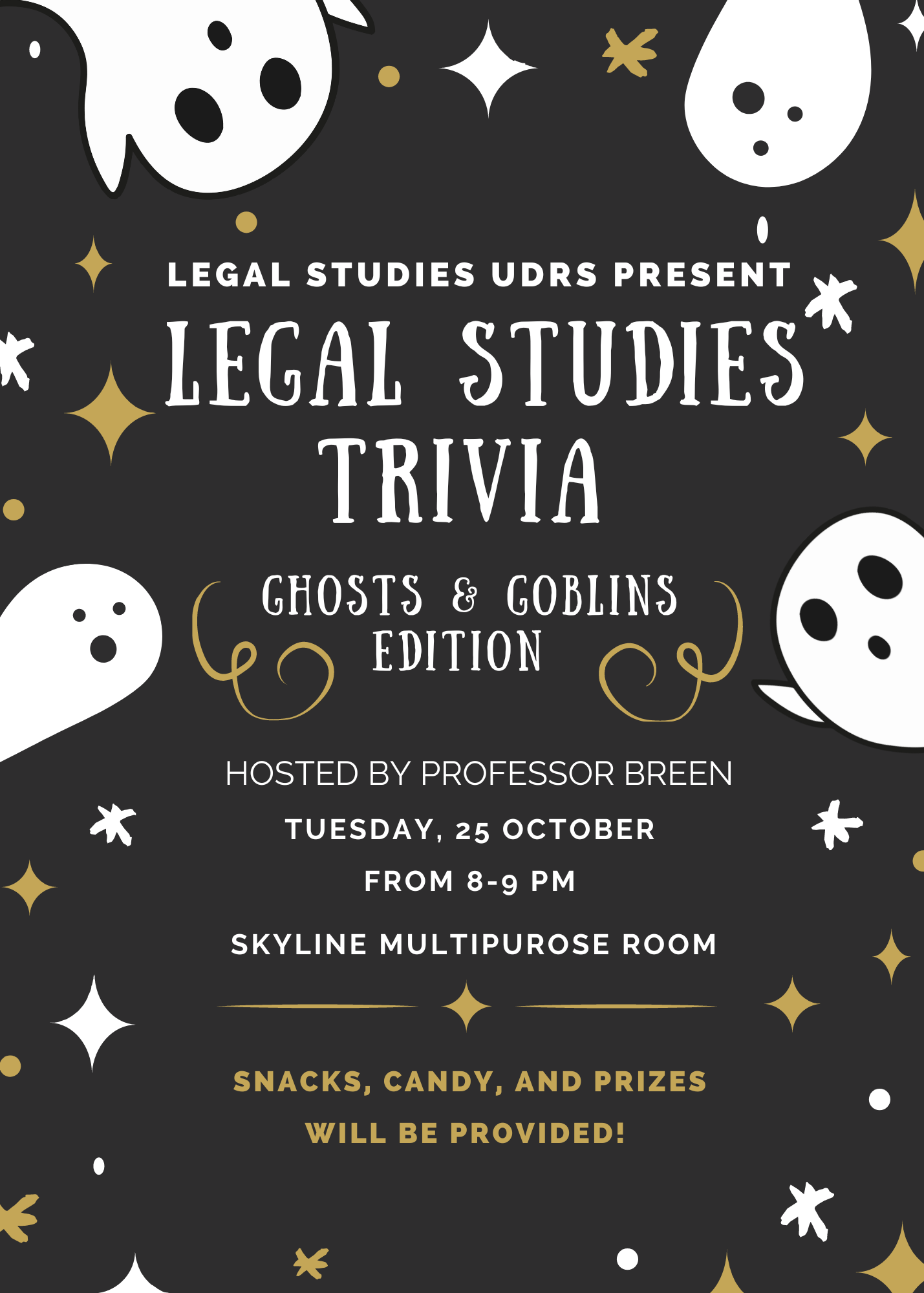 Legal Studies Trivia: Ghosts & Goblins Edition
October 25, 2022
The Legal Studies UDRs challenged all comers to test their BRAAAAINS with Professor Breen in the Skyline Multipurpose Room. Snacks, candy and prizes were provided, and fun was had by all!
Restoring Our Community: Activism after Incarceration
April 26, 2022
Co-sponsored this meaningful event with BEJI. Thank you to those who were able to join us April 26 at Golding Judaica 101 for an inspiring panel highlighting empowerment and community activism after incarceration.
Inspector General Michael Horowitz Visited The Legal Studies Program
March 9, 2022
Michael Horowitz '84 — recent recipient of the 2022 Alumni Achievement Award, who is the Inspector General of the Department of Justice. Attorney Horowitz came to speak to LGLS 118 and LGLS 89A on March 9 on the topic of law school, the Inspector General statute, and the way it structures Horowitz's role as IG of the Justice Department. He went on to speak about the importance of the Rule of Law and the need to make sure powerful agencies like the FBI stay within the rules." Several of the students from Dan's class joined him for an informal dinner later in the afternoon.
Since 2012, Attorney Horowitz has overseen high-profile investigations such as the query into allegations of wrongdoing by FBI Director James Comey. Attorney Horowitz is acting chair of the Pandemic Response Accountability Committee.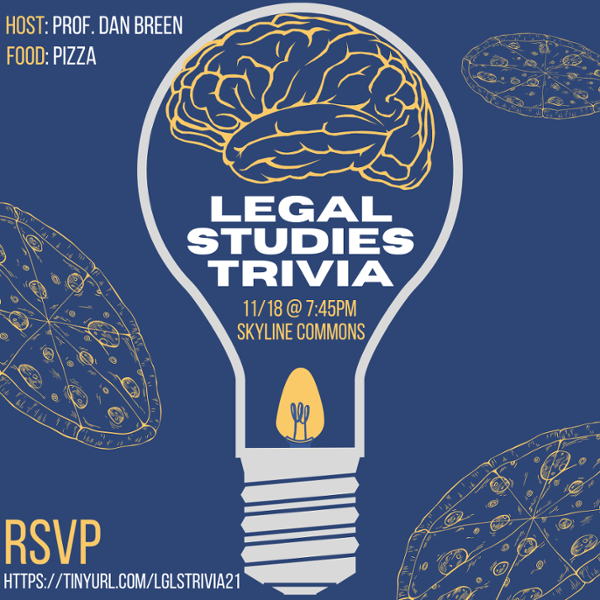 Legal Studies Trivia
November 18, 2021
A fun game of trivia was hosted by our very own Professor Dan Breen on Nov. 18 in Skyline Commons. Pizza was provided to nourish the intense mental effort expended that evening.
This event was put on by the Legal Studies UDRs and sponsored by the Legal Studies Department.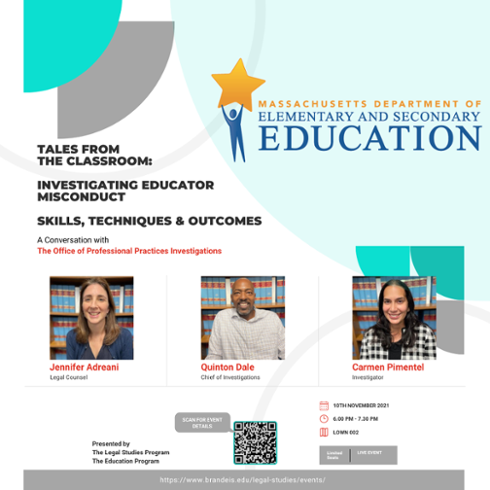 Tales from the Classroom
November 10, 2021
Are you curious about legal investigations of teacher misconduct?  About state authority to protect students, maintain the integrity of the education profession, and preserve high quality standards for licensed educators? 
On Nov. 10, 2021, the students from Law & Society Internship and Seminar (LGLS 89A) had an interesting discussion with members of the Office of Professional Practices Investigations (OPPI), located within the Legal Office of the Department of Elementary and Secondary Education.  OPPI investigates allegations of misconduct against licensed educators and applicants for licensure, and seeks license sanctions when warranted.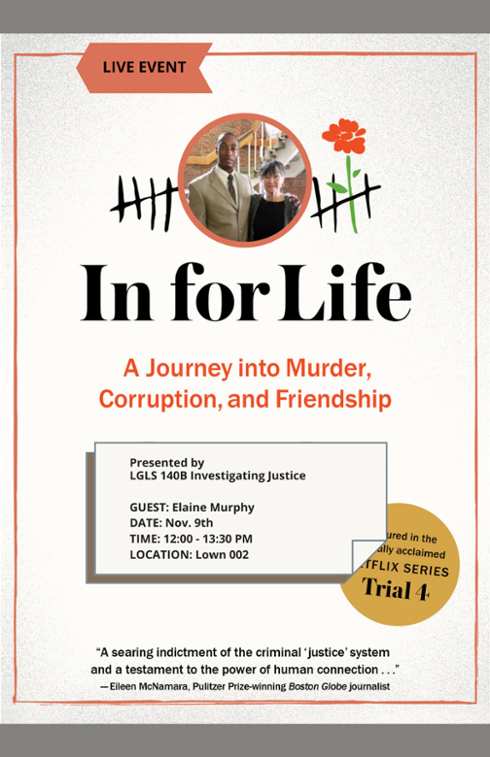 Investigating Justice with Author Elaine Murphy
November 9, 2021
Author Elaine Murphy joined Professor Kabrhel's class, Investigating Justice, and discussed her tireless work to expose injustices in the conviction of Sean Ellis, who was wrongfully convicted in 1995 for the murder of a Boston police detective. Through her individual efforts and through her assistance to his legal counsel, Rosemary Scapicchio, Ellis's conviction was overturned and he was released from prison in 2015.  He was fully exonerated earlier this year.  You can read about his legal journeyhere; it was also featured in the Netflix documentary, "Trial 4."
Ms. Murphy also read an excerpt from her upcoming book about Sean's case, "IN FOR LIFE: A Journey into Murder, Corruption, and Friendship." which will be available in January 2022.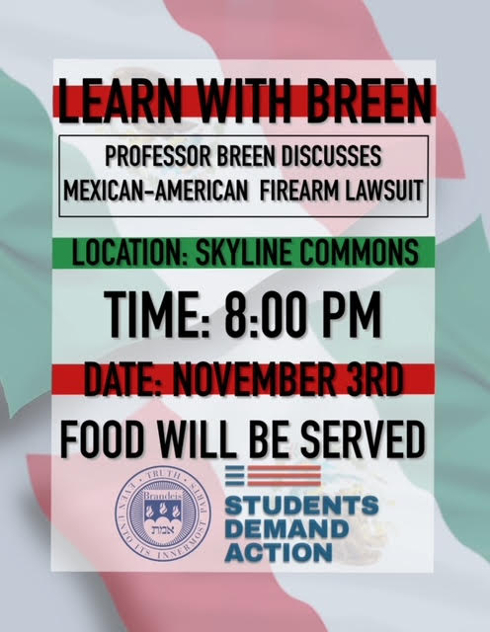 Learn with Breen
November 3, 2021
Teamed with The Brandeis Students Demand Action, Prof. Breen held an interesting in-person discussion called "Mexico v. Smith & Wesson, et. al.," which is a lawsuit brought by the government of Mexico against American gun manufacturers. It is almost impossible legally to buy guns in Mexico, but a lot of people have guns anyway due to the easy availability of American guns under U.S. law. Mexico wants damages based on the many lives lost due to violence perpetrated in Mexico with American guns, and they are insisting that the negligent practices of these gun companies are a big part of the problem.
A Discussion with Michael Bien
October 25, 2021
Alumnus Michael Bien '77 joined students in the Legal Studies Practicum, Experiences with Justice, and students working with the Brandeis Educational Justice Initiative (BEJI) on Oct. 25 for an interesting discussion about his advocacy, the needs of incarcerated individuals suffering from disabilities, and his views on criminal justice reform.
Attorney Bien has devoted his career to protecting the civil rights of incarcerated individuals, particularly those with mental illness and other disabilities.  This includes his successful advocacy (with his wife, Jane Kahn '77) on behalf of a class of incarcerated individuals in California prisons. That case resulted in the Supreme Court ordering a reduction of the California prison system which it found to be violating inmate's constitutional rights.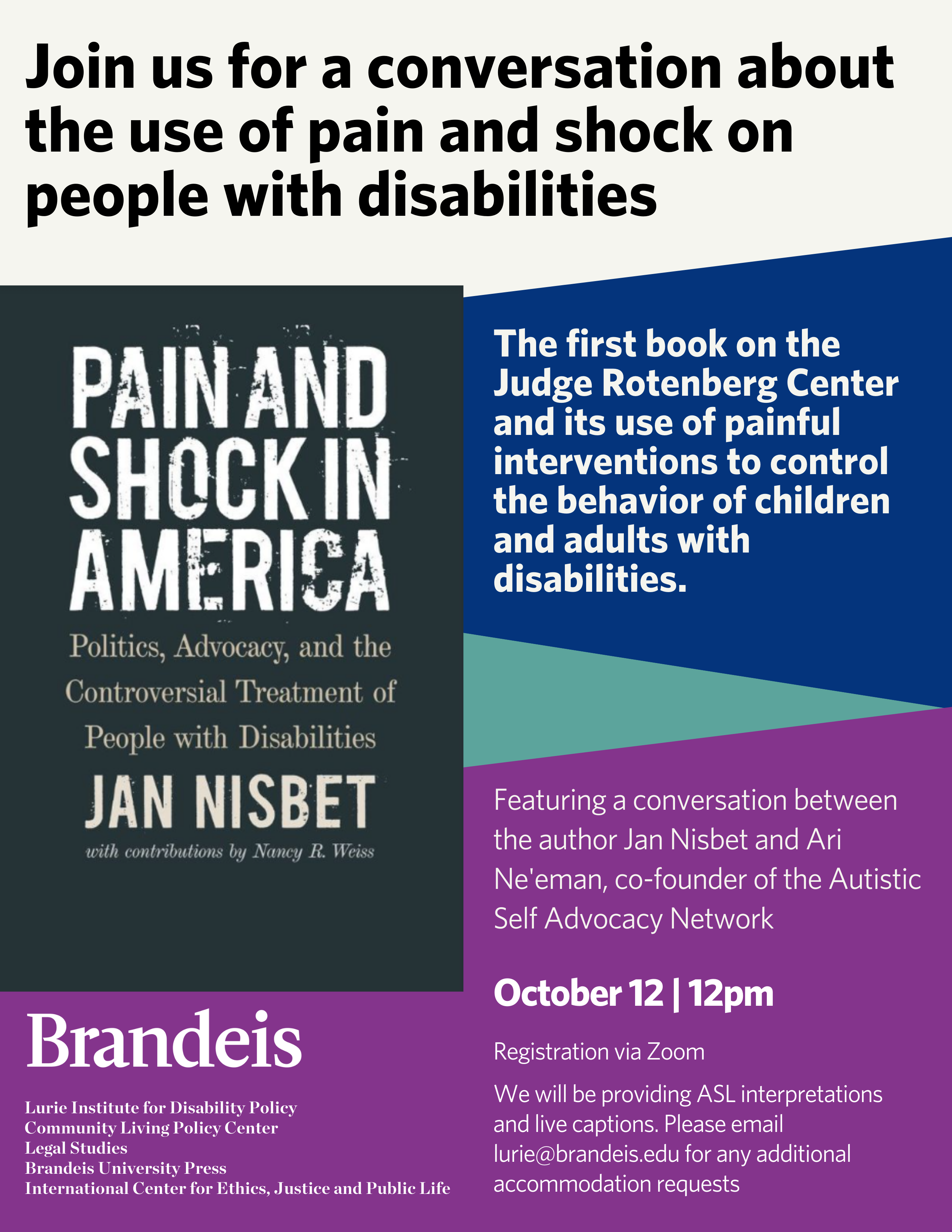 Legal studies book series launch and discussion with author of Pain and Shock in America: Politics, Advocacy, and the Controversial Treatment of People with Disabilities
October 12, 2021
Brandeis University Press and the Brandeis Legal Studies Department at Brandeis University are pleased to announce a new book series — the Brandeis Series in Law and Society. This series is edited by Rosalind Kabrhel, JD, and Daniel Breen, JD, and will publish books that take an interdisciplinary approach to the law with a view to towards shedding light on the variety of ways in which legal rules and the institutions that enforce them affect our lives. On Oct. 12t, we celebrated the launch of the book series by having a conversation with the author Jan Nisbet and the co-founder of the Autistic Self Advocacy Network Ari Ne'eman.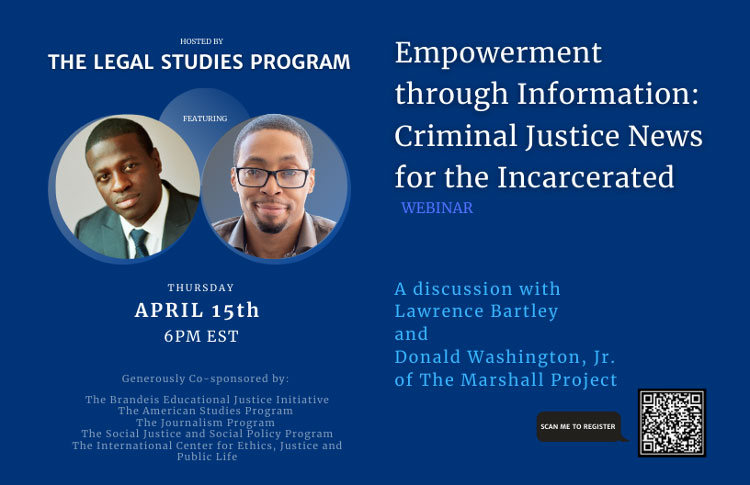 Empowerment through Information: Criminal Justice News for the Incarcerated
April 15, 2021
On April 15, the Legal Studies department held a webinar discussion with Lawrence Bartley and Donald Washington, Jr. two journalists at The Marshall Project — a nonpartisan, nonprofit online news organization that focuses on creating and sustaining a sense of national urgency about the U.S. criminal justice system. They discussed their efforts to inform and empower incarcerated individuals by involving them in the production and dissemination of news inside the prison walls. They also shared their personal paths from incarceration to the newsroom.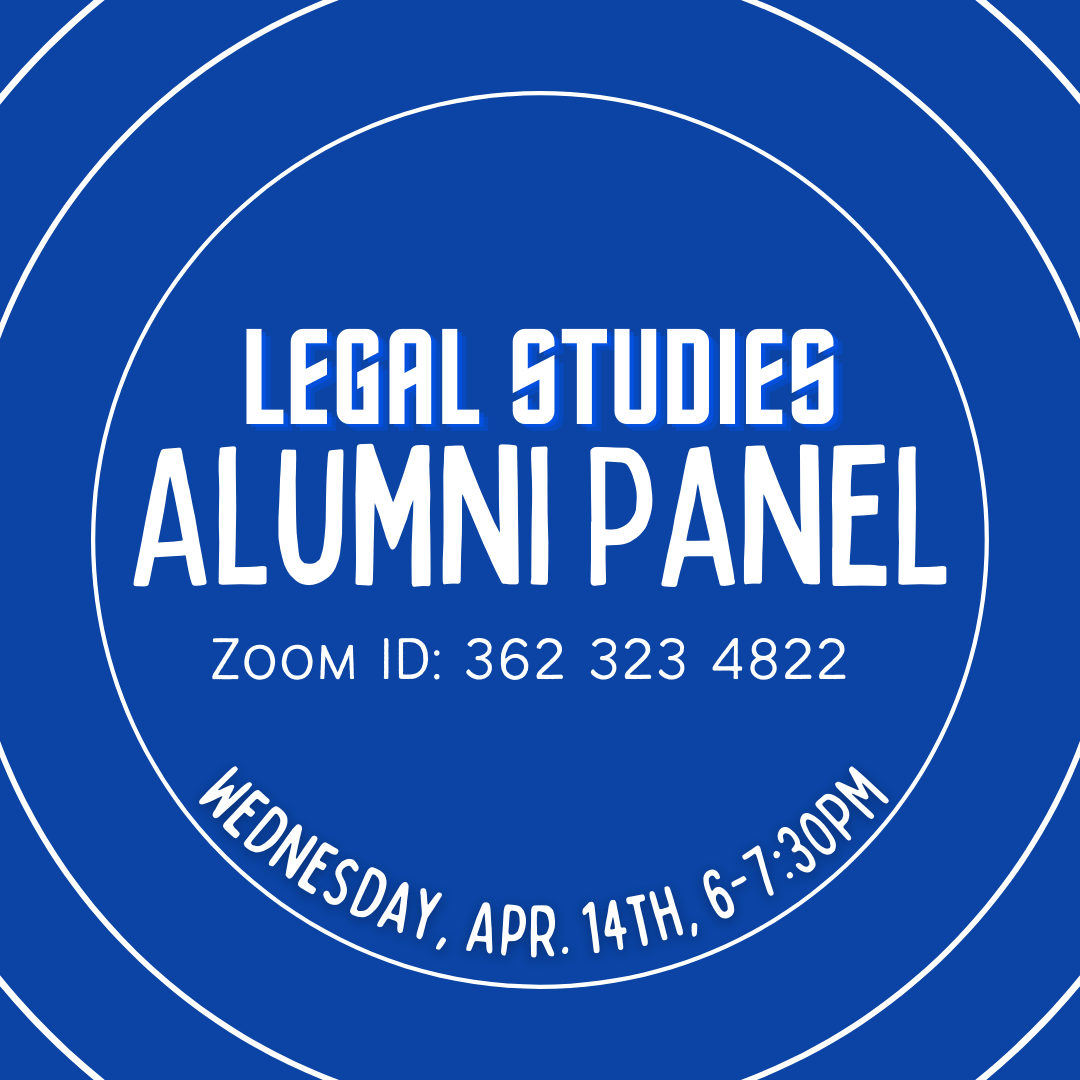 Legal Studies Alumni Law Panel
April 14, 2021
The Law Alumni Panel featured the following panelists: Daniel Jaffe '16, Valerie Achille '18, Sichan Kim '16, Victoria St Jean '19, Danielle Wolfson Young '11, Jonathan E. Greengarden '15 and Aaron Bray '13.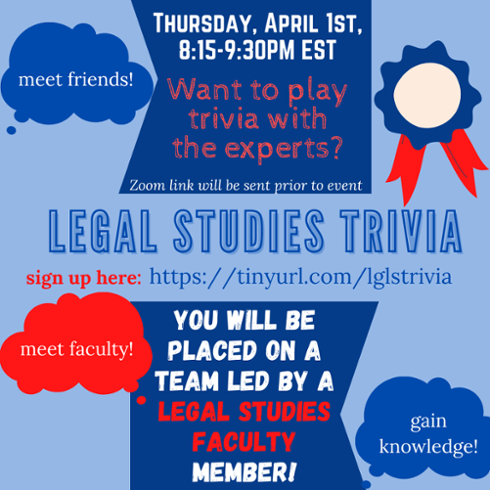 Legal Studies Trivia Night
April 1, 2021
Legal Studies Trivia Night took place on April 1. Students were placed on teams led by different Legal Studies faculty members.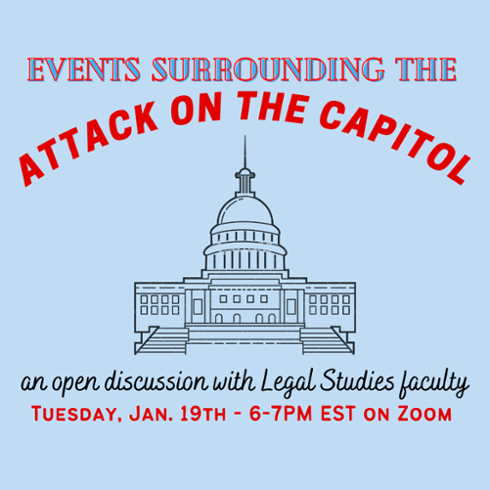 Events Surrounding the Attack on the Capitol: A Discussion with Legal Studies Faculty
January 19, 2021
The Jan. 6 attack on the Capitol, as well as the events leading up to it and the events that have since ensued, left many shaken, confused, and worried about the future. The Legal Studies Department offered a space for students and faculty to gather and openly discuss anything associated with these recent events. This was a space for students to share thoughts and concerns and to ask Legal Studies faculty questions.