Beyond Slavery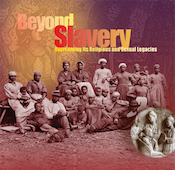 Explore the Conference
Explore the Conference by Subject
Slavery in Christian, Jewish, and Muslim Scripture and Religious Law
Christianity, Religion of the Slaveholders and the Enslaved
Sexual Assault and Exploitation Under U.S. Slavery and Jim Crow
How Slavery Has Shaped Our Understandings of Marriage and Friendship
Slavery, Violence, and the State
A Response By A Formerly Enslaved Woman
Barbara Savage
Barbara Dianne Savage is Geraldine R. Segal Professor of American Social Thought and a professor of history at the University of Pennsylvania, where she has been a member of the faculty since 1995.
Her research and her teaching center on twentieth century African American political and religious history and the historical relationship between race, media, and politics. She is currently completing The Politics of African American Religion, a book on religion and African American political culture in the twentieth century entitled. In addition, she served as the co-editor (along with R. Marie Griffith, Princeton University) of Women and Religion in the African Diaspora (forthcoming, Johns Hopkins University, 2006). Her earlier publications include the award-winning Broadcasting Freedom: Radio, War and the Politics of Race, 1938-1948 (UNC Press, 1999), as well as articles on African American religion and politics.
She has held fellowships at the Radcliffe Institute for Advanced Study, the Schomburg Center for the Study of Black Culture, the Center for the Study of Religion at Princeton, and the Smithsonian Institution. She received a Ph.D. in history from Yale in 1995; she also holds a J.D. from Georgetown (1977) and a B.A. from the University of Virginia (1974).
Prior to receiving her graduate degree, she was the Director of Federal Relations, Office of the General Counsel, Yale University; she also has served on the staff for the United States Congress and the Children's Defense Fund.