Beyond Slavery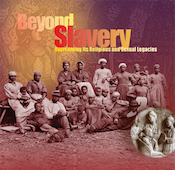 Explore the Conference
Explore the Conference by Subject
Slavery in Christian, Jewish, and Muslim Scripture and Religious Law
Christianity, Religion of the Slaveholders and the Enslaved
Sexual Assault and Exploitation Under U.S. Slavery and Jim Crow
How Slavery Has Shaped Our Understandings of Marriage and Friendship
Slavery, Violence, and the State
A Response By A Formerly Enslaved Woman
Bernadette Brooten
Bernadette J. Brooten, director of the Feminist Sexual Ethics Project, is Robert and Myra Kraft and Jacob Hiatt Professor of Christian Studies and Professor of Women's Studies at Brandeis University and a former MacArthur Fellow. She has also held fellowships from the Harvard Law School, the Fulbright Foundation, the National Endowment for the Humanities, and many other granting agencies.
Brooten has edited, with the editorial assistance of Jacqueline L. Hazelton, Beyond Slavery: Overcoming Its Religious and Sexual Legacies (2010). She was awarded a National Endowment for the Humanities grant for 2011–2012 to write a book on early Christian women who were enslaved or who owned enslaved laborers and was a Visiting Scholar with the Harvard Women's Studies in Religion Program to do the research.
She has written Women Leaders in The Ancient Synagogue: Inscriptional Evidence and Background Issues (Chico, CA: Scholars Press, 1982) and Love Between Women:Early Christian Responses to Female Homoeroticism (Chicago: University of Chicago Press, 1996), for which she received three awards. In addition, she has published articles on Paul and the Jewish Law, Jewish epigraphy, papyrological and literary evidence for Jewish women's power to initiate divorce in antiquity, and on various topics of ancient Jewish and early Christian women's history.
Brooten studied German at the University of Portland (B.A. 1971), Roman Catholic and Protestant theology at the University of Tübingen; Talmud and Jewish history at Hebrew University and the University of Tübingen; and New Testament, ancient post-Biblical Judaism, and early Christian literature at Harvard University (Ph.D. 1982). She previously taught at the School of Theology at Claremont, the Claremont Graduate School, the University of Tübingen, Harvard Divinity School, and the Department of Theology of the University of Oslo in Norway.