Beyond Slavery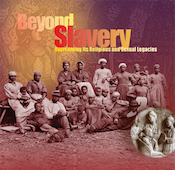 Explore the Conference
Explore the Conference by Subject
Slavery in Christian, Jewish, and Muslim Scripture and Religious Law
Christianity, Religion of the Slaveholders and the Enslaved
Sexual Assault and Exploitation Under U.S. Slavery and Jim Crow
How Slavery Has Shaped Our Understandings of Marriage and Friendship
Slavery, Violence, and the State
A Response By A Formerly Enslaved Woman
Deborah Johnson
Reverend Deborah L. Johnson is the founder and president of Inner Light Ministries. A dynamic public speaker, known for her ability to bring clarity to complex and emotionally charged issues, she travels the nation teaching, training, and consulting on cultural diversity. A life-time civil rights activist, her work has been featured in numerous books, magazines, and television programs including appearances on The Donahue Show and ABC Nightline. Wherever she goes, her message is always one of possibility, inclusivity, empowerment and transformation.
Rev Johnson is the author of the "The Sacred YES" and "Living the Sacred YES" both of the Letters From the Infinite series. She also hosted the "Say Yes To Life" radio show on KNRY in Monterey, California.
She is also founder and president of The Motivational Institute, an organizational development consulting firm specializing in cultural diversity serving the public, private, and non-profit sectors. Her clients range from Fortune 500 companies to community based organizations. Rev. Johnson has held positions as a sales representative for Procter & Gamble and a real estate investment manager for Prudential Insurance Company, Hewlett Packard, Prudential Insurance, The Ford Foundation, Kaiser Permanente, and Pacific Gas and Electric.
As an advocate for continual and lifelong learning, Rev. Johnson is a faculty member at The Holmes Institute of Consciousness Studies where she specializes in Bible Interpretation and American Theologies as well as UCLA's Anderson Graduate School of Business Executive Leadership Training Institute. Rev Johnson holds a BA in economics from USC, an MBA from UCLA, and a ministerial degree from the Holmes Institute.
Rev. Johnson is a founding member of The Agape International Center in Culver City, where the Rev. Dr. Michael Beckwith presides as Spiritual Director. She was also inducted into the Board of Preachers of the Martin Luther King Jr International Chapel at Morehouse College.