Beyond Slavery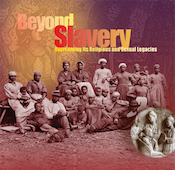 Explore the Conference
Explore the Conference by Subject
Slavery in Christian, Jewish, and Muslim Scripture and Religious Law
Christianity, Religion of the Slaveholders and the Enslaved
Sexual Assault and Exploitation Under U.S. Slavery and Jim Crow
How Slavery Has Shaped Our Understandings of Marriage and Friendship
Slavery, Violence, and the State
A Response By A Formerly Enslaved Woman
Florence Ladd
Florence Ladd, author, social critic, and psychologist, is a fiction writer. Her novel Sarah's Psalm (Scribner, 1996) received the 1997 Literary Award for Fiction from the American Library Association's Black Caucus. Ladd's short stories have appeared in The Golden Horn and Ragtime. She also has written several nonfiction and research works. She co-authored the book Different Strokes (Westview Press, 1979). Her recent nonfiction works are included in A Stranger in the Village (Griffin and Fish, eds.), Grandmothers: Granddaughters Remember (Marguerite Bouvard, ed.), and Dutiful Daughters (Jean Gould, ed.). Her essay "On Being Daddy's Son and Daughter" was published in Father (Claudia O'Keefe, ed.). She also contributed to At Grandmother's Table (Ellen Perry Berkeley, ed.). The Boston Globe Magazine published "A New Balance," a mother-son memoir, which will be published in the anthology Seasons of the Day: African American Women and Motherhood. Her recent Carolina poems appeared in the Dec. 2002 issue of the Women's Review of Books.
Educated at Howard University (B.S.) and the University of Rochester (Ph.D.), she has had an extensive career as a teacher and administrator. She has taught at Simmons College, Robert College, the American College for Girls in Istanbul, the Harvard Graduate School of Education, and the Harvard Graduate School of Design. She has held deanships at the Massachusetts Institute of Technology and Wellesley College. In 1984-85, she conducted an evaluation of the South African Education Program for the Institute of International Education. Subsequently, she worked for Oxfam America, initially as director of education programs and later as associate executive director. She was a consultant for the School for International Training's Zimbabwe projects.
From 1989 to 1997, she was director of the Bunting Institute at Harvard University, a multidisciplinary center for women in higher education. In 1998, she taught a fiction writing workshop at the Women's Institute for Continuing Education in Paris.
She has held fellowships at the Bunting Institute and the W.E.B. DuBois Institute at Harvard University; has been a resident fellow at the MacDowell Colony; and has been awarded several honorary degrees. She is a trustee of Hampshire College from which her son, performance poet Michael Ladd, graduated. She lives in Cambridge, Massachusetts, and Flavigny-sur-Ozerain in Burgundy.