Beyond Slavery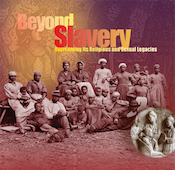 Explore the Conference
Explore the Conference by Subject
Slavery in Christian, Jewish, and Muslim Scripture and Religious Law
Christianity, Religion of the Slaveholders and the Enslaved
Sexual Assault and Exploitation Under U.S. Slavery and Jim Crow
How Slavery Has Shaped Our Understandings of Marriage and Friendship
Slavery, Violence, and the State
A Response By A Formerly Enslaved Woman
Gail Labovitz
Gail Labovitz received her doctorate from the Jewish Theological Seminary of America in 2002, and was ordained as a rabbi there in 1992. Her dissertation, "My Wife I Called 'My House': Marriage, Metaphor, and Discourses of Gender in Rabbinic Literature," explored the use of ownership metaphors ("women are ownable," "marriage is an acquisition of property") in rabbinic texts of late antiquity to construct marriage, and by extension, gender and gender relations.
Her publications and conference presentations have also explored images of the nursing mother in early rabbinic sources, slavery and marriage in rabbinic thought, and the use of rabbinic sources for the study of women and gender in late antiquity. She has taught at JTS and at the Academy for Jewish Religion.
Concurrent with her research for the FSE, Labovitz coordinated the Jewish Feminist Research Group, a project of the Jewish Women's Studies Program at JTS, and taught adult education through the Kollel program of the Hebrew Union College.
Gail Labovitz is currently Assistant Professor of Rabbinics at the University of Judaism in Los Angeles.