Beyond Slavery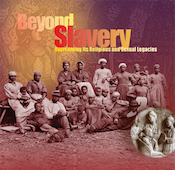 Explore the Conference
Explore the Conference by Subject
Slavery in Christian, Jewish, and Muslim Scripture and Religious Law
Christianity, Religion of the Slaveholders and the Enslaved
Sexual Assault and Exploitation Under U.S. Slavery and Jim Crow
How Slavery Has Shaped Our Understandings of Marriage and Friendship
Slavery, Violence, and the State
A Response By A Formerly Enslaved Woman
Linda McClain
Linda C. McClain is the Rivkin Radler Distinguished Professor of Law at Hofstra Law School. She is a nationally recognized scholar who speaks and writes regularly on family law, gender and law, feminist legal theory, and jurisprudence. At Hofstra, she teaches courses in these areas, as well as in property and welfare law.
Professor McClain is the author of the recent book The Place of Families: Fostering Capacity, Equality, and Responsibility (Harvard University Press, 2006), which offers a liberal feminist perspective on the relationship between family life and politics and on a number of contested issues of family law and policy, among them, governmental promotion of heterosexual marriage and the denial of marriage to same-sex couples, the regulation of family life through welfare policy, sex education, and constitutional rights to reproductive freedom. Her articles have appeared in many books and legal journals as well as organizing major symposia on "Legal and Constitutional Implications of Calls to Revive Civil Society," in Chicago-Kent Law Review (2000), and on "Marriage, Families, and Democracy", in Hofstra Law Review (2003). She won Hofstra University's Stessin Prize for Outstanding Scholarship for her article "Irresponsible Reproduction," Hastings Law Journal (1996). Her most recent article, entitled "Some ABCs of Feminist Sex Education (in Light of the Sexuality Critique of Legal Feminism)," was published in Columbia Journal of Gender & Law and is available for download.
A central concern of Professor McClain's scholarship has been to elaborate an account of government's responsibility to foster in citizens the capacities for democratic and personal self-government, and of the place of families and other institutions of civil society in developing such capacities. More generally, her scholarship has engaged with prominent communitarian, civic republican, and feminist critiques of liberal legal and political theory, offering a reconstructive liberal feminist approach to such matters as privacy, family and marriage, sexuality, reproductive rights and responsibilities, and welfare policy.
Professor McCain received an A.B. from Oberlin College; her M.A. from the University of Chicago Divinity School; a J.D. from Georgetown University Law Center; and an LL.M. from New York University School of Law. Before joining the Hofstra faculty, she practiced litigation for five years at Cravath, Swaine & Moore. Professor McClain was a faculty fellow in ethics at the Harvard University Center for Ethics and the Professions during the 1999-2000 academic year. She has been a visiting professor at Harvard Law School and the University of Virginia School Of Law. During the spring 2006 semester, is visiting professor at the University of Pennsylvania School of Law.
Professor McClain serves on the executive committee of the AALS Section on Family Law. She is a member of the Council on Contemporary Families and the American Society for Political and Legal Philosophy.