Jacob Wirth and Chloe Morales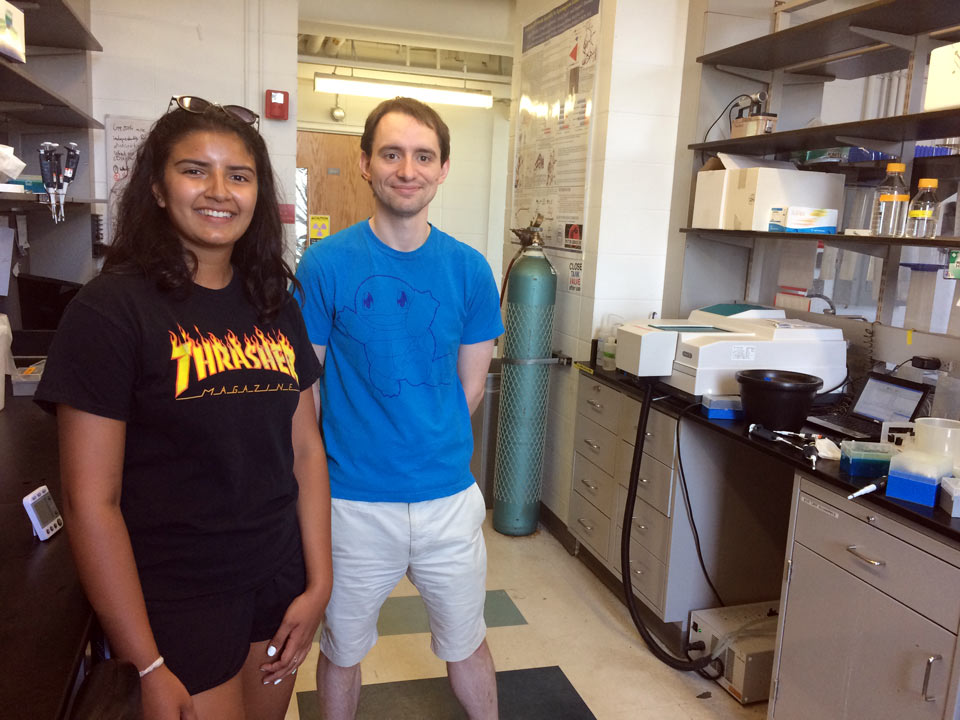 Office of the Vice Provost for Research:
How did you get involved with this project, Chloe?
Chloe Morales:
My teacher sent out an email that was forwarded from Vivek, saying that he was going to do an outreach program with Waltham High School again. The teachers at WHS forwarded it to their students, and students who were interested attended the meeting. I read Jacob's bio and description of research interests, and I was drawn to that he was working on.
OVPR:
And what made you want to work with a student, Jacob?
Jacob Wirth:
Vivek's program has been going on for a few years, and I'm in my last year of my PhD. When he emailed to say it would be cool to get mentors, I saw an opportunity to make myself take a step back to square one, and focus my head on how to go from big picture to my project. Which is important for a dissertation and not something you do every day when you're in the trenches of your research. I found teaching a high school student from scratch—someone who's done very little lab work, hasn't taken organic chemistry—and having to explain the concepts they need to know and think about how to explain that without getting deep into jargon and equations. I found that this would be a really good test for myself and great opportunity. And then I talked to Vivek about reaching out to the next generation, especially in Waltham. There's a selfish aspect, but I'm glad it helps the other person. It's certainly helped me.
OVPR:
Had you taken coursework in Biochemistry before you started working in Jacob's lab, Chloe?
CM:
I had taken General Chem, but not AP Chem. We had a unit for Biochem. A lot of the stuff we do in the lab involved procedures I learned in the lab in AP Biology. And the whole 'asking questions' here is so easy because I feel comfortable with my mentor, Jacob.
OVPR:
What's it like working with Jacob? Did you start with basic lessons, or how did he get you up to speed, Chloe?
CM:
He is great, he has a lot of insight into what he's doing because he's almost graduating from grad school. He is very knowledgeable, and his answer will always be more than what you expected. It's really cool, because you learn about what you're doing but you also learn why you're doing it. At first we just read a couple of papers, and I could ask questions about them, and then the understanding just came with the questions. With the variables I was uncertain about, Jacob could explain them on the white board.
OVPR:
Has being here for the summer changed how you think of Brandeis?
CM:
Working in the lab here has provided me with insight into how strong a research program Brandeis has. It makes me want to apply here more, even though I am from Waltham. I do want to branch out, but I can't pass up on such a good school that's strong in a program I'm interested in. It's an opportunity that not many students get. This experience is free, but I'm gaining all this knowledge that I can apply.