Staff Spotlight
Dennis Hicks
Director of Department of Student Activities
What do you do at Brandeis?
I serve as the Director of Student Activities
How long have you worked here? 
I've been at Brandeis for 5 months.
What do you like to do outside of work?
When I'm not working I like to do fun, creative things. Most of my down time I'm creating projects in graphic design for myself and clients - I'm steadily trying to build an empire! I also enjoy bike riding.
Please share interesting facts about yourself that others don't know?
My partner and I were on the TV Show, Flea Market Flip in 2017. Also, this year I participated in the California AIDS Life Cycle to raise money for HIV/AIDS awareness and education. Another interesting fact is that I have a Bachelor's degree in Art Education and taught high school art. 
"Students are the Reason"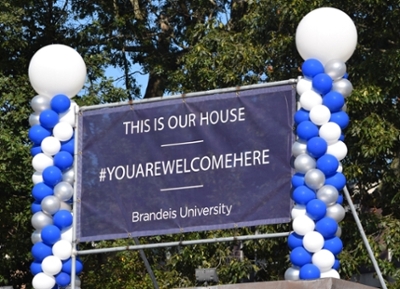 ---
The Dean of Students Office includes various offices that work to enrich the student experience. These offices are overseen by the Dean of Students, Jamele Adams. Dean of Students Office serves as an advocate for all Brandeis students, strives to ensure the quality of their overall co-curricular experience at the university, and promotes opportunities for students to engage in leadership activities and to experience personal, social, and emotional growth and development.
The staff maintains a varied program of social, cultural and intellectual events during the academic year. Our staff works to build a community based upon mutual understanding and consideration. The work of student life and success reflects the commitment to our core values: citizenship, integrity, respect, civility, lifelong learning and embracing diversity.