Staff Spotlight
Katie McNamara

What do you do at Brandeis?
I am the Senior Department Coordinator for Community Service and Student Activities. In my role, I am the first face you see in the office! I manage calls and questions that come through the office, as well as our wonderful office assistants and support both Community Service and Student Activities staff. I also assist with all tabling requests, vendors, contracts, updating club google sites and any other project that the department may need. 
How long have you worked here? 

3 Months! 

What do you like to do outside of work?

Outside of work, I enjoy spending time with friends, rooting for New England sports teams, skiing in Vermont with my family and watching too much reality tv! 

Please share interesting facts about yourself that others don't know?
1) When I graduated high school, my class of 11 girls was the first class to graduate from our newly formed high school! 
2) 
In one year
, I was involved in six different sport teams including soccer, basketball, swimming and sailing! 
3) I love weather and could watch hours of shows on tornados or other major weather events. 
"Students are the Reason"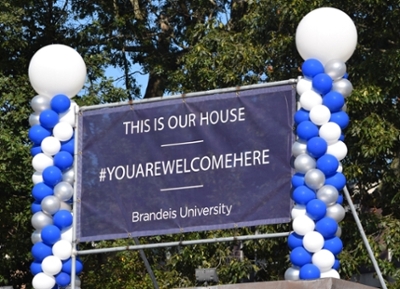 ---
The Division of Student Life and Success includes various offices that work to enrich the student experience. These offices are overseen by the Dean of Students, Jamele Adams. Student Life serves as an advocate for all Brandeis students, strives to ensure the quality of their overall co-curricular experience at the university, and promotes opportunities for students to engage in leadership activities and to experience personal, social, and emotional growth and development.
The staff maintains a varied program of social, cultural and intellectual events during the academic year. Our staff works to build a community based upon mutual understanding and consideration. The work of student life and success reflects the commitment to our core values: citizenship, integrity, respect, civility, lifelong learning and embracing diversity.