Staff Spotlight
Congratulations to
Lucas Malo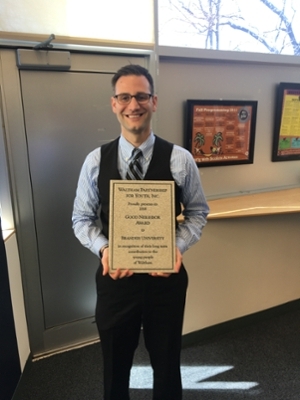 With his leadership, Brandeis University received the 2018 Good Neighbor Award from Waltham Partnership for Youth. The event focused on high-impact partnerships between business and community members in solving critical challenges involving local youth.
Brandeis, which logs 40,000 hours of community service each year to Waltham-specific schools, organizations and groups, was honored with the Good Neighbor Award in front of Waltham Mayor Jeannette McCarthy, teachers and civic leaders. Malo, who oversees the thousands of hours of community service conducted by the Waltham Group each year, was also proud to receive the honor on behalf of the university.
"It's an honor to be recognized with two of my colleagues, Marya Levenson and Anique Olivier-Mason, and represent Brandeis University in celebration of the dedicated work of the department of community service and passionate student leaders of the Waltham Group," Malo said. "I am proud to work at an institution that fully engages and is invested in its local community."
"Students are the Reason"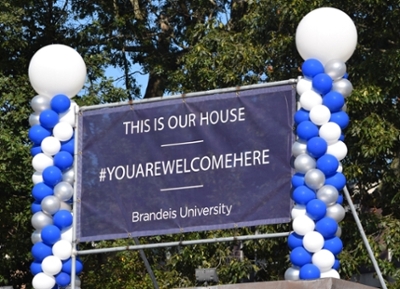 ---
The Division of Student Life and Success includes various offices that work to enrich the student experience. These offices are overseen by the Dean of Students, Jamele Adams. Student Life serves as an advocate for all Brandeis students, strives to ensure the quality of their overall co-curricular experience at the university, and promotes opportunities for students to engage in leadership activities and to experience personal, social, and emotional growth and development.
The staff maintains a varied program of social, cultural and intellectual events during the academic year. Our staff works to build a community based upon mutual understanding and consideration. The work of student life and success reflects the commitment to our core values: citizenship, integrity, respect, civility, lifelong learning and embracing diversity.