Staff Spotlight
Leigh Hilderbrandt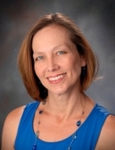 What do you do at Brandeis?
I am the Marketing and Box Office Manager for the Department of Student Activities. I handle marketing for the department (website, Facebook, Twitter, and printed materials) and manage Brandeis Tickets, the on-campus box office that provides ticket services for university events held throughout campus (theater and music performances, cultural shows, dance parties, lectures, conferences, and some off-campus trips and events).
How long have you worked here?
I came to Brandeis in September 2000, serving as the Subscriptions Manager for the Department of Theater Arts. I moved over to Department of Student Activities in August 2011.
What do you like to do outside of work?

Outside of Brandeis, my focus is on my family of rescue animals. In addition to my houseful of cats and dogs, I foster, volunteer, and advocate for local rescue groups. I'm particularly skilled at socializing shy and fearful pets. I also work as a personal trainer, specializing in working with seniors and members who are new to fitness, have been away from it for a while, or who are just looking for a change in the same old routine. In whatever time I may have leftover, I also enjoy the interesting challenges of doing projects in, on, and around my 295 year old house.

Please share interesting facts about yourself that others don't know?
1) Prior to buying my house in 2007, I moved 17 times in 18 years and, except for the nine additional moves I made while I was in college, I always had animals who moved with me, I never used professional movers, and I never broke anything. 
2) I'm a rather nostalgic and frugal person. I love to re-use and re-purpose old things. Many of the things in my house belonged to my grandparents.
3) I studied theater and visual arts at Penn State. I apply many of the building and design skills I learned backstage to my DIY projects at home. And, though I don't get to do artwork very often anymore, most of the drawings and paintings in my office and at my home are my own work. 
4) I had considered becoming a police officer and worked as a 911-Emergency dispatcher for five years--at a city agency, a university, and then as a 911-supervisor for a county sheriff's department, all in Florida.
5) I also considered becoming a veterinarian. After leaving 911, I worked as the clinic manager and vet assistant for six months at my animals' vet's office.
"Students are the Reason"
We are so proud of the hard work shown day in & day out by our Community Service Department & Waltham Group!
---
The Division of Student Life and Success includes various offices that work to enrich the student experience. These offices are overseen by the Dean of Students, Jamele Adams. Student Life serves as an advocate for all Brandeis students, strives to ensure the quality of their overall co-curricular experience at the university, and promotes opportunities for students to engage in leadership activities and to experience personal, social, and emotional growth and development.
The staff maintains a varied program of social, cultural and intellectual events during the academic year. Our staff works to build a community based upon mutual understanding and consideration. The work of student life and success reflects the commitment to our core values: citizenship, integrity, respect, civility, lifelong learning and embracing diversity.