Staff Spotlight
Elba Valerio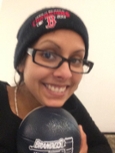 What do you do at Brandeis?
I am the Program Coordinator for the Intercultural Center, which means that I advise 16 ICC Clubs and Organizations, the Programming Board, and oversee the Emerging Leaders Program. Along with my wonderful ICC Central Staff Team, I develop great programs through the ICC Presents Series. Past programs include: Salsa Siesta, Holidaze, Roadmap to Graduate School, and Women's Herstory Month Trivia Night. I love working at the Intercultural Center because we have the opportunity to educate the Brandeis family about the importance of diversity and inclusion, as well as, advise students to become stronger leaders, which better  prepares them for Life Beyond Brandeis.
How long have you worked here?
I have worked here for three wonderful years.

What do you like to do outside of work?
I love to take fitness classes, such as Zumba, Pilates, Total Body Blast, Swimming, and Insanity. I love spending time with my life partner, family, and friends. I have been attending many weddings and baby showers, and love when all of my friends and family get together to celebrate these wonderful moments together. I have a passion for traveling and learning about different cultures. My goal is travel to every continent, except Antarctica, before I turn 50. Finally, I am a HUGE Boston Sports Fan. I LOVE the Red Sox, Patriots, and the Celtics. I am not big on hockey fan, but still celebrate when the Bruins win.

Please share interesting facts about yourself that others don't know?
1. I am a highly-skilled Dominoes and Cribbage player
2. I love and am good at Math and Science
3. 
My life partner and I met 10 years ago during our time at City Year 
5. If I wasn't passionately in love with College Student Affairs, I would've been an amazing Doctor
"Students are the Reason"
We are so proud of the hard work shown day in & day out by our Community Service Department & Waltham Group!
---
The Division of Student Life and Success includes various offices that work to enrich the student experience. These offices are overseen by the Dean of Students, Jamele Adams. Student Life serves as an advocate for all Brandeis students, strives to ensure the quality of their overall co-curricular experience at the university, and promotes opportunities for students to engage in leadership activities and to experience personal, social, and emotional growth and development.
The staff maintains a varied program of social, cultural and intellectual events during the academic year. Our staff works to build a community based upon mutual understanding and consideration. The work of student life and success reflects the commitment to our core values: citizenship, integrity, respect, civility, lifelong learning and embracing diversity.