Staff Spotlight
Kelly Whiffen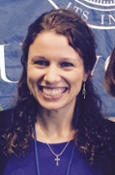 What do you do at Brandeis?
I am the Department Coordinator for the Department of Student Activities and Department of Community Service, and in that role, manage the front office phone calls and foot traffic for our suite. Among other things, I also supervise our Office Assistants, oversee the Commitment to Service Award program, manage club google sites and our vendor tabling program, sit on the Kindness Day committee and do much of the purchasing for our office and many student groups. Every day is very different though!
How long have you worked here?
5 years :-)

What do you like to do outside of work? 
Outside of work, I spend a lot of time involved with my church- I teach 2nd grade in the children's ministry and vary up other commitments there, including leading small groups, going on mission trips and sitting on different committees. I also love anything active, from working out at the Brandeis gym to obstacle course races to whitewater rafting (really anything with a bit of risk and adventure!). Beyond that, I love reading, playing board games, and of course spending time with friends and family.

Please share interesting facts about yourself that others don't know
1. I love tea and have been drinking it since the age of ONE.
2. I was a collegiate gymnast, specializing on uneven bars.
3. I am super afraid of worms and will use the light of my phone to light up the ground when it's dark and rainy out so I can then tiptoe around each and every worm….it takes me three times as long as it should to walk anywhere in the rain!
4. My favorite tv show is "60 Minutes," and I probably reference a 60 Minutes story at least once a week in conversation.
5. My faith in God is the driving force in my life and is behind what I do and the decisions I make.
"Students are the Reason"
The Division of Student Life and Success includes various offices that work to enrich the student experience. These offices are overseen by the Dean of Students, Jamele Adams. Student Life serves as an advocate for all Brandeis students, strives to ensure the quality of their overall co-curricular experience at the university, and promotes opportunities for students to engage in leadership activities and to experience personal, social, and emotional growth and development.
The staff maintains a varied program of social, cultural and intellectual events during the academic year. Our staff works to build a community based upon mutual understanding and consideration. The work of student life and success reflects the commitment to our core values: citizenship, integrity, respect, civility, lifelong learning and embracing diversity.