Janet Krasner Aronson, PhD
Associate Director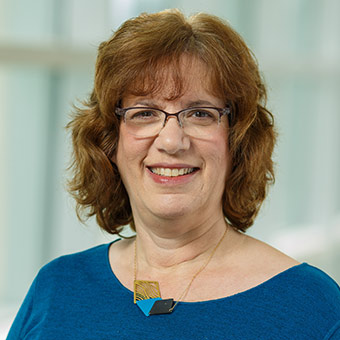 Janet Krasner Aronson, PhD is the associate director of the Cohen Center for Modern Jewish Studies and Steinhardt Social Research Institute at Brandeis University.
She earned her PhD in social policy at the Heller School for Social Policy at Brandeis where she examined the impact of Birthright Israel on the parents of the participants. Janet's primary research areas include local Jewish community studies, and she has directed studies in Boston, Washington, DC, Palm Beach County, Florida and Cincinnati. She also teaches in the Hornstein Program for Jewish Professional Leadership at Brandeis, where she runs the Myra Kraft Seminar on Israel. She is interested in studying emerging trends in Jewish engagement, which present both methodological challenges for researchers as well as substantive challenges for community organizations.
Prior to joining CMJS, she worked as a computer programmer, a graphic designer and religious school teacher. She was a member of the first cohort of the Barnard College/Jewish Theological Seminary double-degree program, in which she earned bachelor's degrees in computer science and Bible. She has an master's degree in applied sociology from the University of Massachusetts, Boston.