Organizational and Leadership Development
Jewish institutions have an important role in supporting Jewish life and community. Our studies of organizational and leadership development are aimed at helping the Jewish community recognize and utilize new ideas, enact best practices, and adapt to a changing world.
Hillel International's flagship program for early career professionals, the Springboard Fellowship, is the subject of one of CMJS' longstanding evaluation studies. As the largest early career incubator in the Jewish community, Springboard supports a cohort of young adults who serve as campus engagement professionals. The Fellowship provides ongoing professional development to support their work, Jewish learning, and personal growth. The program aims to motivate participants to pursue a professional path in Hillel and/or the Jewish nonprofit sector. CMJS conducted the first surveys of Springboard participants and alumni in 2018. The surveys help HIllel learn how the program is evolving and the extent to which alumni pursue a professional path in the Jewish community.
How synagogues function and evolve has also been a subject of CMJS research. Hundreds of congregational evaluations have been conducted throughout the United States. 
For a list of related publications in these research areas, please see below.
Leadership Development
Organizational Development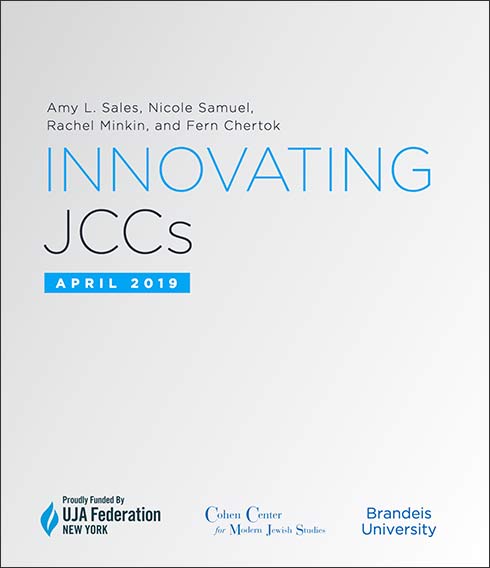 Amy L. Sales and Nicole Samuel
The mid-20th century Jewish community center was built on the model of a brick-and-mortar, full-service, membership-based community center. This model is increasingly out of step with today's reality. The purpose of the Innovating JCCs study was to seek out new ideas in the field and identify ways that JCCs might break through the old model to become successful 21st century agencies.
Mark I Rosen. Case Analysis by Amy L. Sales
All nonprofits have to manage issues related to leadership and succession, change, innovation, strategic alliances, stakeholder relations, governance, organizational design, and organizational culture. In its recent history, Hillel: The Foundation for Jewish Campus Life, has addressed these issues in ways that can be instructive for other organizations. This Hillel case study offers insights into the dilemmas and challenges faced by leaders of nonprofit organizations.