Birthright Israel Research
Since Birthright Israel's inception in 1999, CMJS has been conducting rigorous research to evaluate the program and learn about its impact on Jewish young adults. CMJS's research program on Birthright Israel includes evaluation studies that track Birthright's short- and long-term impact on its participants using a quasi-experimental research design that compares participants to similar young adults who applied to the program and did not go. The program of research also includes the Jewish Futures Project that is following a panel of several thousand individuals who applied to go on Birthright between 2001 and 2009.

The study of Birthright Israel has focused primarily on North American participants, but several studies have been conducted of participants in other countries, including Argentina, Brazil, Russia, Ukraine, Belarus and Germany.

CMJS research about Birthright Israel has been published in reports, books and journal articles.
About Birthright Israel: Established by a group of Jewish philanthropists, in collaboration with the Israeli government and Jewish communities around the world, Birthright Israel aims to encourage Jewish continuity, foster engagement with Israel, and forge a new relationship among Jews around the world. Since its inception in 1999, over 750,000 young Jewish adults from more than 50 countries participated in the program's free, 10-day educational tours of Israel.
Recent Publications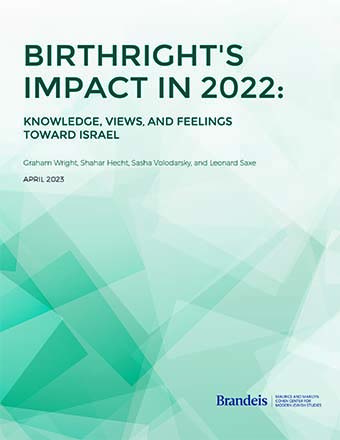 This report documents the impact of Birthright Israel on the US Jewish young adults who participated in summer 2022 Birthright Israel trips. Given that the trips took place in the context of rising political tensions in the United States and Israel, the report examines whether these dynamics hindered trip participants from developing a strong emotional connection to Israel. Did the program help participants understand the complex political situation in Israel? Did the trip influence how participants see Israel's political and security situation? Did the program change how participants relate to groups involved in Israel-related activism?


December 2022

In this paper we use data from the 2020 Pew survey to assess the program's "reach" into different segments of the American Jewish population and to extend the validity of existing findings regarding the program's impact on participants' attitudes and behaviors related to Israel and Jewish life. Contemporary Jewry (2022) https://doi.org/10.1007/s12397-022-09467-6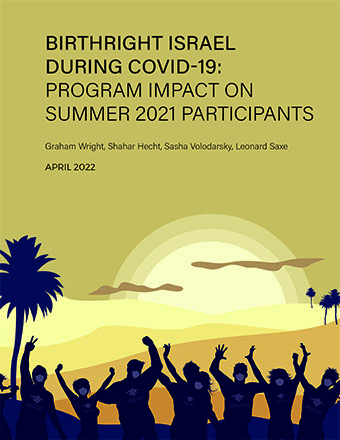 This report documents the impact of Birthright Israel in the context of the COVID-19 pandemic and the aftermath of the May 2021 Israel-Hamas conflict. The findings draw data collected in pre- and post-trip surveys of US Jewish young adults who applied to go on summer 2021 Birthright Israel trips. The analyses examine changes in attitudes and behaviors among participants and nonparticipants. Despite the disruptions of the pandemic and the lingering tensions of the conflict, overall evaluations of the summer 2021 trips were extremely positive, and the impact of the program remained robust.