Micha Rieser, MA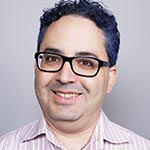 Research Associate
Micha Rieser is a research associate at the Cohen Center for Modern Jewish Studies and the Steinhardt Social Research Institute. He has a Bachelor of Arts in Religion from the University of Rochester and a Master of Arts from the Communication, Culture & Technology Program at Georgetown University.
After receiving his undergraduate degree, Micha participated in the joint Israeli Antiquities Authority and University of Rochester run archaeological excavation of the town of Yodefat in the Galilee.
Prior to joining CMJS, Micha worked for Alley Cat Allies, an animal advocacy and protection organization, collecting and analyzing survey and scientific data to be used in policy efforts directed at the reform of the animal control system in the United States. This work included several national surveys and an article on survey findings published in the Journal of the American Veterinary Medical Association.
He manages and analyzes data for the community studies project. He also analyzes data on Birthright Israel applicants and participants for the Birthright Israel research project.