Breaking Barriers: A Look at Birthright Israel Specialized Trips for Participants With Disabilities
Fern Chertok, Rachel Minkin, and Daniel Olson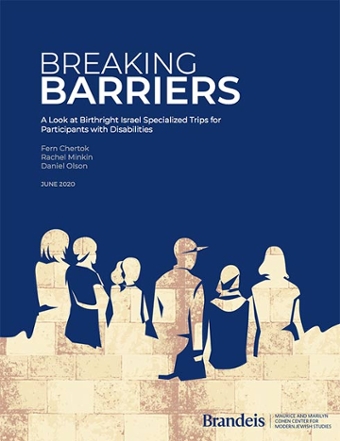 Birthright Israel trips have emerged as the normative "coming-of-age" experience for contemporary Jewish young adults. Birthright Israel has made a commitment to making its ten-day educational experiences accessible for young adults with a variety of specialized needs stemming from life-threatening or chronic illnesses, physical and sensory impairments, and cognitive and developmental disabilities.
This report describes qualitative research to understand the experiences of young adults with cognitive and developmental disabilities on specialized Birthright trips and potential impacts of a Birthright experience for this population of Jewish young adults.
Key Findings
Most participants and parents felt that only a specialized option could meet their particular needs and reported that adaptations to the pace, structure, and activities of the trip were critical in their decision to participate.
Almost universally, participants described their experiences in Israel as engaging, personally meaningful, and fun. In many ways, their recollections of their Birthright trip were very similar to those of participants without disabilities
Participants relayed how meaningful it was that they had a Birthright experience just like their friends and family members without disabilities.
Many participants described feeling fully integrated into a group of peers as the most important element of their Birthright trip and emphasized how important it was to them to experience Birthright with peers with similar disabilities.
Participants and their parents often told us that one of the most important outcomes of their trip was the development of ongoing social connections with Jewish peers.
Participants on specialized trips described trying out new activities and managing challenges with the help of supportive trip staff as life changing. As a result, most felt a growing sense of personal agency.
Specialized Birthright trips gave participants a taste of having a network of Jewish friends with whom to share their Jewish journeys. Once they returned home, however, participants found few or no opportunities to continue to experience Judaism with Jewish peers in their home communities.