Jewish study and tour of Buenos Aires, Argentina: February 15-21, 2019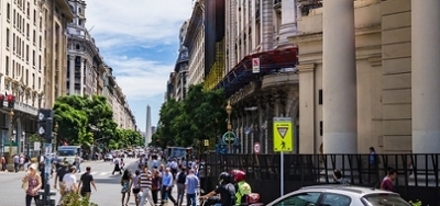 Buenos Aires | photo courtesy Steven dosRemedios

CMJS and the Hornstein Jewish Professional Leadership Program at Brandeis University invite alumni and friends to participate on a week-long study and tour of Buenos Aires, Argentina. Buenos Aires is a beautiful, dynamic city with European and Latin style. It is home to the largest Jewish community in Latin America. The trip, scheduled for February 2019, coincides with the end of the Argentine summer.
The US faculty joining the trip include Prof. Barry Shrage and Dr. Amy Sales. Barry has just joined us from Combined Jewish Philanthropies of Greater Boston and will lead the alumni / friends portion of the trip. Amy will lead the student seminar in World Jewry portion. Leonard Saxe, director of CMJS and chair of Hornstein, will be joining the trip along with other US and Argentinian educators and guides.
The trip is not finalized, but a description of the trip appears below. The final design will be based on interests of the participants. To indicate your interest in participating, please complete this response form. (Please note deadline to indicate interest in participating has been extended to October 26, 2018)

The Trip
This trip is a unique opportunity to tour Buenos Aires, learn of the history and current circumstances of the Jewish community there, and engage with its leaders and members. We will be in Buenos Aires alongside a group of Hornstein graduate students and have the chance to join in their seminar, which includes people-to-people learning experiences designed to foster interaction and dialogue between American Jews and the Argentinian Jewish community.

Highlights
Explore Buenos Aires: Visit the city's neighborhoods, from the historical to the modern and chic; enjoy Argentinian arts and culture, vibrant street life and cafes; enjoy free time to explore the streets, parks, and other public spaces of the city.
Forge connections with leaders in the Argentine Jewish community and engage in small group conversations on shared interests.
Learn alongside Hornstein graduate students and participate in sessions with teachers and scholars from the Argentinian Jewish community and Brandeis. Get to know the Seminario Rabinico Latinoamericano, one of our host organizations. The Seminario has prepared rabbis, teachers, and lay leaders for service in communities throughout Latin America for the past 55 years.
Celebrate Shabbat with members of the Buenos Aires Jewish community.
Key Information
Dates: February 15-21. Optional add-on possible for February 21-25.

Participants: This invitation is being extended to a limited list of alumni and friends of the Hornstein Program and CMJS. The trip is limited to 25 participants.

Cost: Total per person cost will be in the range of $3,000-$4,000. This includes all accommodations, kosher meals, program, tour guide, and land travel. In addition, a voluntary contribution to Brandeis University (for the benefit of Hornstein or CMJS) will be requested.

>>Indicate your interest and preferences for the trip by completing this response form. Your responses will help us determine the specifics of the itinerary. Please respond by October 26. 
For questions, please contact Dr. Amy Sales at sales@brandeis.edu.

About the Hornstein Program
The Hornstein Jewish Professional Leadership Program is a dual-degree master's program that prepares students for leadership in a fast-changing Jewish world. Travel to Jewish communities overseas, a key feature of the program, helps students understand diverse Jewish communities and develop connections with peers and colleagues in Israel and other parts of the world.

About the Brandeis Faculty
Prof. Barry Shrage. Barry was the long-time president of Combined Jewish Philanthropies of Boston and recently came to Brandeis as a member of the Hornstein Faculty. He is also leading an initiative on Jewish identity. He has been a visionary communal leader and developer of programs to engage Jews with their religious and cultural identities.

Dr. Amy Sales. Amy is senior research scientist at CMJS. Her studies have focused largely on Jewish institutions in North America, most notably synagogues, summer camps, and Jewish education. As Hornstein faculty, she has taught courses in Jewish identity and community.

Prof. Leonard Saxe. Len is Klutznick Professor of Contemporary Jewish Studies and Social Policy. He is a social psychologist and has devoted the past two decades of his career to studying Jewish identity and education in the US and abroad. He is best known in the Jewish community for his studies of Birthright Israel and socio-demographic studies of American Jewry.